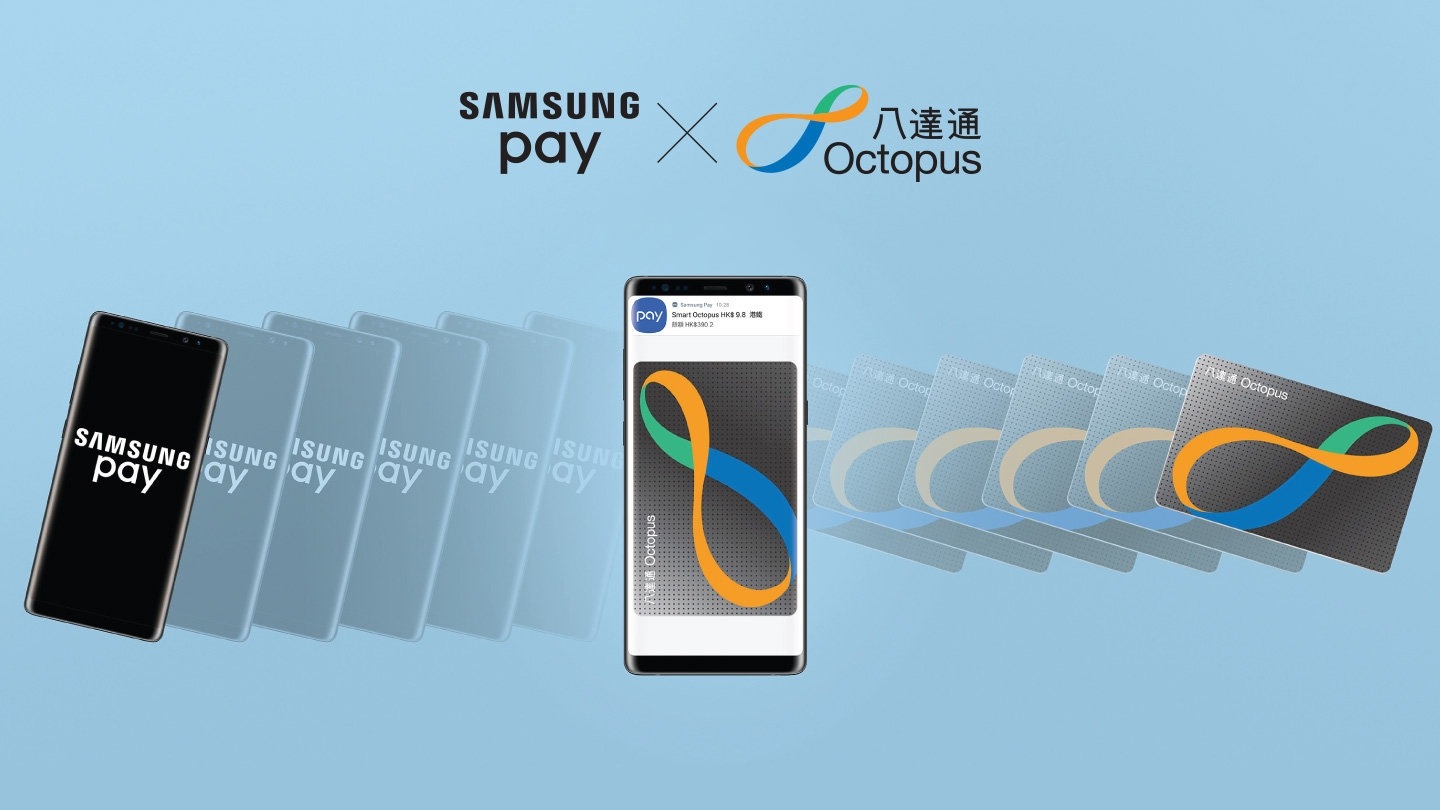 March 2018 Events
From 1 March to 31 March 2018, buy a Galaxy Note8 | S8 | S8+ and bring along the sales receipt* to register at designated counter to get HK$150 Octopus Top-up value#. Together with the Welcome Offer, that's over HK$250 worth of value!
Designated Registration Counter
* Offers only applicable to purchase a genuine Galaxy Note8 / S8 / S8+ from Hong Kong authorized dealers during promotion period. Eligible customers shall visit designated redemption counter during promotion period and present the Galaxy Note8 / S8 / S8+ device, original sales receipt and credit card payment slip as proof of purchase.
# The Octopus Top-up value will be distributed during 3 - 9 May 2018. Eligible customers shall download the Octopus App and register their Smart Octopus to collect the reward.
How to collect the Octopus add value service fee rebate
You are required to download Octopus App and register your Smart Octopus to collect the rebate
Step 1

Add Smart Octopus in Samsung Pay

Step 2

Download Octopus App in Google Play and register your Smart Octopus.

Step 3

Eligible participants will receive a notification from Octopus App. Open the Octopus App in your Smartphone and select "Registered Octopus" to collect the rebate.

Step 4

Authenticate with fingerprint / PIN / Iris. The rebate will be automatically added into the Smart Octopus.
March Events: Buy a Galaxy Note8 | S8 | S8+ to get HK$150 Octopus Top-up value
The "HK$150 Octopus Top-up Value for new customers Promotion" (this "Promotion") is organized by Samsung Electronics Hong Kong Co. Ltd ("Samsung") and is open to Samsung's Samsung Pay customers enrolled pursuant to Samsung's Samsung Pay Terms of Service (collectively, "Samsung Pay Customers", each, "Samsung Pay Customer").
The promotion period of this Promotion (the "Promotion Period") is between 1 March 2018 and 31 March 2018 (both dates inclusive).
By participating in this Promotion, each Samsung Pay Customer agrees to be bound by the terms and conditions set out herein (including the section titled "General Terms and Conditions") (collectively, these "Terms and Conditions"). Samsung reserves the right to amend these Terms and Conditions, suspend or terminate this Promotion, in whole or in part, at any time, without prior notice.
Smart Octopus is issued by Octopus Cards Limited ("OCL") subject to the Conditions of Issue of Octopus published by OCL.
OCL's Privacy Policy, Conditions of Issue of Octopus, Terms of Use of Octopus Mobile App and other terms and conditions of use, published by OCL at www.octopus.com.hk as amended from time to time, shall apply to this Promotion.
Save as expressly stated in these Terms and Conditions, Samsung will not provide your personal information to any third parties without your consent. In addition, Samsung will not sell or disclose, by any method, information on the members of this activity and personal information of visitors to this website. For Samsung's privacy policy, please refer to Samsung's website: https://www.samsung.com/hk_en/info/privacy.html.
The first 3,000 Samsung Pay Customers who have, during the Promotion Period, successfully:

presented original sales receipt and credit card or other electronic payment slips (if applicable) as proof of purchase of a new Samsung Galaxy Note8 or S8 or S8+* from an authorized dealer in Hong Kong during the Promotion Period ("Eligible Device");
installed Samsung Pay onto his/her Eligible Device;
added a valid Smart Octopus (the "Eligible Smart Octopus") in Samsung Pay on his/her Eligible Device; and
registered the number of his/her Eligible Smart Octopus at the designated shop list* below;

Address
Registration Hours
Samsung Partnershop
Shop 332, Level 3, Ocean Centre, Harbour City, Tsim Sha Tsui
Monday to Sunday
(11:00 am to 8:00 pm)
Shop G56-57, Telford Plaza I, Kowloon Bay
Monday to Sunday
(11:00 am to 8:00 pm)
Shop 601A, 6/F, New Town Plaza, Shatin
Monday to Sunday
(11:00 am to 8:00 pm)
Samsung Service Center
Unit 09-12;15, 40/F, Office Tower, Langham Place, 8 Argyle Street, Mongkok
Monday to Sunday
(11:00 am to 8:00 pm)
Unit 1502, 15/F, Causeway Bay Plaza 1, 489 Hennessy Road, Causeway Bay
Monday to Sunday
(11:00 am to 8:00 pm)
Shop-in-Shop
Shop No 201, L2, Plaza Hollywood, Diamond Hill
Monday to Friday
(11:30 am to 10:00 pm)
Saturday to Sunday and Public Holiday
(11:00am to 10:00pm)
Shop No. UG06A, UG/F, Olympian City 2, Olympian City, Kowloon
Monday to Friday
(11:00 am to 9:30 pm)
Saturday to Sunday and Public Holiday
(10:00am to 10:00pm)
Shop 411, Level 4, Landmark North, 39 Lung Sum Avenue, Sheung Shui
Monday to Saturday and Public Holiday
(10:30 am to 9:30 pm)
Shop UG 43-45, Metro City Plaza II Tsueng Kwan O.
Monday to Saturday and Public Holiday
(11:00 am to 10:00 pm)
Shop A&F on G/F & the whole basement of McDonald's Building, Nos 46-54 Yee Wo Street, Causeway Bay
Monday to Sunday and Public Holiday
(10:30 am to 10:00 pm)

*Samsung reserves the right to revise the types of Eligible Devices and update the shop list from time to time without prior notice.
will, subject to Clause 8 of these Terms and Conditions, each be considered as a winner (each, a "Winner") to be eligible to receive $150 Octopus Top-up Value (the "Reward").
Any Smart Octopus which is added to any Eligible Device without using Samsung Pay, or any unsuccessful addition of Smart Octopus shall not be considered as an Eligible Smart Octopus.
To collect the Reward, each Winner is required to register his/her Eligible Smart Octopus in the Octopus App, a mobile application operated by OCL. Winners will be notified by push notification through the Octopus App between 3 May 2018 and 9 May 2018 (both dates inclusive) that the Reward will be available for collection through the Octopus App onto his/her said Eligible Smart Octopus.
The Reward will be available for collection on or before 31 May 2018. The Reward will be forfeited automatically without notice if the Winner fails to collect the Reward on or before 31 May 2018, or the said Eligible Smart Octopus of the Winner has been suspended, cancelled or terminated or is no longer valid for whatever reason(s), which, under no circumstance shall any claim be made against Samsung and/or OCL whatsoever. Neither Samsung nor OCL shall bear any liability whatsoever if any Winner fails or is unable to collect the Reward under whatever circumstances, including, but not limited to, reset of Samsung Pay application, Eligible Smart Octopus has been transferred to device other than the Eligible Device, suspension, cancellation or termination of Eligible Smart Octopus for whatever reason, lost Eligible Device, or device reset due to factory data reset or Find My Mobile service.
Only one Winner of each Eligible Device is entitled to the Reward and for once only.
Samsung makes no guarantee of the availability of its web services or Samsung Pay application and will not be held responsible for interruption of service that may interfere with the ability to participate in this Promotion. OCL makes no guarantee of the availability of the Octopus App and will not be held responsible for interruption of service that may interfere with the ability to participate in this Promotion.
Samsung reserves the right to disqualify any Samsung Pay Customer suspected of fraud, or if Samsung believes that Samsung Pay Customer's participation of this Promotion have been manipulated in any way by machines or computers.
Without limiting Samsung's rights under its privacy policy, personal information collected from the Samsung Pay Customer in this Promotion (that is, the number of the Eligible Smart Octopus, his/her mobile number and the copy of the official sales receipt and credit card or other electronic payment slips (if applicable) as proof of purchase of his/her Eligible Device) will be used by Samsung for

identifying and verifying eligibility of a Samsung Pay Customer to participate in this Promotion and/or receiving the Reward,
fulfilling the Reward,
sending notification to the Samsung Pay Customer as the Winner regarding the Reward, and
carrying out any enquiries or resolving any disputes in relation to this Promotion.

By participating in this Promotion, each Samsung Pay Customer agrees that Samsung shall be entitled to transfer the number of his/her Eligible Smart Octopus to OCL who may use the information for the purpose of fulfillment of the Reward (including sending of push notification to his/her Eligible Device regarding collection of the Reward under this Promotion).
Information collected or received as aforesaid by Samsung solely for the purpose of this Promotion and by OCL solely for the purpose of fulfillment of the Reward under this Promotion will be retained for 6 months after the end of the Promotion Period ("retention period") and will be destroyed on expiry of the retention period.

General Terms and Conditions:

This Promotion is limited to the first 3,000 Winners as set out in Clause 7.
The Reward is available while stocks last.
The Reward cannot be exchanged for cash, other products, services or discounts.
Samsung reserves the right to amend these Terms and Conditions at any time without prior notice. In the event of any dispute arising from this Promotion, the decision of Samsung shall be final.
We have provided a Chinese language translation of these Terms and Conditions for reference. If there is any inconsistency between the English and Chinese versions, the English version shall prevail.
No person other than Samsung Pay Customers, Samsung and OCL will have any right under the Contracts (Rights of Third Parties) Ordinance to enforce or enjoy the benefit of any of the provision of these Terms and Conditions.
All images are for reference only.
Any enquiry, please contact us:
You agree that the use of Samsung Pay in each place is subject to the laws and regulations of the region and any other rules determined by the relevant merchant, payment processor, payment network, card issuer, regulator, and government authority. You should check the service availability for your region before use of Samsung Pay.

Devices supporting Smart Octopus: Galaxy S9, S9+, S8, S8+, Note8 & A8+.

Some card issuers may not support all card types. Please contact your card issuer for details.

All video and images are for reference only.

Iris Scanner might not work properly due to environmental factors.

All other products and services mentioned may belong to their respective trademark owners.

To unsubscribe receiving Samsung Pay promotion information, please contact Samsung Pay hotline:+852-21219088.

Octopus Cards Limited License Number: SVF0001. Smart Octopus is issued subject to the "Conditions of Issue of Octopus"
x
Samsung Service Center

Samsung Langham Place Service Center

Address: Unit 09-12;15, 40/F, Office Tower, Langham Place, 8 Argyle Street, Mongkok
Business Hours: 11:00am – 8:00pm (Mon - Sun)

Samsung Causeway Bay Plaza Service Center

Address: Unit 1502, 15/F, Causeway Bay Plaza 1, 489 Hennessy Road, Causeway Bay
Business Hours: 11:00am – 8:00pm (Mon - Sun)

Samsung Partnershop

Samsung Partnershop (Tsim Sha Tsui)

Address: Shop 332, Ocean Center, Tsim Sha Tsui, Kowloon
Business Hours: 11:00am – 10:00pm (Mon - Sun)

Samsung Partnershop (Kowloon Bay)

Address: Unit G56 & G57, Telford Plaza, Phase 1, Kowloon Bay, Kowloon, HK
Business Hours: 11:00am - 10:00pm (Mon - Sun)

Samsung Partnershop (Shatin)

Address: Shop 601A, 6/F, New Town Plaza, Shatin
Business Hours: 11:00am – 10:00pm (Mon - Sun)

Samsung Shop-in-Shop

Wilson

Address: Shop 411, Level 4, Landmark North, 39 Lung Sum Avenue, Sheung Shui, N.T.
Business Hours: 10:30am – 9:00pm (Mon - Sun & Public Holidays)

Wilson

Address: Shop UG 43-45, Metro City Plaza II, Tsueng Kwan O
Business Hours: 11:00am – 10:00pm (Mon - Sun & Public Holidays)

Fortress

Address: Shop No 201, L2, Plaza Hollywood, Diamond Hill
Business Hours: 11:30am – 10:00pm (Mon - Fri), 11:00am - 10:00pm (Sat, Sun, & Public Holidays)

Fortress

Address: Shop No. UG06A, UG/F, Olympian City 2, Olympian City, Kowloon
Business Hours: 11:00am - 9:30pm (Mon - Fri), 10:00am - 10:00pm (Sat, Sun, & Public Holidays)

3HK

Address: Shop A&F on G/F & the whole basement of McDonald's Building, Nos 46-54 Yee Wo Street, Causeway Bay
Business Hours: 10:30am – 10:00pm (Mon - Sun & Public Holidays)