The camera stopped while the lens came out
Last Update Date :
Apr 23. 2018

Please do not push the lens forcibly. It can cause the failure.

1. Update camera in new firmware

1) Please connect your camera and your computer that can use internet → you can use i-Launcher firmware
upgrade program → move step (4)

2) In case of an old model, you can not use i-Launcher.
Please link to samsung.com and choose your camera model page
ex> http://www.samsung.com/ca/support/main/supportMain.do?supportIaCode=10002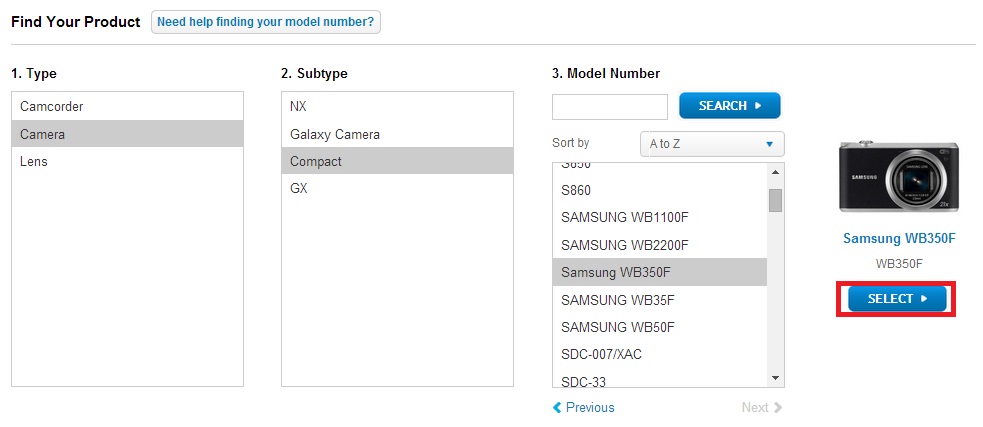 3) Download → firmware : you can download the latest firmware

4) Please follow below method
(1) Turn off the camera.
(2) Connect the camera to your computer with the USB cable.

⊙ Before installing the program, ensure that the PC is connected to a network.

⊙ You must plug the small end of the USB cable into your camera.

If the cable is reversed, ti may damage your files.

The manufacturer is not responsible for any loss of data.
(3) Turn on the camera.
(4) When the pop-up window prompts you to install i-Launcher, select Yes.
º If a pop-up window prompting you to run iLinker.exe appers, run it first.
º When you connect the camera to a computer with i-Launcher installed, the program will launch automatically.
(5) Follow the on-screen instructions to complete the installation.
º An i-Launcher shortcut will appear on the computer.
[Opening i-Launcher]
º Windows OS : Start → All Program → Samsung → i-Launcher
º Mac OS : Applications → Samsung → i-Launcher
5) Firmware upgrade method
(1) You can connect the camera to your computer.
(2) Opening "Samsung i-Launcher" → Select "Firmware Upgrade" menu
* Automatically "Upgrade window" open if new firmware register.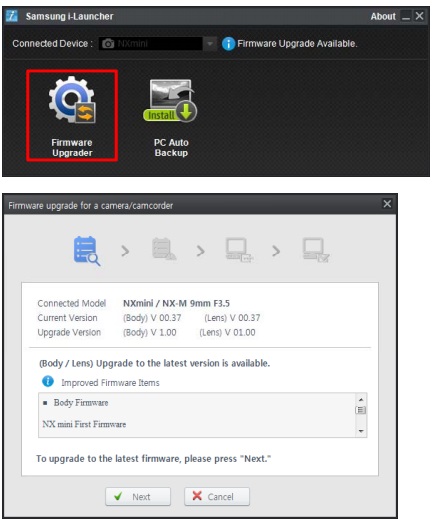 (3) You can check precautions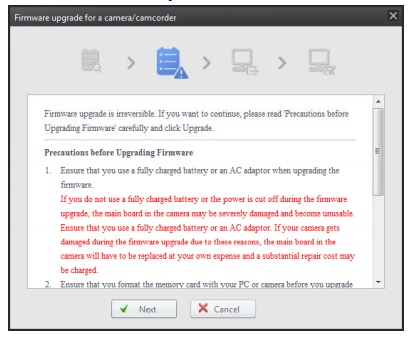 (4) Firmware download start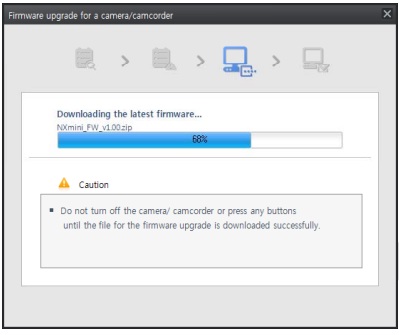 (5) Once the transfer is complete, click the Close button.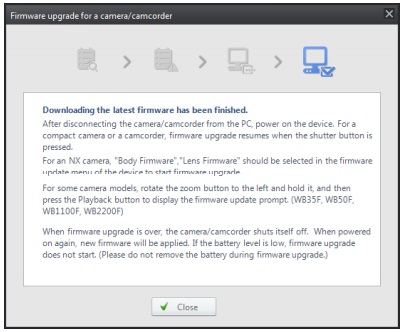 (6) Terminate the USB cable connection.
(7) Turn the camera on.
(8) Select the MENU → Setting → Device information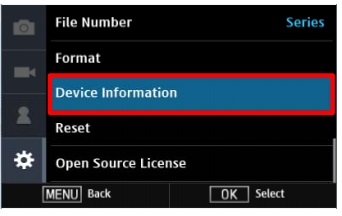 (9) Select "Firmware Update" → Select "Body Firmware"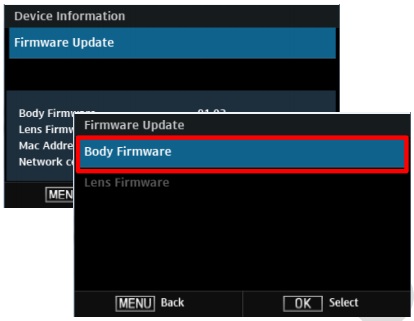 (10) Update will start follow below sequence
① Firmware version checking

Pressng "Yes" → Upgrade start

② Processing

→ You can see the updating status
③ Power-off (Upgrade finished)

→ Auto power-off
2. The camera may turn off if impacted from the outside.
This is to protect the memory card.
→ After pulling out the battery and equip again, Turn on the camera to use it again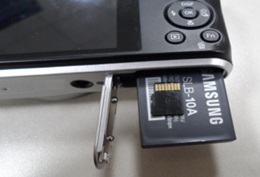 Not finding what you're looking for? We're here to help.
Call
36984698Hong kong
Operation Hour:
Monday-Friday: 9am-8pm
Saturday, Sunday & Public Holiday : 9am-6pm
0800 333Macau
Operation Hour:
Monday-Friday: 9am-8pm
Saturday, Sunday & Public Holiday : 9am-6pm
21219088Samsung Pay
Operation Hour:
Monday-Sunday: 9am-10pm

* For Printer inquiry, please visit HP official web page .
Customer
Service Support
Smart Service
Samsung SMART SERVICE allows you to experience a whole range of services, right here at our Samsung Experience Store!
Contact Us