FOTA: FAQs
Last Update Date :
Apr 23. 2018

FAQ 1. Samsung Account
When selecting Checked for updates, a message appears asking me to sign into my Samsung account.
a) Sign in with a Samsung account, if one has already been created.
b) If you do not have an account, then please select Sign up to create one.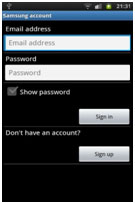 c) Touch Accept. Once signed into the account (or you have created one), the mobile device will then revert back to the FOTA Upgrade process.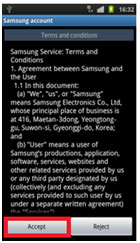 FAQ 2. Upgrading to 'Gingerbread' (latest Android OS), for Galaxy S; GT-I9000
My mobile device's OS is Froyo (e.g. for the Galaxy S, GT-I9000). Is it possible to upgrade to the latest operating system (Gingerbread), via the FOTA process?
This is not possible via the FOTA process. An upgrade to the Gingerbread OS system can be implemented using the Samsung Kies software program (- a software upgrade should be available for your device model).
Afterwards, the FOTA service can be used to upgrade to a new software version.
FAQ 3. Data Loss
I currently have a lot of data stored within my mobile device (e.g. contacts, images, applications, etc). Will this data be erased after the software upgrade via FOTA?
No, the end-user's data will be untouched.
However, it is highly recommended that you back up your mobile device before commencement of any software upgrade (either FOTA, or via Samsung Kies).
FAQ 4. Charges for FOTA?
Will I be charged for upgrading the software via FOTA, through a 3G packet data network (- and not via Wi-Fi)?
This will depend on the policy and contract (data plan) that you currently have with your network operator. You will need to contact your network operator for further information regarding this.
FAQ 5. Availability of updates
When selecting the 'Check update' menu to use FOTA, a message/pop-up stating 'No update available' appears.
This just means that either the software on your mobile device has already been updated, or that there are no further software updates at the current time.

Not finding what you're looking for? We're here to help.
Call
36984698Hong kong
Operation Hour:
Monday-Friday: 9am-8pm
Saturday, Sunday & Public Holiday : 9am-6pm
0800 333Macau
Operation Hour:
Monday-Friday: 9am-8pm
Saturday, Sunday & Public Holiday : 9am-6pm
21219088Samsung Pay
Operation Hour:
Monday-Sunday: 9am-10pm

* For Printer inquiry, please visit HP official web page .
Customer
Service Support
Smart Service
Samsung SMART SERVICE allows you to experience a whole range of services, right here at our Samsung Experience Store!
Contact Us