Galaxy S5: Water and Dust Resistance
Last Update Date :
Apr 17. 2018
How do I ensure my Galaxy S5 is properly protected against water ingress? 
Think the GS 5 is like a submarine. The Navy wouldn't submerge it until all hatches were closed and secured. To do this please see the steps below. 

Note: Do not allow device to get wet until you have completed all these steps. 
1
Install the Back Cover
To close the cover, attach the upper part of the back cover and press firmly on each part in order. Ensure that the back cover is closed tightly. Use only Samsung-approved back covers and accessories with the device. The final step in sealing your device is to ensure the snap point just around to the left side of flash is closed.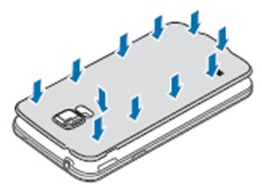 2
Install the USB Cover
Ensure that the multipurpose jack cover is closed tightly. Run your finger along the cover to ensure it is "flush" with the rest of the case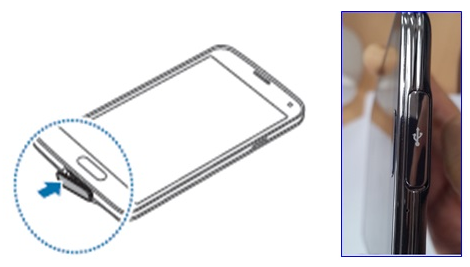 FAQ about operating environment
Q: Can I use my Galaxy S5 device in Sea water or a Swimming pool? 
A: We advise not to expose the device to water at high pressure, and avoid immersing the device in hot water, salt water, ionized water,or soapy water. 
Q: Can I use my Galaxy S5 device in a Bathroom? 
A: We advise not to use the device when the device is in very humid places, such as swimming pools or bathrooms. 
Q: After my Galaxy S5 device has been underwater, will the earphone speaker work immediately after leaving the water?
A: Your device should not have any problem and the earphone speaker should work as normal – whenever after any occasion the device gets wet, please dry it thoroughly with a clean, soft cloth before attempting to use the device. 
Q: If the area around the multipurpose connector of my Galaxy S5 gets wet, can I charge my device using the charger or USB cable? 
A: If the device has been immersed in water or the area around the Multifunction connector is wet, please wipe the device with a clean, soft cloth and allow it to dry - once the device has dried, you can charge the battery. 
Q: The device slightly vibrates when music is played at high volume, and a "bell like" sound can sometimes be heard. What's the problem? 
A: The water-resistant design of the Galaxy S5 causes it to vibrate slightly in certain conditions. Due to way the Galaxy S5 case is designed to prevent water entering the device, you may feel a vibration when for example, the volume level or music or game sound is set very high. However this is not a fault, and it does not affect the device's performance. 
Q: Is my Galaxy S5 compatible with accessories used on older devices, e.g. Charging Dock of Galaxy S4? 
A: No – due to the design of the Multipurpose jack cover of the Galaxy S5 being designed to help protect the device against water and dust ingression, so S5 is not compatible with existing Desktop Dock, Multimedia Dock (Smart Dock) & Audio Dock used on older models. 
Tips about water and dust resistance
Follow these tips carefully to prevent damage to the device and to maintain the water- and dust-resistant performance of the device. 
● Whenever possible, keep your device dry and avoid immersion in water whenever possible, and gently wipe dry after exposure to liquid. 
● Avoid exposing your device to water at high pressure or in situations where there is fast running water. 
(e.g. In the sea, under a shower) 
● Do not use a screen protector. This causes sensor malfunctions. 
● Ensure that the back and multipurpose jack covers are tightly closed. Otherwise, they may not provide protection from water and dust. 
● Do not open the back cover using wet hands or when the device is wet.
Not finding what you're looking for? We're here to help.
Call
36984698Hong kong
Operation Hour:
Monday-Friday: 9am-8pm
Saturday, Sunday & Public Holiday : 9am-6pm
0800 333Macau
Operation Hour:
Monday-Friday: 9am-8pm
Saturday, Sunday & Public Holiday : 9am-6pm
21219088Samsung Pay
Operation Hour:
Monday-Sunday: 9am-10pm

* For Printer inquiry, please visit HP official web page .
Customer
Service Support
Smart Service
Samsung SMART SERVICE allows you to experience a whole range of services, right here at our Samsung Experience Store!
Contact Us