My device shows symptoms and maybe due to one of the installed apps. What should I do?
Last Update Date :
Apr 19. 2018
At first, we suggest to check the availability of new updates for your installed applications.

In case there were no updates or the updates didn't solve your problem, please confirm whether the issue could be caused by a downloaded 3'rd party application or not.

For this, you need to boot the device into Safe Mode and check if the symptoms keep on reproducing.
In case the symptoms disappeared while using the phone in Safe Mode, the problem is likely caused by a 3'rd party application that you downloaded.
『 How to boot Galaxy S4 into Safe Mode? 』
Reboot or switch on the phone and wait until the Samsung Logo animation appears, and then keep pressing the option key.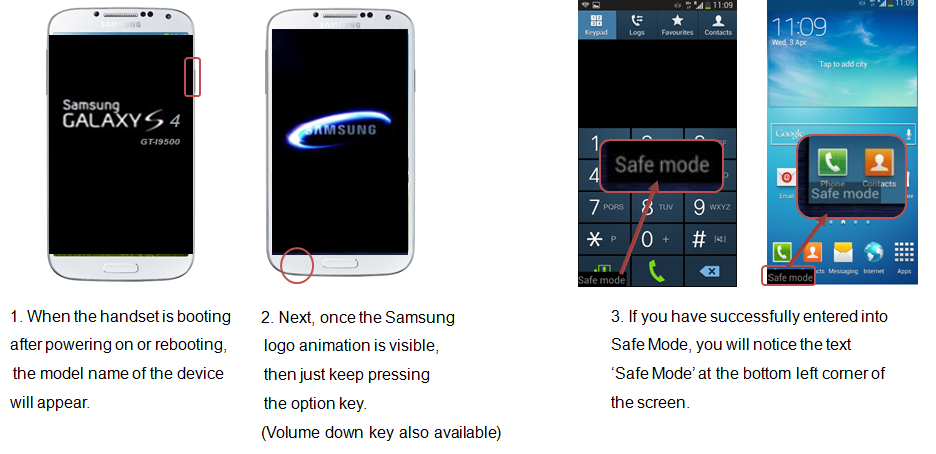 In order to discover which application could be causing the problem, please follow next troubleshooting process:

1. Uninstall the application you suspect to cause the problem.
This can be done either from Safe Mode or Normal Mode by going to Settings > Applications Manager
2. Then select the application to remove and tap the Uninstall button.
3. Reboot the phone into Normal Mode and verify if the problem has been resolved.
(※ Power off the handset and switch it back on again. Your handset will operate in Normal Mode.)
4. If the problem persists, repeat the process by uninstalling the next application that you expect is causing the problem until the problem is resolved.

After completing this troubleshooting steps, you might want to reinstall uninstalled applications that were not relate to the problem. If you found an application causing problems, contact the application supplier for support.

Although you uninstalled several applications, but the problem is still there , and then please visit your local authenticated Samsung Service center to get further support.
Not finding what you're looking for? We're here to help.
Call
36984698Hong kong
Operation Hour:
Monday-Friday: 9am-8pm
Saturday, Sunday & Public Holiday : 9am-6pm
0800 333Macau
Operation Hour:
Monday-Friday: 9am-8pm
Saturday, Sunday & Public Holiday : 9am-6pm
21219088Samsung Pay
Operation Hour:
Monday-Sunday: 9am-10pm

* For Printer inquiry, please visit HP official web page .
Customer
Service Support
Smart Service
Samsung SMART SERVICE allows you to experience a whole range of services, right here at our Samsung Experience Store!
Contact Us