Rantai Persediaan
Manajemen Tanggung Jawab Rantai Suplai
Kami memastikan bahwa pemasok kami membangun daya saing yang lebih kuat melalui dukungan dan kerjasama untuk membangun ekosistem perusahaan yang sehat dan rantai suplai yang berkelanjutan.

Didorong oleh filosofi keadilan, keterbukaan, dan kerjasama yang saling menguntungkan, kami mengoperasikan rantai suplai kami dengan sekitar 2,200 pemasok di seluruh dunia. Kami membantu semua pemasok kami dalam mematuhi 'Kode Etik Pemasok Samsung' dan beroperasi sesuai dengan peraturan daerah dan standar internasional yang relevan. Dengan menilai pemasok kami, kami mengelola risiko rantai suplai dalam aspek-aspek kesinambungan, seperti lingkungan, hak asasi manusia, keuangan, dan lain-lain. Selanjutnya, kami terus mendukung pemasok untuk membangun keunggulan dan pertumbuhan timbal balik.
Strategi dan Lima Kriteria Manajemen Rantai Pasokan
Ekonomi

Kami menjamin daya saing, pengiriman, kualitas, teknologi, dan sumber daya manusia yang menyeluruh, untuk memaksimalkan sinergi, kecepatan, dan efisiensi dengan para pemasok kami dan menciptakan ekosistem perusahaan yang memungkinkan pertumbuhan berkelanjutan.

Sosial

Kami meminta agar standar dan peraturan internasional dipatuhi dalam bidang pengelolaan hak asasi manusia, lingkungan kerja, etika, dan masalah mineral konflik dengan tujuan untuk membangun sistem pertanggungjawaban pengelolaan terbuka dan transparan yang melibatkan semua pemangku kepentingan di sepanjang rantai suplai.

Lingkungan

Kami bekerja sama dengan pemasok bersertifikasi Mitra Lingkungan sehingga kami dapat menilai dan mengelola dampak lingkungan yang mungkin terjadi pada komponen, bahan mentah, dan proses pembuatannya.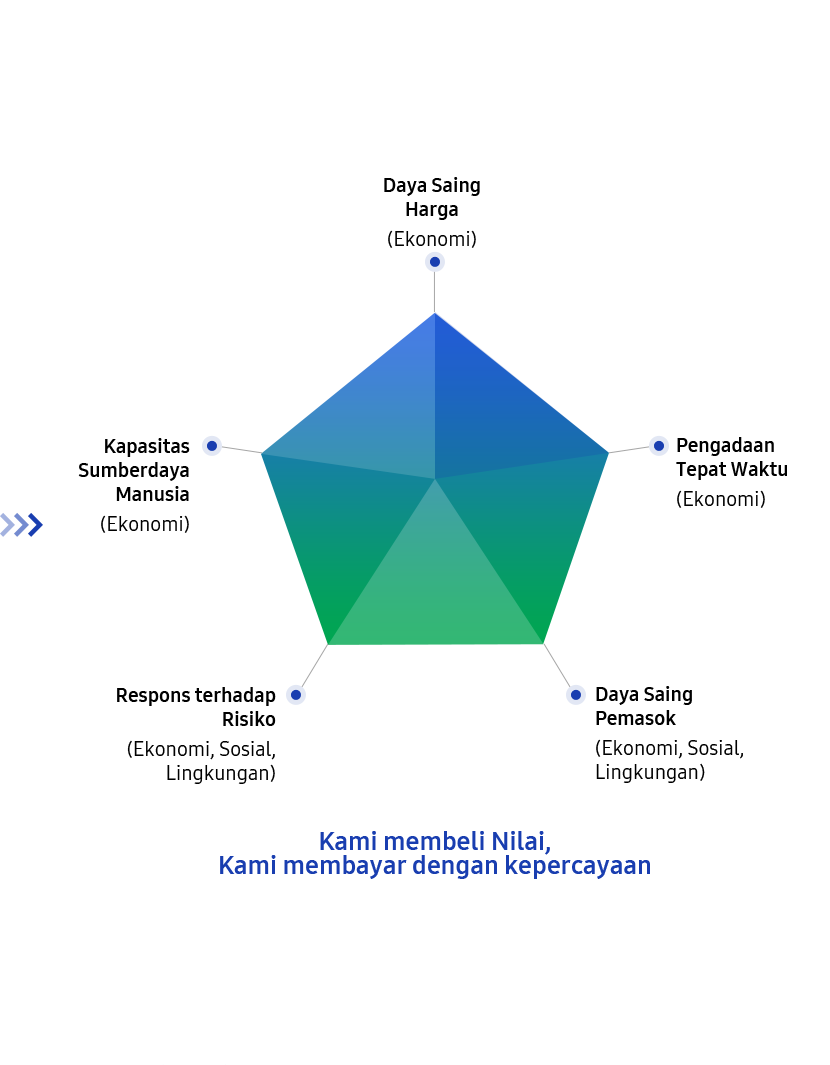 <h3> Menciptakan nilai melalui grafik infor manajemen yang Berkesinambungan</h3> <ul> <li>List 1) Daya Saing Harga (Ekonomi).</li> <li>List 2) Pengadaan Tepat Waktu (Ekonomi).</li> <li>List 3) Daya Saing Pemasok (Ekonomi, Sosial, Lingkungan).</li> <li>List 4) Respons terhadap Risiko (Ekonomi, Sosial, Lingkungan).</li> <li>List 5) Kapasitas Sumberdaya Manusia (Ekonomi).</li> </ul>

Operasi Pemasok
Di Samsung, kami berusaha membangun kemitraan strategis dengan pemasok berkinerja terbaik berdasarkan rasa saling percaya. Inilah sebabnya mengapa kami menerapkan proses yang adil dan transparan dalam mengoperasikan sistem pendaftaran untuk menjadi pemasok baru sambil melakukan evaluasi tahunan untuk membantu pemasok dalam memperkuat daya saing dan meminimalkan risiko yang relevan.
Perusahaan apa pun yang bersedia menyediakan kemampuan teknologi terdiferensiasi Anda dan ingin berbisnis dengan Samsung dapat mengirimkan proposal bisnis baru mereka di portal pengadaan kami (www.secbuy.com) kapan saja. (IPC) Pusat Pengadaan Internasional kami berfungsi sebagai pusat pengadaan, dan IPC memungkinkan kami untuk mengidentifikasi pemasok yang beredar di wilayah strategis penting di seluruh dunia.
Poin Evaluasi Utama dalam Program Pendaftaran Pemasok Baru Kami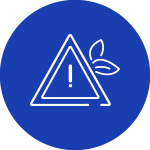 Lingkungan dan Keselamatan

Meminta pemasok untuk memenuhi kriteria yang ditetapkan dalam 22 pasal, mencakup keselamatan kerja, peralatan pencegahan kebakaran, kesehatan kerja, bahan berbahaya, dan fasilitas lingkungan.
Delapan poin kepatuhan wajib: Perlengkapan pencegahan kebakaran, limbah dan bahan berbahaya, saluran pembuangan dan fasilitas air limbah, dll.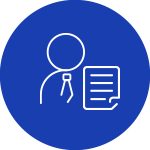 Tenaga Kerja dan Hak Asasi Manusia

Mengadakan audit di tempat kerja terkait 20 pasal, termasuk pekerjaan sukarela, kepatuhan dengan peraturan jam kerja, dan larangan diskriminasi.
Tiga poin kepatuhan wajib: Larangan tenaga kerja anak, jaminan upah minimum, dan larangan perlakuan tidak manusiawi.
Mitra Lingkungan

Melakukan kajian terhadap kebijakan lingkungan produk, pendidikan & pelatihan dan penggunaan bahan berbahaya.
Menjalankan bisnis bersama dengan pemasok yang bersertifikasi Mitra Lingkungan (Eco-Partner).
Proses Evaluasi Menyeluruh

Program Kolaborasi Mitra
Untuk mewujudkan filosofi bisnis kami bahwa 'keunggulan kompetitif kami di Samsung Electronics berasal dari keunggulan kompetitif para pemasok kami', kami selanjutnya mendorong batas inisiatif manajemen saling menguntungkan kami untuk memasukkan pemasok domestik dan luar negeri. Kami menyiapkan beragam program untuk mendukung pendanaan, pendidikan, dan inovasi untuk memastikan pemasok kami mampu kompetitif secara global.
KRW 822.8 billion : Investasi dalam Win-Win Cooperation Fund.

Pendanaan

Menghasilkan dana senilai 1 triliun KRW dengan bank komersial

16,209 Persons : Jumlah yang hadir jika pelatihan pemasok.

Pengembangan Kapasitas Karyawan

Mengajarkan kepemimpinan, keahlian kerja, kursus general dan lainnya dengan menggunakan fasilitas pelatihan khusus supplier kami

487 companies : Pemasok yang menerima dukungan Smart Factory.

Prakarsa Inovasi

Mendukung 1.000 pemasok dan UKM tanpa hubungan bisnis dengan Samsung di seluruh negeri untuk meningkatkan kapasitas produksi mereka
* Kami membantu supplier lapis ke-1 dan ke-2 untuk menyuarakan keluhan mereka melalui saluran telepon langsung (+ 82-80-200-3300), melalui e-mail (ssvoc@samsung.com), atau melalui sistem whistle-blowing di Win-Win Cooperation Portal (www.secbuy.com), dengan konsultasi supplier di tempat, dan melalui berbagai pertemuan.
Lingkungan Kerja Pemasok
Di Samsung, kami sepenuhnya bertanggung jawab dalam memajukan pengelolaan hak asasi manusia di seluruh rantai pasokan, terikat oleh perjanjian hak asasi manusia untuk menjamin keselamatan tempat kerja, dan mematuhi pedoman perilaku yang ditetapkan oleh Responsible Business Alliance (RBA). Kami secara teratur memantau semua pemasok kami sesuai dengan standar verifikasi RBA untuk mengenali berbagai masalah dan melakukan perbaikan yang diperlukan. Sementara kami mendorong para pemasok peringkat pertama kami untuk menciptakan tempat kerja yang aman, komitmen terhadap keselamatan tempat kerja juga berlaku pada para pemasok peringkat kedua melalui pemasok peringkat pertama. Dengan ini, kami berkontribusi membangun sistem ekologi yang stabil di seluruh rantai pasokan kami.
Smelter dan Pengilang dalam Rantai Pasokan Samsung Electronics
Samsung Electronics mengoperasikan sistem manajemen mineral berdasarkan Pedoman Uji Tuntas OECD untuk Rantai Pasokan Mineral yang Bertanggung Jawab dari Daerah Terdampak Konflik dan Berisiko Tinggi, serta mengelola smelter di rantai pasokan melalui pemasok yang bekerja sama dengan kami.
Kami secara aktif membagikan daftar smelter dengan berbagai pemangku kepentingan, termasuk pelanggan kami.
Selain itu, kami mendorong para pemasok untuk bermitra dengan smelter yang bersertifikasi RMAP (Responsible Minerals Assurance Process), dan mewajibkan smelter yang belum bersertifikasi dalam rantai pasokan kami untuk mendapatkan sertifikasi RMAP.
Daftar Smelter dan Pengilang
(Pada akhir Des., 2019)
| | Sertifikasi Selesai | Sertifikasi Berlangsung | Total |
| --- | --- | --- | --- |
| Tantalum (Ta) | 40 | - | 40 |
| Timah (Sn) | 76 | - | 76 |
| Tungsten (W) | 41 | - | 41 |
| Emas (Au) | 104 | - | 104 |
| ※Cobalt(Co) | - | - | 30 |
Tanggung Jawab Pemasok
Produk dan layanan yang ditawarkan oleh Samsung Electronics adalah hasil dedikasi dan upaya dari semua pemasok kami dalam rantai pasokan. Samsung Electronics dan para pemasok kami bertanggung jawab atas kepuasan berkesinambungan para pelanggan dan masyarakat sipil. Selain itu, kami juga berjanji untuk bertanggung jawab penuh atas rantai pasokan berdasarkan kepercayaan dan ketulusan untuk nilai terbaik.
* Listed in order of name of suppliers in 80% of Samsung Electronics' transaction volume who agreed to be disclosed.
SUPPLIER
ADDRESS
AAC Technologies Holdings Inc.
No.3 Changcao Road, Hi-Tech Industrial Zone, Wujin, Changzhou City, Jiangsu Province, China
Lot K4-2F, Que Vo Ip Bac Ninh City, Bac Ninh, Vietnam
Yuhang Road., Shuyang Economic Develop Suqian City, Jiangsu Province, China
Adeka Corporation
70, Wanjusandan 2-Ro, Bongdong-Eup, Wanju-Gun, Jeollabuk-Do, Korea
Advantest Corp.
140, 3 Samgongdan 6-Ro, Seobuk-Gu, Cheonan-Si, Chungcheongnam-Do, Korea
Rm.1215, Luneng Plaza, No.18 Taigu Road. Waigaoqiao Free Trade Zone, Shanghai, China
Shin-Marunouchi Center Building, 1-6-2 Marunouchi, Chiyoda-Ku, Tokyo, Japan
Air Products and Chemicals Inc.
7201 Hamilton Boulevard, Allentown, PA, United States
3, Nongseo-Ro, 46Beon-Gil, Giheung-Gu, Yongin-Si, Gyunggi-Do, Korea
Alps Electric Co., Ltd.
33 (Jangduk-Dong) Hanamsandan 5 Byunro, Gwangsan-Gu, Gwangju, Korea
1-7, Yukigaya-Otsukamachi, Ota-Ku, Tokyo, Japan
Applied Materials Inc.
(5F, Korea Design Center Bldg.,Yatap-Dong) 322, Yanghyeon-Ro, Bundang-Gu, Seongnam-Si, Gyeonggi-Do, Korea
8 Upper Changi North Road, 506906, Singapore
3050 Bowers Avenul, Santa Clara, CA, United States
ASM International N.V.
(1Dong, Chungnam Technopark Cheonan Valley)136, Jiksan-Ro,Jiksan-Eup, Seobuk-Gu, Cheonan-Si, Chungcheongnam-Do, Korea
3440 E University Phoenix Drive, Phoenix, AZ, United States
ASM Lithography Inc.
Suites 3704-3706 37/F Tower Two Times Square, 1 Matheson Street Causeway Bay, Hong Kong
25, 5Gil, Samsung 1 Ro, Hwasung-Si, Gyeonggi-Do, Korea
2650 W. Geronimo Place Chandler, AZ, United States
AU Optronics
Corp.
1 Li-Hsin Road.2, Science-Based Industrial Park, Hsinchu Taiwan
5 Li-Hsin Road.6, Science-Based Industrial Park, Hsinchu Taiwan
Avago
Technologies Ltd.
No 1 Yishun Avenue 7, Singapore
Biel Crystal Manufactory Ltd.
Block A, 10/F., A1-A5 Mei Hing Ind. Bldg.,16-18 Hing Yip Street, Kwun Tong, Kowloon, Hong Kong
BOE
Technology Group Co., Ltd.
No. 118 Jinghaiyi Road., Bda, Beijing, China
Bujeon Electronics Co., Ltd.
Phuong Lieu Commune-Que Vo District, Bac Ninh, Vietnam
No 903, 3/2 Street, Phu Xa Commune, Thai Nguyen City, Thai Nguyen Province, Vietnam
BYD Co., Ltd.
No.3001, Baohe Road, Baolong Industrial Town, Longgang, Shenzhen, China
Xiangshui River, Economic Development Zone, Daya Bay, Huizhou, Guangdong, China
No 2, Yadi Road, The New-Type Industrial Park, Xi'an National Hi-Tech Industrial Development Zone, China
CammSys Corp.
Ba Thien Industrial, Ba Hien Commune, Binh Xuyen Distric Vinh Phuc Province, Vietnam
Canon Inc.
(9F,10F),607, Teheran-Ro, Gangnam-Gu, Seoul, Korea
One Canon Park, Melville, NY, United States
30-2, Shimomaruko 3-Chome, Ohta-Ku, Tokyo 146-8501, Japan
Cirrus Logic Inc.
7B Nightingale Way, Quartermile Edinburgh, United Kingdom
Coretronic
Corp.
No.2-1.Nanke 6Th.Road, Tainan Science-Based Industrial Park Tainan County, Taiwan
Corning
Inc.
One Riverfront Plaza Corning, NY, United States
Daeduck Electronics Co., Ltd.
(Jeongwang-Dong), 335, Somanggongwon-Ro, Gyeonggi-Do, Korea
Daeyoung Electronics Co., Ltd.
Lot HT-2-1, Road D2, Ho Chi Minh Hi-Tech Park, Tang Nhon Phu B Ward, Dist. 9, Vietnam
Daifuku Co., Ltd.
14, Dongtanjiseong-Ro, Hwaseong-So, Gyeonggi-Do, Korea
7406 West Detroit Street, Chandler, AZ, United States
4-103, Komakihara, Komaki, Aichi, Japan
DAP Corporation
474-22 Anseongmachum-Road, Miyang-Myeon, Anseong-City, Kyunggi-Do, Korea
Dongjin Semichem Co., Ltd.
644, Baekbeom-Ro, Seo-Gu, Incheon, Korea
Dongwoo Fine-Chem Co., Ltd.
132, Yakchon-Ro, Iksan-Si, Jeollabuk-Do, Korea
Dongyang E&P Inc.
76, Jinwisandanro, Jinwi-Myeon, Pyeongtaek-Si, Gyeonggi-Do, Korea
Nhan Hoa Ward-My Hao District-Hung Yen Province, Vietnam
Doosung Tech
Luong Son Ip, Hoa Son Commune Hoa Binh Luong Son, Vietnam
Dr Enc SA de CV
Manufacturas 622 Santa Rosa Jauregui Queretaro, Mexico
Dreamtech Co., Ltd.
No.100, Huu Nghi Road, Vsip Bac Ninh Tu Son Town, Bac Ninh, Vietnam
SUPPLIER
ADDRESS
Edwards Limited
96, 3 Gongdan 1-Ro, Seobuk-Gu, Cheonan-Si, Chungcheongnam-Do, Korea
Elentec co., Ltd.
B-37, Sector-80, Phase-Ii, Noida, India
44F, Quang Minh Industrial Zone, Ha Noi, Vietnam
Eou Unit, 57/1&2, Ecotech-I, Extension-I, Greater Noida, India
Lot 2247, Jalan Rajawali, Mukim Teluk Panglima Garang, Kuala Langat, Selangor Darul Ehsan, Malaysia
EM-Tech Co., Ltd.
Huaxian Road, Danshan Industrial Area, Chengyang District, Qingdao, Shandon, China
Yen Phong Ip Yen Phong District, Bac Ninh, Vietnam
Entegris Inc.
72, Je2Gongdan 1-Gil, Miyang-Myeon, Anseong-Si, Gyeonggi-Do, Korea
117 Jonathan Blvd North Chaska, MN, United States
129 Concord Road, Billerica, MA, United States
31 Kaki Bukit Road 3, 06-08/11 Tech Link, Singapore
GoerTek Inc.
No.268 Dongfang Road, Hi-Tech Industry Development District, Weifang, Shandong, China
Lot L-06, Que Vo Industrial Park Nam Son Commune, Bac Ninh, Vietnam
Hanyang ENG Co., Ltd.
72, Yeongtong-Ro 26 Beon-Gil, Hwaseong-Si, Gyeonggi-Do, Korea
HB Technology Co., Ltd.
87, Sandongro, Eumbong-Myeon, Asan-Si, Chungnam, Korea
Hitachi Ltd.
46, 2 Gongdan 8-Gil, Seobuk-Gu, Cheonan-Si, Chungcheongnam-Do, Korea
2150 N. 1st Street, Ste. 350, San Jose, CA, United States
2460 North First Street, Suite 290, San Jose, CA, United States
8F Young Poong Bldg., 41 Cheonggyecheon-Ro, Chongro-Ku, Seoul, Korea
92, Sanho-Daero, Gumi-Si, Gyeongsangbuk-Do, Korea
1601A Room ,16F, Blk.1, No.18, Taigu R Oad, Waigaoqiao Free Trade Zone, Shanghai, China
24-14 Nishi-Shimbashi, 1-Chome, Minato-Ku, Tokyo, Japan
Grantokyo South Tower, 9-2, Marunou Chi 1-Chome,Chiyoda-Ku, Tokyo, Japan
15-12 Nishi-Shimbashi 2-Chome, Minato-Ku, Tokyo, Japan
HNT Electronics Co., Ltd.
Luong Son Industrial Park, Km 36, National Highway 6, Hoa Son Commune Luong Son, Hoa Binh, Vietnam
Hosiden Corp.
Lot 1, Quang Chau Ip, Viet Yen Dicstrict, Bac Giang Province, Vietnam
Ibiden Co., Ltd.
15#, Rongchang East Street, BDA, Beijing, China
3-200, Gama-Cho, Ogaki, Gifu Pref, Japan
Innolux Corp.
No.160 Kesyue Road., Chu-Nan Site, Hsinchu Science Park, Chu-Nan, Miao-L I, Taiwan
Intel Corp.
69/F, Central Plaza, 18 Harbour Road, Wanchai, Hong Kong
Intops Co., Ltd.
148, Okgye 2 Gongdan-Ro, Gumi-Si, Gyeongsangbuk-Do, Korea
Yen Phong 1Z., Yen Phong Dist., Bac Ninh, Vietnam
Lot I-10-2, D2 Road, District 9 Ho Chi Minh, Vietnam
Inzi Display Co.,Ltd.
7880 Airway Road Suite#B6E, San Diego, CA, United States
Plot 220, Road 10, Amata Industrial Dong Nai Long Binh Ward, Bien Hoa City, Vietnam
Jahwa Electronics Co., Ltd.
1217, Chungcheong-Daero, Bugi-Myeon,Cheongwon-Gu, Cheongju-Si, Chungcheongbuk-Do, Korea
Plot 10, Khai Quang Industrial Park , Vinh Yen City, Vinh Phuc Province, Vietnam
Jiangsu Simand
Electric Co., Ltd.
No.111, Kangyuan Road, Xiangcheng District Suzhou, China
JX Nippon Mining &
Metals Corp.
54, Hansan-Gil, Cheongbuk-Myeon, Pyeongtaek-Si, Gyeonggi-Do, Korea
125 North Price Road. Chandler, AZ, United States
1008164 1-2, Otemachi 1Chome, Chiyoda-Ku, Tokyo, Japan
Kirin Precision Co., Ltd.
Av.Benito Juarez 131-5 Parque Industrial Queretaro, Santa Rosa Jauregui, Qro., Mexico
(Hanamdong) 106 287, Sonjae-Ro, Gwangsan-Gu, Gwangju, Korea
KLA-Tencor
Corp.
1 Technology Drive. Milpitas, CA, United States
Kyocera Corp.
13F Kamco Yangjae Tower, 262 Kangnamdae-Ro, Kangnam-Gu, Seoul, Korea
116, Beomjigi-Ro, Danwon-Gu, Ansan-Si, Gyeonggi-Do, Korea
Lam Research Corp.
4F, 28, Pangyo-Ro 255Beon-Gil, Bundang-Gu, Seongnam-Si, Gyeonggi-Do, Korea
Avenue Edouard-Dubois 20 Neuchatel, Switzerland
4650 Cushing Parkway. Fremont, CA, United States
Lens International HK Co., Ltd.
Unit A, 7/F, Mg Tower, 133 Hoi Bun Road, Kwun Tong, Kowloon, Hong Kong
LOT Vacuum Co., Ltd.
(Shingeonji-Dong) 68, Gongdan1-Ro, Anseong-Si, Gyeonggi-Do, Korea
Maxford
Technology Limited
18 Floor, Chung Nam Building, 1 Loc Khart Road, Wanchai, Hong Kong
SUPPLIER
ADDRESS
Maxim Integrated
Products Inc.
160 Rio Robles Drive, San Jose, CA, United States
Mcnex Co., Ltd.
Lot Cn5, Ninh Binh City, Ninh Binh Province Phuc Son Industrial Park, Vietnam
MediaTek Inc.
No.1, Dusing 1st Road., Hsinchu Science Park, Hsinchu City, Taiwan
Meiko Electronics Co., Ltd.
Lot Ld4, Thach That-Quoc Oai Industrial Zone, Phung Xa Commune, Thach That Dist, Hanoi, Vietnam
Micron
Technology Inc.
8000 S. Federal Way Boise, ID, United States
Miraenanotech Co., Ltd.
A6-1, Saida International Industrial Complex, Xiqing, Tianjin, China
Murata Manufacturing Co., Ltd.
22F, (Gt Tower, Seocho-Dong), 411, Seocho-Daero, Seocho-Gu, Seoul, Korea
9380 Carroll Park Drive San Diego, CA, United States
20 Fairbanks, Suite 187 Irvine, CA, United States
200 Yishun Ave 7, Singapore
Namuga Co., Ltd.
Lot B9, Thuy Van Industrial Zone, Thuy Van Commune, Viet Tri City, Phu Tho Province, Vietnam
New Motech Co., Ltd.
8, Hanamsandan 7Beon-Ro, Gwangsan-Gu, Gwangju, Korea
7/156 Moo 4 T. Mabyangporn A. Pluakda Eng, Rayong, Thailand
Nitto Denko Corp.
33rd Floor, Grand Front Osaka, 4-20 Ofuka-Cho, Kita-Ku, Osaka 530-0011, Japan
NuFlare
Technology Inc.
8-1, Shinsugita-Cho, Isogo-Ku Yokohama, Kanagawa, Japan
NXP Semiconductors N.V.
NXP Semiconductors Netherlands B.V. High Tech Campus 60, Eindhoven The Netherlands
Partron Co., Ltd.
22, Samsung 1-Ro 2-Gil, Hwaseong-Si, Gyeonggi-Do, Korea
Posco Co., Ltd
158# Shenxu Road Suzhou Industrial Park, China
Powerlogics Co., Ltd.
163 Gwahaksanup4Ro, Oksan-Myeon, Cheongwon-Gun, Chungchongbuk-Do, Korea
Khai Quang Industrial Zone Khai Quang Ward Vinh Yen City, Vinh Phuc Province, Vietnam
Praxair Technology Inc.
(Teheran-Ro, Sinhan Building16F), 512, Teheran-Ro, Kangnam-Gu, Seoul, Korea
7, 3Gongdan 2-Ro, Seobuk-Gu, Cheonan-Si, Chungcheongnam-Do, Korea
PSK Inc.
48, Samsung 1 Ro 4-Gil, Hwaseong-Si, Gyeonggi-Do, Korea
Qorvo Inc.
1 Changi Business Park Avenue1, #04, Singapore
Rohm Co., Ltd.
159-13, Gasan Digital 1-Ro, Geumcheon-Gu, Seoul, Korea
Samsung Display Co., Ltd.
95 Samsung 2nd Road. Nonsuh-Dong Kiheung-Gu, Yongin Gyeonggi-Do, Korea
77, 4Sandan 5-Gil, Cheonan-Si Seobuk-Gu, Chungcheongnam-Do, Korea
Yen Phong I Industrial Zone Yen Phong District, Bac Ninh, Vietnam
Samsung Electro-Mechanics Co., Ltd.
(Maetan-Dong) 150, Maeyeong-Ro, Yeongtong-Gu, Suwon-Si, Gyeonggi-Do, Korea
Semphil., Chip Block 5, Barrio, Batin O, Calamba, Laguna, Philippines
Yen Binh Industrial Zone Dong Tien Ward, Pho Yen Town Thai Nguyen Province, Vietnam
No.80 Xiaqing Road, The West Zone Of Teda, Tianjin, China
14F Tower A, SCC, Nanshan District, Shenzhen, Guangdong, China
788 Nanhe Road. Kunshan Et Development Jiangsu Province, China
Samsung SDI Co., Ltd.
Yen Phong I - I.P Yen Trung Commune, Yen Phong Dist, Bac Ninh, Vietnam
56, Gosan-Ro, Uiwang-Si 16073, Gyeonggi-Do, Korea
Gongse-Dong 150-20, Gongse-Ro, Giheung-Gu , Yonginsi, Gyeonggi-Do, Korea
SI Flex Co., Ltd.
Lot A, Quang Chau Industrial Park, Bac Giang Province. Viet Yen District, Vietnam
Siltronic Corp.
P.O. Box 1140, D-84479 Burghausen, Germany
12 Tampines Industrial Ave 5, Singapore
7200 NW Front Street. Portland, OR, United States
SMART Modular
Technologies Inc.
Av. Tegula, 888 Edificio Cristal - CEA Ponte Alta, Atibaia, Sao Paulo, Brazil
Soulbrain Co., Ltd.
34, Pangyo-Ro 255Beon-Gil, Bundang-Gu, Seongnam-Si, Gyeonggi-Do, Korea
STI Co., Ltd.
1, Bonggi-Gil, Gongdo-Eup, Anseong-Si, Gyeonggi-Do, Korea
STMicroelectronics N.V.
5A Serangoon North Avenue 5, Singapore
Sumco Corp.
Seavans North, 1-2-1 Shibaura, Minato-Ku, Tokyo, Japan
19801 N. Tatum Blvd. Phoenix, AZ, United States
SUPPLIER
ADDRESS
Sung Woo Electronics Co., Ltd.
Thuan Thanh 3 Industrial Zone, Than H Khuong Commune, Bac Ninh, Vietnam
Synaptics Inc.
1251 Mckay Dr. San Jose, CA, United States
Taiwan PCB
Techvest Co., Ltd.
No.12, Kung Yeh 2nd Road., Pin Chen, Tao Yuan Hsien, Taiwan
Taiyo Nippon
Sanso Corp.
94, Eumbongmyeon-Ro, Eumbong-Myeon, Asan-Si, Chungcheongnam-Do, Korea
150 Allen Road Basking Ridge, NJ, United States
3F, No.2 Bldg. Baowu Tower 1859 Expo Boulevard Shanghai Pudong, China
#1189 Bao-8 Road, Zong He Bao Shui Xi'An Shaanxi, China
Taiyo Yuden Co., Ltd.
3 International Business Park Nordic European Centre #06-28, Singapore
440 Stevens Ave., Suite 300 Solana San Diego, CA, United States
B2B 2Nd Floor, Building3, No.258 Xin Ling Road, Pilot Free Trade Zone, Shanghai, China
43, Jayumuyeok 3-Gil, Masanhoewon-Gu, Changwon-Si, Gyeongsangnam-Do, Korea
Nordring 23, Furth, Germany
TDK Corp.
11 North Buona Vista Drive #13-08 The Metropolis Tower 2, Singapore
Nilai Industrial Estate, 71800 Nilai, Negeri Sembilan, Malaysia
3505 Wharf Cable TV Tower, 9 Hoi Sh Ing Road, Tsuen Wan, N.T., Hong Kong
8F, Songnam Building, Seocho-Dong, Seocho-Gu, Seoul, Korea
No.1 Xingang Road, Zhangwan Town, Jiaocheng City, Ningde, Fujian Province, China
St.Martin Str. 53, Munich, Germany
TES Co., Ltd.
2374-36, Jungbu-Daero, Yangji-Myeon, Cheoin-Gu, Yongin-Si, Gyeonggi-Do, Korea
Texas Instruments Inc.
3-6, World Shipping Centre, Harbour City, 7 Canton Road, Hong Kong
The Dow Chemical Company
14F, 412, Teheran-Ro, Gangnam-Gu, Seoul, Korea
412, Teheran-Ro, Gangnam-Gu, Seoul, Korea
(Backseok-Dong) 56, 3 Gongdan 1-Ro, Seobuk-Gu, Cheonan-Si, Chungcheongnam-Do, Korea
P.O. Box 60896 Charlotte, NC, United States
112, Seonggeo-Gil, Seonggeo-Eup, Seobuk-Gu, Cheonan-Si, Chungcheongnam-Do, Korea
4F No.6, Lane 280, Zhongshan North Road, Taiwan
451 Bellevue Road. Newark, DE, United States
Tokyo Electron Ltd.
51, Jangangongdan 6-Gil, Jangan-Myeon, Hwaseong-Si, Gyeonggi-Do, Korea
1F, No.126 Hedan Road., Pudong, Shanghai, China
Akasaka Biz Tower, 3-1 Akasaka 5-Chome, Minato-Ku, Tokyo 107-6325, Japan
2400 Grove Blvd. Austin, TX, United States
Toshiba Corp.
20 Pasir Panjang Road #12-25/28 Mapletree Business City, Singapore
517, Yeongdong-Daero, Gangnam-Gu, Seoul, Korea
2570-1, Urasuda, Kamo-Shi, Niigata, Japan
Yeongdongdaero 517, Gangnam-Gu, Seoul, Korea
Tripod Technology Corp.
No.7, Middle Section, Mianzhou Avenue, Xiantao, Hubei, China
ULVAC, Inc.
5, Hansan-Gil, Cheongbuk-Eup, Pyeongtaek-Si, Gyeonggi-Do, Korea
Versum Materials Inc.
(Singil-Dong) 283, Haebong-Ro, Danwon-Gu, Ansan-Si, Gyeonggi-Do, Korea
7201 Hamilton Blvd. Allentown, PA, United States
WiSol Co., Ltd.
D1-1,D1-3 International Industrial City Xeda, Tianjin, China
No.26 Street 05 Vsip Bac Ninh Industrial Zone Tu Son Town, Bac Ninh, Vietnam
Wonik IPS Co., Ltd.
75, Jinwisandan-Ro, Jinwi-Myeon, Pyeongtaek-Si, Gyeonggi-Do, Korea
Wonik Materials Co., Ltd.
30, Yangcheong 3-Gil, Yangcheong-Ri, Ochang-Eup, Cheongwon-Gu, Cheongju-Si, Chungcheongbuk-Do, Korea