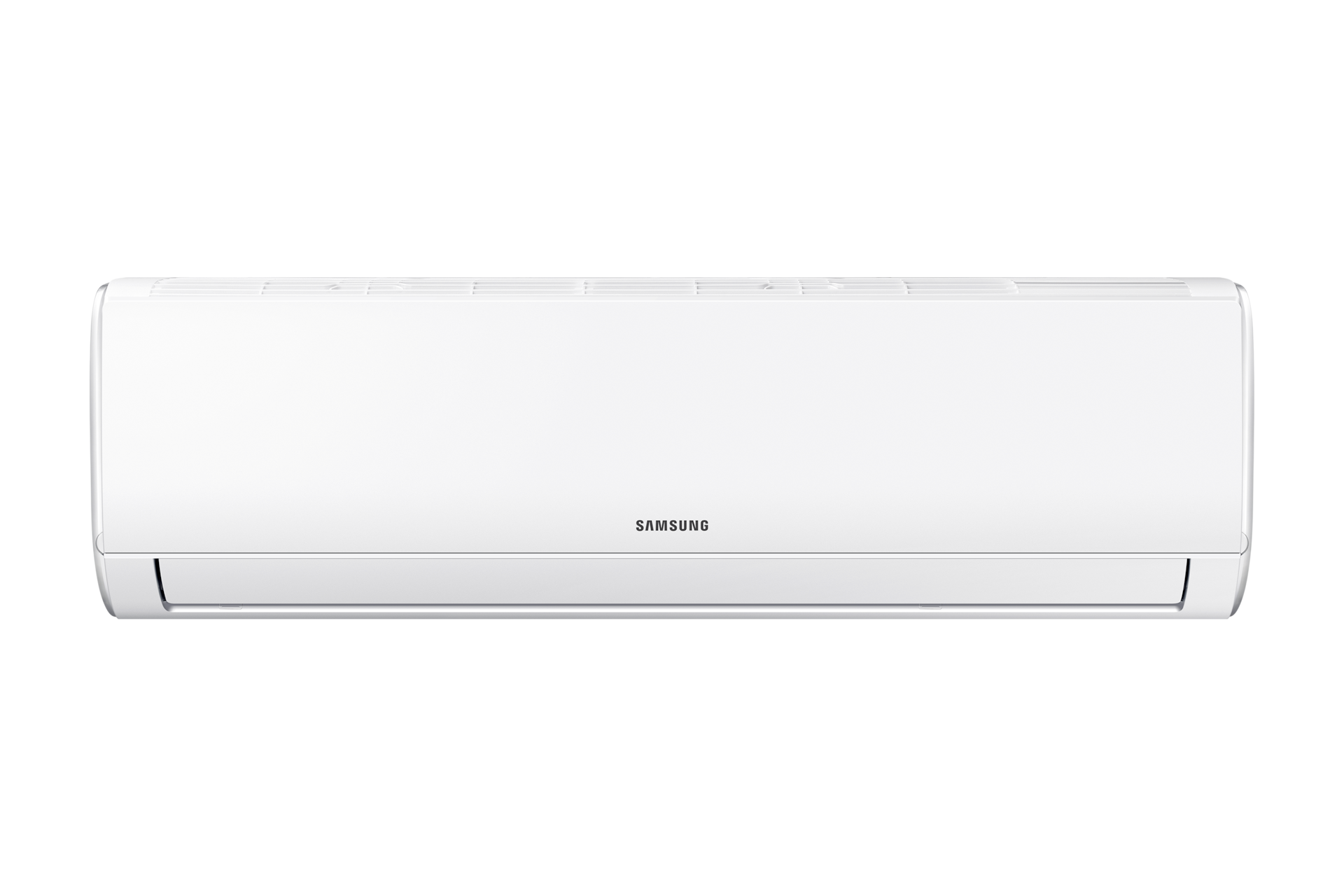 AR09 AC 1PK Standard R32
AR09TGHQASINSE
Fast Cooling
HD Filter
2-Way Auto Swing
HD Filter
9000 Btu/hr
Capacity (Cooling, Btu/hr)
2.638 kW
Capacity (Cooling, kW)
3.20 W/W
EER (Cooling, W/W)
Cools you faster
Fast Cooling
Cool a whole room rapidly and effectively. Fast Cooling mode operates with the fastest fan speed, before slowing down. So it cools or heats much faster compared to the normal mode* and reaches the desired temperature in the shortest time. It's ideal for immediate relief from the heat outside.
Breathe purer air
HD Filter
Make sure that the air you breathe is always clean and fresh. The HD Filter is really effective at capturing dust, airborne contaminants and allergens, such as pollen, mold spores and pet dander. And it's also washable, so all you need to do is give it a quick rinse in water and then reuse it.
Enjoy a good sleep
Good Sleep
Enjoy a great night's sleep – every night! Good Sleep mode automatically controls and fine-tunes the temperature to create the ideal conditions for each stage of the sleep cycle. So you gain precious minutes of sleep and feel fully refreshed. And it also uses less energy than normal cooling.
Cools every corner
2-Way Auto Swing
Create a comfortable environment with an even temperature in every corner. The 2-Way Auto Swing function automatically controls the air flow direction, so it's quickly and evenly distributed across the room. It can expel cool or warm air further and in every direction to ensure maximum comfort.
Long-lasting cooling
DuraFin+
Stay comfortably cool for much longer. The DuraFin+ is made of corrosion-resistant material to protect the condenser from rusting, which helps to maintain the optimal performance of the Heat Exchanger. Its superb corrosion-resistance was proven using the Salt Spray Test (SST) for 480 hours*.
* Tested on the AR12TXFCAWKNEU, AR13TYHYAWKNST model.
9000 Btu/hr
2.638 kW
3.20 W/W
681*434*285 mm
Panduan Pengguna & Unduhan
Live Chat
Buat Wishlist Anda
Jangan lewatkan produk yang Anda sukai.
Masuk / Daftar sekarang untuk mengakses Wishlist Anda di semua perangkat Anda dan dapatkan pembaruan mengenai promosi terbaik kami.
TAMBAH KE WISHLIST
Apakah Anda ingin menambahkan produk ini ke dalam Wishlist?
WishList
Item ini sudah ada di wishlist Anda
Dapatkan Pemberitahuan Stok
Dapatkan notifikasi ketika item ini tersedia untuk dibeli, dengan menambahkan email Anda.
Dengan memberikan email Anda, Anda setuju untuk mendapatkan promosi & notifikasi stok item dari Samsung.
Kami akan mengirim email kepada Anda ketika stok tersedia.
Terima kasih.
EMIs (Pay in Easy Monthly installments)
Hapus pilihan
Anda yakin ingin menghapus pilihan ini?
Pilihan akan diatur kembali jika Anda memilih Samsung care+.
Apakah Anda yakin untuk melanjutkan?
Protect your smartphone with insurance
An insurance that protects your smartphone anywhere and at any time to bring you greater peace of mind.
Coverage against breakage

Physical damage such as cracks or breakage of the screen or the rear window, which is detrimental to the functioning of the mobile phone.*

Cover against other damage

Damage caused by liquid or any physical damage, other than damage to the screen, affecting the use of the software or the charging of the mobile.*

Repair by official teams

Your smartphone will only be repaired by Samsung authorized service providers and Samsung genuine parts.
Option will be reset if you select Extended Warranty.
Apakah Anda yakin untuk melanjutkan?
If you select both exchange and bundle option, an additional exchange discount of the exchange option will not be applied. Apakah Anda yakin untuk melanjutkan?
If you select both exchange and bundle option, an additional exchange discount of the exchange option will not be applied. Apakah Anda yakin untuk melanjutkan?
Installment Calculate
Installments are provided by Santander Consumer Bank S.A.
How does it work?
Pay for your new Galaxy phone in monthly instalments and be invited to upgrade to the new Galaxy as soon as it launches.
01 Choose your device

Choose from the new Galaxy series.

02 Spread the cost

Pay a 10% deposit and then monthly instalments over 24 months. (0% finance available)

03 Yearly upgrades

Be invited to upgrade to the latest Galaxy phone after 12 months.
Upgrade Program
Upgrade your handset every 12 months.
How trade–in works
01

Choose your new Samsung device and tell us about your old one. If eligible, you will see an estimated trade-in value.

02

Get an upfront discount on the price of your new Samsung device.

03

Send your old device back in the supplied recycling pack to complete the trade-in.
Customize your watch
All from one hand
Now you get innovative smartphone with right tariff plan.
Check the Terms and Conditions
Hidupkan ponsel dan tahan catu daya

Layar berfungsi & tidak ada layar yang retak

Memiliki ID FCC & tidak di blacklist

Factory reset & non-aktifkan penguncian aplikasi
La liberté ne s'achète pas, elle se loue
Liberté

Possibilité de changer votre smartphone tous les 4 mois.

Sérénité

La garantie incluse et des assurances optionnelles.

Exclusivité

Le meilleur de la technologie à prix très attractifs.