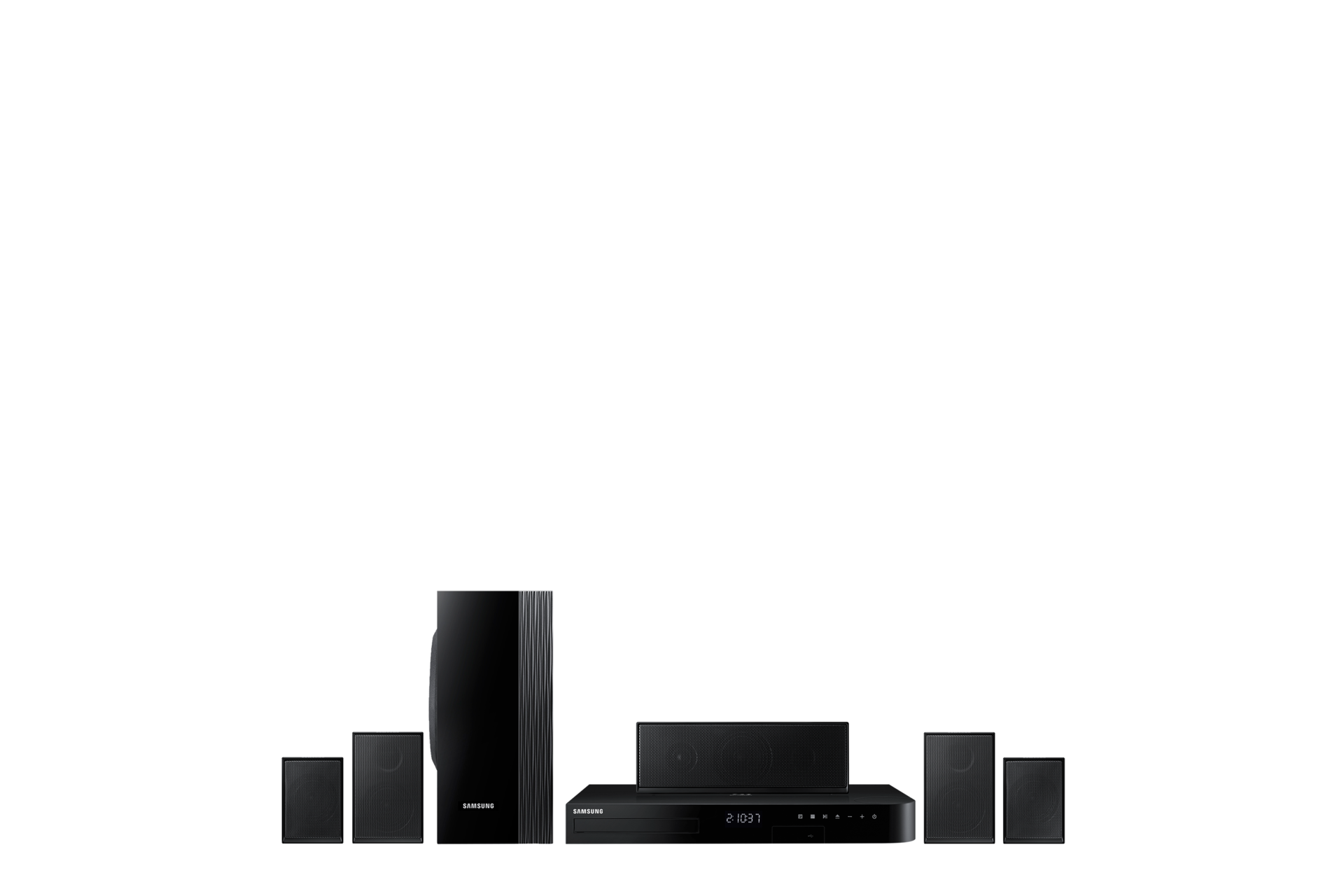 Blu-ray Home Theater
J5100K, 1000W 5.1Ch
HT-J5100K/XD
1000W / 5.1 Ch
Dolby Digital Plus, Dolby True HD
Crystal Amplifier Plus, Power Bass
Maaf! Produk ini sudah tidak tersedia.
Dentuman Suara Bass yang Dahsyat
Samsung HT-J5100 di desain untuk menghasilkan suara bas yang lebih dalam dan kaya. Sistemnya mengalirkan getaran suara untuk memastikan semua suara rendah bisa dihasilkan dengan optimal. Nikmati kualitas suara yang membuat Anda seolah berada di bioskop.
Nikmati Suara yang Jernih dengan Crystal Amp Pro
Samsung HT-J5100 memiliki teknologi Crystal Amp Pro yang berfungsi untuk meningkatkan kualitas suara secara dramatis melalui multi-variable feedback sehingga menghasilkan suara yang lebih megah dari sistem audio pada umumnya.
Atur Audio sesuai Selera Anda
Atur tingkat frekuensi sesuai dengan mood atau selera Anda dengan mudah, langsung dari layar TV.
Nikmati Tayangan TV dengan Suara Surround
Dengan fitur TV Sound On, Anda dapat menikmati tayangan TV favorit dengan suara surround yang berkualitas tinggi hanya dengan memencet satu tombol. Cukup tekan hotkey yang ada di remote untuk menyalakan speaker Samsung Home Theater J5100.
1000W

Total Power

5.1 Ch

Number of Channel

Power Bass

Power Bass

HDMI Cable

HDMI Cable

Karaoke Scoring

Karaoke Scoring

My Karaoke

My Karaoke
Panduan Pengguna & Unduhan
Live Chat
* Fitur utama mungkin berbeda dari Spek Utama
Buat Wishlist Anda
Jangan lewatkan produk yang Anda sukai.
Masuk / Daftar sekarang untuk mengakses Wishlist Anda di semua perangkat Anda dan dapatkan pembaruan mengenai promosi terbaik kami.
TAMBAH KE WISHLIST
Apakah Anda ingin menambahkan produk ini ke dalam Wishlist?
WishList
Item ini sudah ada di wishlist Anda
Dapatkan Pemberitahuan Stok
Dapatkan notifikasi ketika item ini tersedia untuk dibeli, dengan menambahkan email Anda.
Dengan memberikan email Anda, Anda setuju untuk mendapatkan promosi & notifikasi stok item dari Samsung.
Kami akan mengirim email kepada Anda ketika stok tersedia.
Terima kasih.
EMIs (Pay in Easy Monthly installments)
Hapus pilihan
Anda yakin ingin menghapus pilihan ini?
Pilihan akan diatur kembali jika Anda memilih Samsung care+.
Apakah Anda yakin untuk melanjutkan?
Protect your smartphone with insurance
An insurance that protects your smartphone anywhere and at any time to bring you greater peace of mind.
Coverage against breakage

Physical damage such as cracks or breakage of the screen or the rear window, which is detrimental to the functioning of the mobile phone.*

Cover against other damage

Damage caused by liquid or any physical damage, other than damage to the screen, affecting the use of the software or the charging of the mobile.*

Repair by official teams

Your smartphone will only be repaired by Samsung authorized service providers and Samsung genuine parts.
Option will be reset if you select Extended Warranty.
Apakah Anda yakin untuk melanjutkan?
If you select both exchange and bundle option, an additional exchange discount of the exchange option will not be applied. Apakah Anda yakin untuk melanjutkan?
If you select both exchange and bundle option, an additional exchange discount of the exchange option will not be applied. Apakah Anda yakin untuk melanjutkan?
Installment Calculate
Installments are provided by Santander Consumer Bank S.A.
Choose convenient Instalment plans provided by Inbank
| | |
| --- | --- |
| Product Price | |
| Plan | |
| Months | |
| Interest rate | |
| Monthly payment | |
Installment Plans Disclaimer
Galaxy Assured Program Powered by Cashify
Assured Buyback Program
Galaxy Assured Program is available for a period of 12 months from date of purchase. You can redeem Galaxy Assured Values at any time within the program period. The Galaxy Assured values for different time periods are given below in the table
| Model Name | Purchase Price |
| --- | --- |
| | |
These Galaxy Assured Values are subject to device's condition at the time of return, please check program T&Cs.
Galaxy Assured Program is a non-transferable offer and is available for a period of 12 months from date of purchase.

Galaxy Assured Program will be fulfilled by Cashify. The device can be redeemed at www.cashify.in any time within 12 months. The exchange value would be applicable as per tenure of purchase (table below).

If you opt for Galaxy Assured Program, you will receive a welcome mail from Cashify for program enrollment within 7-10 days from product delivery

You need to enter the device IMEI during the redemption journey to get applicable Galaxy Assured value

Cashify will make arrangements to collect the devices and transfer the Galaxy Assured value directly to the Bank/Wallet or any other payment methods opted during redemption.
Galaxy Assured Program is available in following cities:

Bangalore
Chandigarh
Chennai
Delhi
Mumbai
Hyderabad
Noida
Ghaziabad
Pune
Ahmedabad
Kolkata
Faridabad
Gurgaon
How does it work?
Pay for your new Galaxy phone in monthly instalments and be invited to upgrade to the new Galaxy as soon as it launches.
01 Choose your device

Choose from the new Galaxy series.

02 Spread the cost

Pay a 10% deposit and then monthly instalments over 24 months. (0% finance available)

03 Yearly upgrades

Be invited to upgrade to the latest Galaxy phone after 12 months.
Upgrade Program
Upgrade your handset every 12 months.
How trade–in works
01

Choose your new Samsung device and tell us about your old one. If eligible, you will see an estimated trade-in value.

02

Get an upfront discount on the price of your new Samsung device.

03

Send your old device back in the supplied recycling pack to complete the trade-in.
Customize your watch
All from one hand
Now you get innovative smartphone with right tariff plan.
Pay monthly network contracts
Buy your phone along with an inclusive monthly network plan and pay monthly*
Choose your network
Choose from a range of networks and inclusive monthly plans to get started with your new Galaxy phone straight away.
Pay monthly
Pay for your phone and an inclusive bundle of calls, texts and data in one easy-to-manage monthly fee.
Next steps
You will be redirected to our trusted partner, A1 Comms Ltd (trading as Mobileshop), to purchase your phone and setup your monthly plan.
*Please note that monthly nerwork tariff purchases cannot be combines with trade-in, Samsung Upgrade Programme or any other financial products, including Samsung Care+.
Check the Terms and Conditions
Hidupkan ponsel dan tahan catu daya

Layar berfungsi & tidak ada layar yang retak

Memiliki ID FCC & tidak di blacklist

Factory reset & non-aktifkan penguncian aplikasi
La liberté ne s'achète pas, elle se loue
Liberté

Possibilité de changer votre smartphone tous les 4 mois.

Sérénité

La garantie incluse et des assurances optionnelles.

Exclusivité

Le meilleur de la technologie à prix très attractifs.