LH55QHHPLGC/XD
Professional Display QHH Series 55"
Accurate true-to-life color, with one billion different variations available
Enhanced graphic performance and content security within a powerful Tizen 3.0 OS
Uninterrupted operations without any risk of distracting burn-in or color variation
Samsung's QHH Series QLED Smart Signage
With the introduction of its new quantum-dot powered QHH Series QLED Signage, Samsung has elevated the traditional content experience with more lifelike quality guaranteed to deliver an unexpected viewing environment that resonates. The QHH Series displays can showcase more than one billion colors at 100 percent color volume, and produce deep blacks, pristine whites and sharp hues that make any picture pop. And with portrait and landscape configurations available, businesses can customize the displays to meet their unique operational needs and reach the widest audience possible without any added hassle or expense. Through this next-generation presentation, Samsung's QHH Series displays deliver the enhanced brilliance, detail and realism necessary to cut through the clutter and fuel interactive, ongoing business growth.
Samsung's QLED Signage: Unlock new Growth Opportunities
As businesses seek new ways to attract audiences and improve efficiency in increasingly-crowded environments, many are turning to advanced digital signage as a way to break through the clutter. By integrating quantum dot visual refinement technology, Samsung's QLED Signage offers these businesses an even greater competitive edge. An immersive high-quality picture creates a more memorable, attractive and buzzworthy customer experience. Beyond their external communication benefits, the QLED Signage displays additionally reinforce business branding through accurate and clean logo and color presentation. Through this diverse host of features, Samsung's QLED Signage is the perfect addition to generate additional revenue and strengthen customer loyalty.
Showcase One Billion Colors with Optimal Precision
Through compatibility with a variety of color spectra, the QHH Series displays achieve 100 percent color volume at optimal integrity for one billion different colors. This enhanced presentation brings even the most subtle visual details forward at varying levels of brightness, and fosters more realistic content within any indoor environment. As a result, retailers and other indoor businesses reliant on true-to-life product presentation can better drive purchase intent and improve customer satisfaction.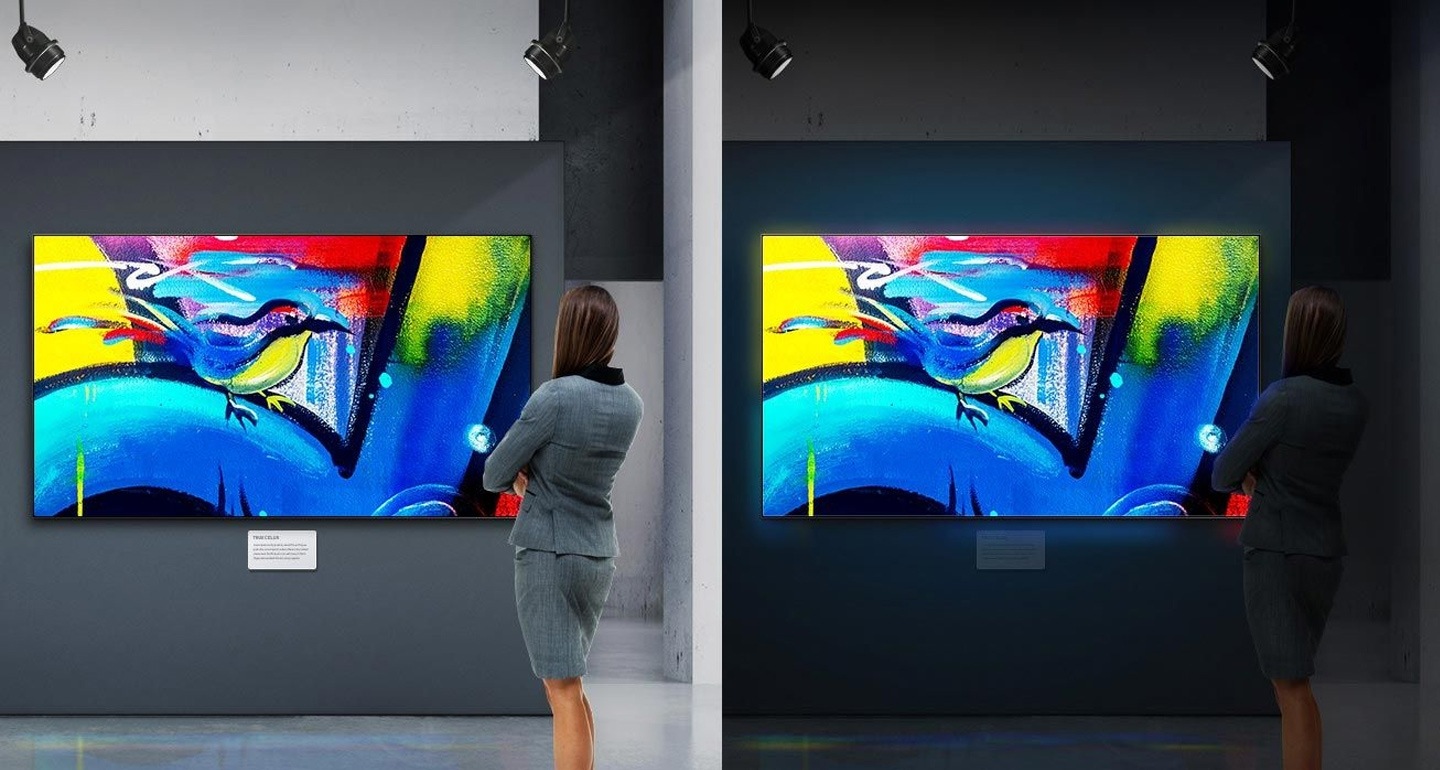 Amplify Immersion through Enhanced Brightness and Presentation
The quantum dot integration enables Samsung's new QLED Signage to balance light and dark brightness (600nit in landscape and 500nit in portrait) and preserve gradation for a presentation that is deeper and more realistic than that offered by conventional alternatives. Through enhanced, semiconductor-based picture refinement technology, the QHH Series displays produce deeper blacks, sharper whites and more precise colors for an eye-catching picture that pops. In turn, businesses in any environment can deliver a truly immersive and captivating viewing experience without worrying about external interference.
Deliver any Customer-Facing Content at HDR Quality
The QHH Series displays leverage HDR picture refinement technology to deliver a range of static and motion content as intended and without compromising visual quality. This includes support for both the HDR10 picture presentation standard and HDR+ technology. Through HDR10 compatibility, indoor businesses can guarantee that all featured content meets ultra-HDR guidelines and reaches customers as clearly and brightly as possible. The complementary HDR+ functionality additionally allows businesses to surpass industry limitations by converting standard definition (SDR) content to HDR quality quickly and efficiently. This flexibility grants businesses new opportunities to create high quality, HDR-ready content amplified by sharp contrast, vivid color depth and seamless streaming.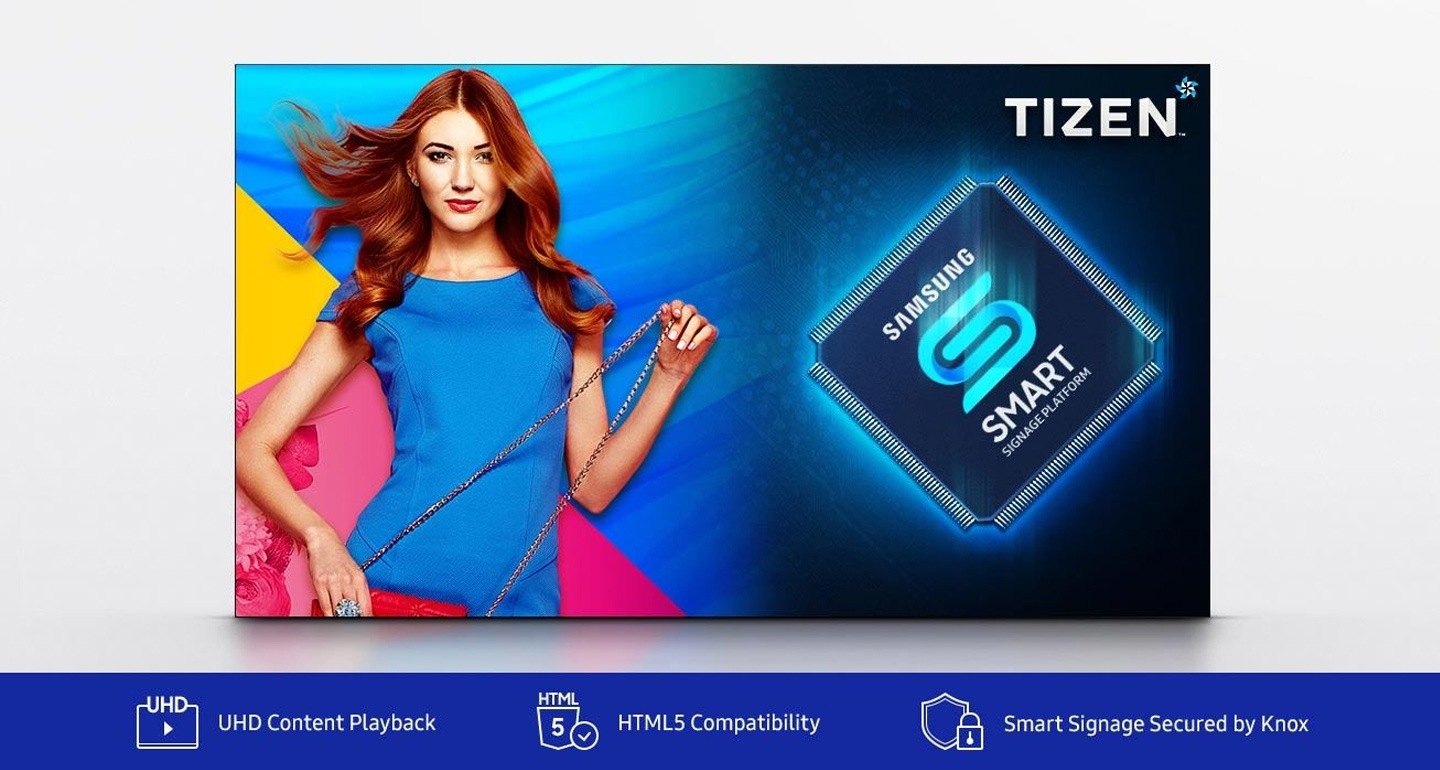 Expand Operational Capabilities through the Powerful TIZEN 3.0 OS
Samsung's QLED displays are the first in its lineup to feature the fifth generation SMART Signage Platform (SSSP 5.0), powered by the versatile TIZEN 3.0 operating system. Within TIZEN 3.0, indoor business users can elevate content with advanced graphics and achieve true UHD playback through a dedicated quad core CPU. TIZEN 3.0's rigid three-layer security structure also restricts file data access to a limited user base, and perfectly accommodates government, financial and other information-based businesses reliant on information protection.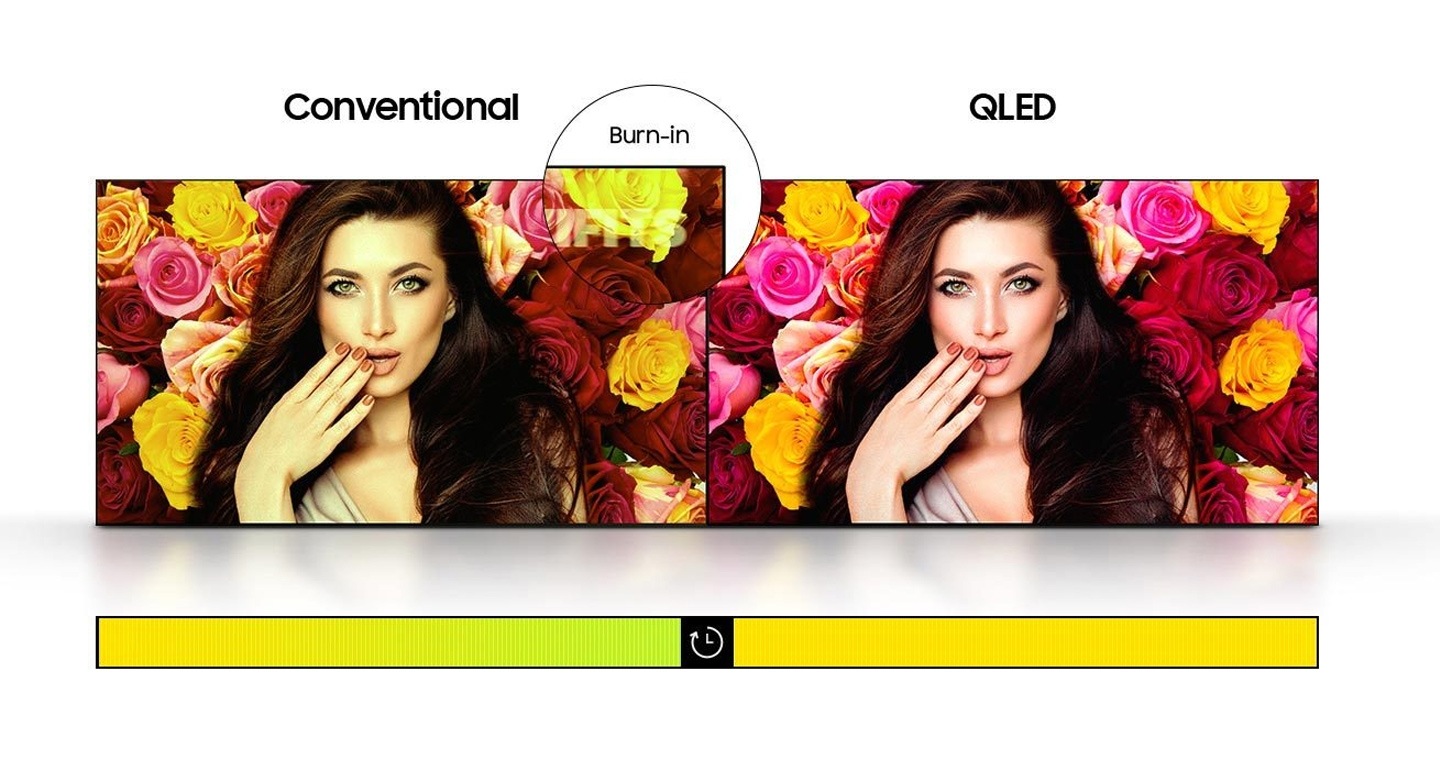 Captivate Audiences over Long Durations without Interruption
Durable and reliable, Samsung's QLED displays provide interruption-free long-term performance to meet the operational demands of various indoor settings. As content progresses, these reinforced displays deter burn-in and prevent potential viewer confusion and distraction. Additionally, each QLED display is engineered to maintain consistent color integrity even during periods of extended use. This maintenance-free consistency allows business leaders to focus on other critical growth areas without worrying about content presentation quality.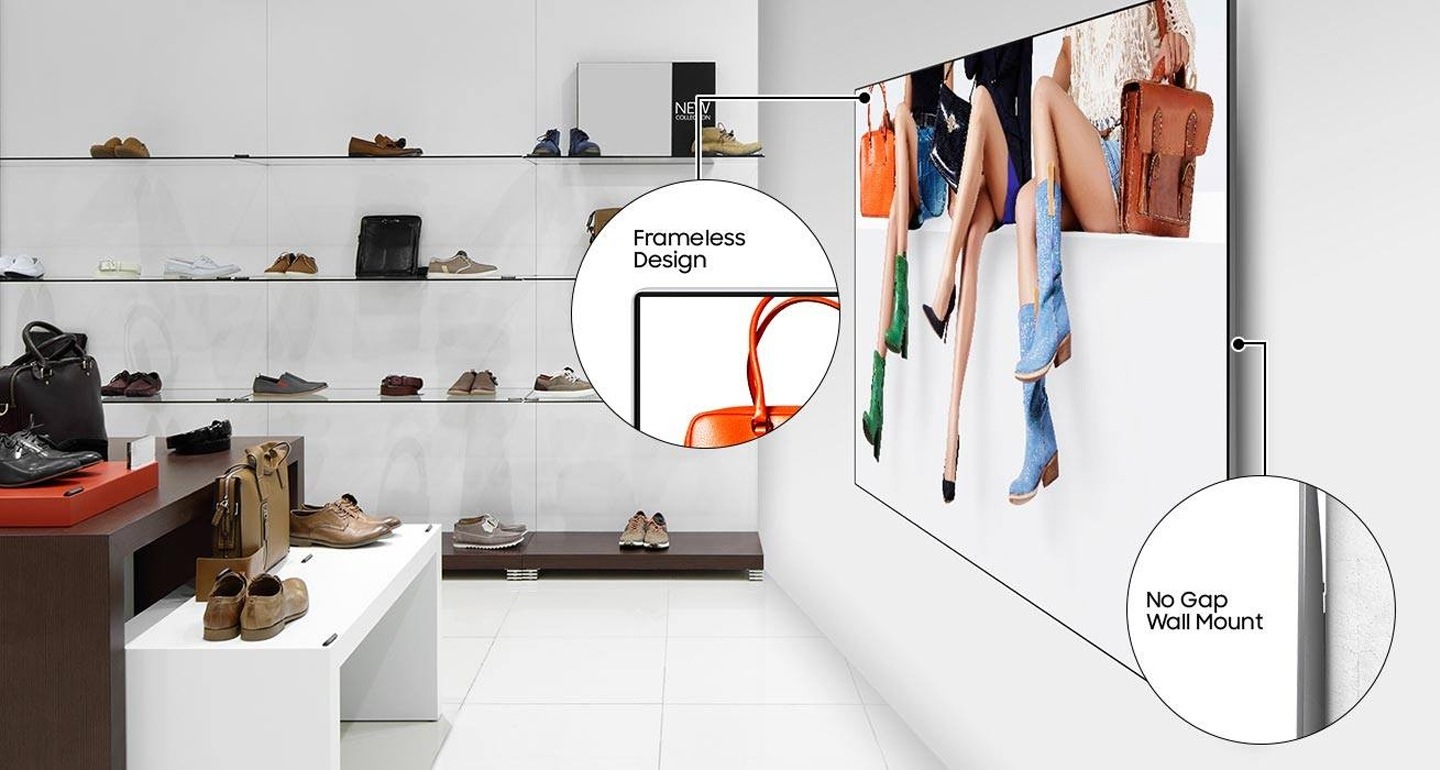 Increase Immersion through a Frameless, Easy-to-Install Design
With a pristine and sophisticated composition, the QHH Series displays add style and ambience to any indoor environment. The displays' frameless design extends the overall available viewing space while ensuring viewers' eyes remain focused on the featured content, rather than on the display itself. A no-gap wall mount further enables users to cleanly implement the QHH Series displays, all while eliminating a common source of visual distraction and conserving valuable retail space.
Enliven Commercial Content with UHD Picture Quality
Featuring state-of-the-art UHD picture quality, the QHH Series displays empower users to create and deliver impactful messaging. Each QHH Series display showcases content with four times the ultra-realistic detail and clarity of standard alternatives, with a wider screen offering more space for text and imagery. When combined with performance features, such as portrait mode and extended durability, the next-level presentation makes the QHH Series ideal for any commercial setting.
Specification
Display

Diagonal Size

55"

Panel Type

Edge LED, 120Hz

Resolution

3840x2160

Pixel Pitch (HxV)

105 X 315 um

Brightness (Typical)

Landscape:600nit(peak 1,600nit), Portrait: 500nit (peak 1,000nit)

Contrast Ratio

6000

Viewing Angle (H/V)

178/178

Response Time

6ms

Color Gamut

99%(sRGB)

Glass Haze

0%

H-Scanning Frequency

30 ~ 81kHZ

Maximum Pixel Frequency

594MHz

V-Scanning Frequency

48 ~ 75HZ

Dynamic Contrast Ratio

Mega

Connectivity

RGB In

N / A

Audio In

N/A

Audio Out

N/A

Video Out

N/A

Power

Power Supply

AC100-240V 50/60Hz

Power Consumption (Off Mode)

N/A

Power Consumption (On Mode)

198

Power Consumption (Sleep Mode)

0.5 W

Dimension

Set Dimension (WxHxD)

1225.2 x 697.8 x 44 mm

Package Dimension (WxHxD)

1420 x 819 x 170 mm

Weight

Set Weight

17.3 kg

Package Weight

23.9 kg

Mechanical Specification

VESA Mount

400 x 400 mm

Bezel Width

Bezel-less Design ( Deco Frame: 2.6mm (T/L/R) / 6.7mm (B) )

Frame Material

Non-Glossy

Operation Conditions

Temperature

0℃~ 40℃

Humidity

10~80%

General Feature
Optional Feature

Mount

WMN4270SD, WMN-M11E

Stand

STN-L4655E

Internal Player (MagicInfo)

MagicInfo Daisychain Videowall Support

N/A

Eco

Energy Efficiency Class

N/A

Certification and Compliance

EMC

FCC (USA) Part 15, Subpart B Class ACE (Europe) : EN55022:2006+A1:2007 EN55024:1998+A1:2001+A2:2003VCCI (Japan) : VCCI V-3 /2010.04 Class AKCC/EK (Korea) : Tuner : KN13 / KN20 Tunerless : KN22 / KN24BSMI (Taiwan) : CNS13438 (ITE EMI) Class A / CNS13439 (AV EMI) / CNS14409 (AV EMS) / CNS14972 (Digital)C-Tick (Australia) : AS/NZS CISPR22:2009CCC(China) :GB9254-2008 GB17625.1-2012GOST(Russia/CIS) : GOST R 51317 Series, GOST 22505-97 EN55022:2006+A1:2007 EN55024:1998+A1:2001+A2:2003

Safety

CB (Europe) : IEC60950-1/EN60950-1CCC (China) : GB4943.1-2011PSB (Singapore ) : PSB+IEC60950-1NOM (Mexico ) : NOM-001-SCFI-1993IRAM (Argentina ) : IRAM+IEC60950-1SASO (Saudi Arabia ) : SASO+IEC60950-1BIS(India) : IEC60950-1 / IS13252NOM(Mexico) : Tuner : NOM-001-SCFI-1993 Tunerless : NOM-019-SCFI-1998KC(Korea) : K 60950-1EAC(Russia) : EAC+IEC60950-1INMETRO(Brazil) : INMETRO+IEC60950-1BSMI(Taiwan) : BSMI+IEC60950-1RCM(Australia) : IEC60950-1/AS/NZS 60950-1UL(USA) : cUL60950-1 CSA (Canada) : cULTUV (Germany) : CENEMKO (Norway) : CE
Fitur dan spesifikasi dapat berubah tanpa pemberitahuan terlebih dahulu. Gambar yang digunakan hanya untuk tujuan ilustrasi
Beberapa fitur Samsung Smart TV mungkin tidak tersedia tanpa persetujuan jelas terhadap pengumpulan dan penggunaan informasi pribadi.
Manual Download
Professional Display QHH Series 55" (LH55QHHPLGC/XD)
Manuals

2019.05.03

User Manual versi 05

(INDONESIAN)

2019.05.03

User Manual versi 05

(ENGLISH)

2017.11.21

Quick Guide versi 00

(ENGLISH, ARABIC, CHINESE, FRENCH, PORTUGUESE, VIETNAMESE)

2020.08.18

Install Guide(MagicInfo Express 2 Setup for Windows ) versi 3.1 1014.1

(KOREAN, ENGLISH, ARABIC, BULGARIAN, CHINESE, CHINESE, CROATIAN, CZECH, DANISH, DUTCH, DUTCH(BEL), ESTONIAN, PERSIAN, FINNISH, FRENCH, , GERMAN, GREEK, HEBREW, HUNGARIAN, INDONESIAN, ITALIAN, LATVIAN, LITHUANIAN, NORWEGIAN, POLISH, PORTUGUESE, ROMANIAN, RUSSIAN, SERBIAN, SLOVAK, SLOVENIAN, SPANISH, SWEDISH, THAI, TURKISH, UKRAINIAN, VIETNAMESE)

2016.09.09

Install Guide(MagicInfo Express 2 User Manual) versi 2.6_1.2

(ENGLISH, ARABIC, BULGARIAN, CROATIAN, CZECH, DANISH, DUTCH, ESTONIAN, PERSIAN, FINNISH, GREEK, HEBREW, HUNGARIAN, INDONESIAN, LATVIAN, LITHUANIAN, NORWEGIAN, ROMANIAN, SERBIAN, SLOVAK, SLOVENIAN, UKRAINIAN, VIETNAMESE)