LH37SHFPLBB/XD
Professional Display SHF Series 37"
Widescreen 16:4.5 stretched displays with continuous 24/7 operation capability
Unparalleled visual effect with high brightness (700 nit) and non-glare panels (44% haze)
Straightforward display and content management with DP Loop Out and USB Playback functionality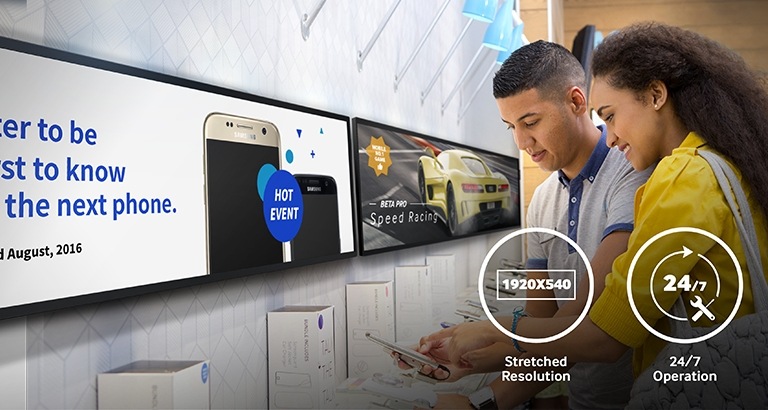 Maximize space and optimize content with Samsung SMART Signage solutions
Digital signage today needs to be versatile and cost effective with an emphasis on maximizing space efficiency. There has been an increasing need to utilize niche spaces with effective signage solutions. Samsung SHF Series displays, with 16:4.5 wide screen stretched display offer the ability to effectively communicate information in small, narrow spaces such as store shelves, ceilings, and corridors. When used in a 24/7 transportation environment, Samsung SMART Signage SHF Series displays are an invaluable asset in keeping travelers apprised of changing schedules providing clear, easy to read, vibrant information that can be consumed at a glance. In retail environments, SHF Series displays offer unique opportunities to promote products or entice customers with product information using minimal amount of space. With the capability of continuous 24/7 non-stop operation, you can rest assured that customer attention will be at an all time high.
Deliver sharp images in various lighting conditions
Samsung SMART Signage SHF Series displays deliver vibrant, realistic images offering an unparalleled visual experience. Featuring brightness levels of up to 700 nit, these displays deliver the clearest, richest images regardless of lighting conditions. SHF Series displays excel in situations with strong light where glare may present an issue. With a non-glare (44% haze) panel, you can rest assured that your content will not be obstructed by lighting conditions outside of your control, and you can be confident that your content will look great anywhere.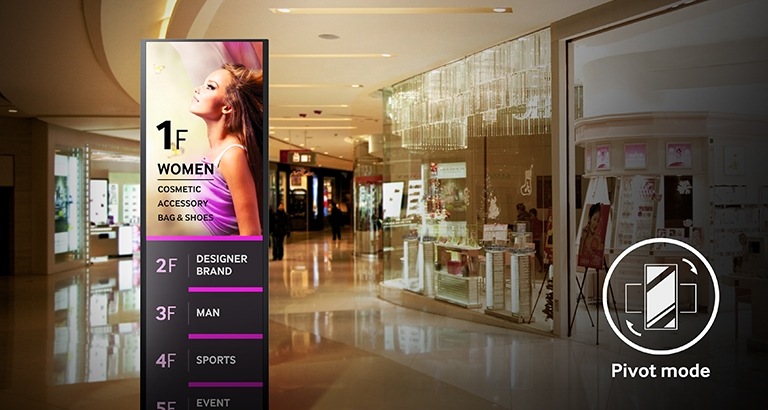 Customize content from portrait to landscape and display with simplicity
Samsung SHF Series displays offer pivoting capability along with image rotation software that can change image orientation from portrait to landscape for greater display flexibility. Images do not require rotation in image editing software to make them appear correctly in a different orientation as this capability is handled automatically within the display. The 16:4.5 wide screen format enables you to create a rich interactive experience in a multitude of ways in a variety of spaces. Content is fully optimized and the display allows for greater flexibility since it can accommodate for content in any orientation. Easily deliver vibrant, realistic images with ease and simplicity. On playing contents of 540x1920 size, pivot mode makes it optimal.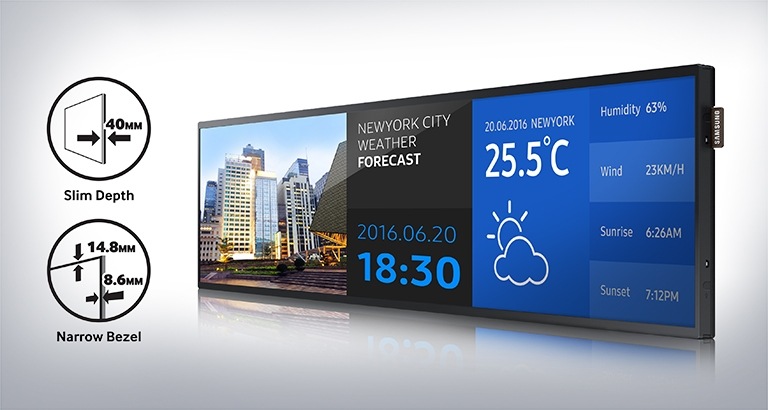 Maximize viewer engagement in a minimum amount of space
Samsung SHF Series displays feature a slim profile with a depth of only 39.9 mm which allows you to maximize available space. This enables the display to be installed in areas where space is limited and allows content to blend seamlessly with the environment in a slim, light, design with reduced power consumption for lower operation costs. A slim bezel design of only 13.9 mm (T/B) and 7.5 mm (L/R) allows for fewer distractions in the content and allows your message to shine in a clear, un-interrupted way.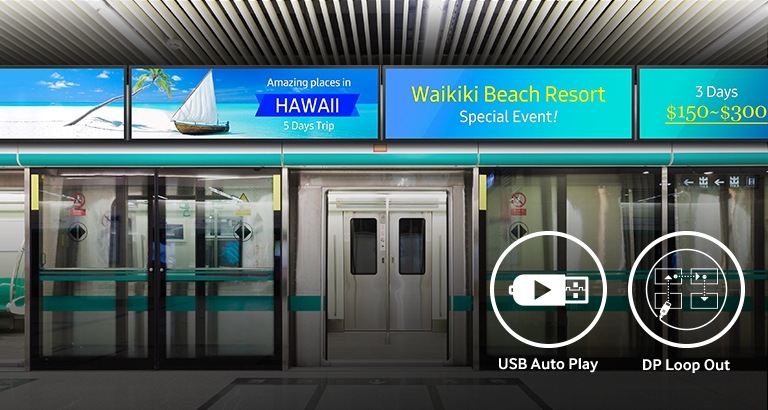 Daisy chain multiple displays without the need for additional equipment
Due to the relative novelty of UHD in commercial display settings, few media players currently offer support for UHD streaming. To meet this demand, Samsung launched an optional UHD-capable SBB, which can attach to the back of the QMF Series. The simple installation of this SBB eliminates unnecessary wire clutter and also removes the need to create separate housing for the media player.
SPESIFIKASI
Display

Diagonal Size

37"

Panel Type

Edge type, 60hz

Resolution

1920 x 540 (16:4.5)

Pixel Pitch (HxV)

0.4686(H) X 0.4686(V)

Active Display Size (HxV)

899.712(H) x 253.044(V)

Contrast Ratio

4000:1

Viewing Angle (H/V)

178/178

Response Time

16ms

Display Color

8bit - 16.7M

Color Gamut

72 %

H-Scanning Frequency

54 ~ 69.75kHz

Maximum Pixel Frequency

148.5MHz

V-Scanning Frequency

48 ~ 62HZ

Brightness

700nit

Konektivitas

RGB In

DVI-I (D-Sub Common)

Audio In

Stereo Mini Jack

Audio Out

Stereo Mini Jack

Video Out

DP

Power

Power Supply

AC 100 - 240 V~ (+/- 10 %), 50/60 Hz

Dimension

Set Dimension (WxHxD)

915.8 x 281.1 x 39.9 mm

Package Dimension (WxHxD)

1102 x 122 x 369 mm

Weight
Mechanical Specification

VESA Mount

400 x 200 mm

Bezel Width

5.7 (Side), 12 (Top/Bottom) mm

Media Player Option Type

SBB (Not attachable)

Operation Conditions

Temperature

0℃~ 40℃

Humidity

10% ~ 80%, non-condensing

Eco

Energy Efficiency Class

1

Certification and Compliance

EMC

FCC (USA) Part 15, Subpart B Class A, CE (Europe) : EN55022:2006+A1:2007, EN55024:1998+A1:2001+A2:2003, VCCI (Japan) : VCCI V-3 /2010.04 Class A, KCC/EK (Korea) : Tuner : KN13 / KN20, Tunerless : KN22 / KN24, BSMI (Taiwan) : CNS13438 (ITE EMI) Class A / CNS13439 (AV EMI) / CNS14409 (AV EMS) / CNS14972 (Digital), C-Tick (Australia) : AS/NZS CISPR22:2009, CCC(China) : GB9254-2008, GB17625.1-2012, GOST(Russia/CIS) : GOST R 51317 Series, GOST 22505-97, EN55022:2006+A1:2007, EN55024:1998+A1:2001+A2:2003

Safety

CB (Europe) : IEC60950-1/EN60950-1, CCC (China) : GB4943.1-2011, PSB (Singapore ) : PSB+IEC60950-1, NOM (Mexico ) : NOM-001-SCFI-1993, IRAM (Argentina ) : IRAM+IEC60950-1, SASO (Saudi Arabia ) : SASO+IEC60950-1, BIS(India) : IEC60950-1 / IS13252, NOM(Mexico) : Tuner : NOM-001-SCFI-1993, Tunerless : NOM-019-SCFI-1998, KC(Korea) : K 60950-1, EAC(Russia) : EAC+IEC60950-1, INMETRO(Brazil) : INMETRO+IEC60950-1, BSMI(Taiwan) : BSMI+IEC60950-1, RCM(Australia) : IEC60950-1/AS/NZS 60950-1, UL(USA) : cUL60950-1, CSA (Canada) : cUL, TUV (Germany) : CE, NEMKO (Norway) : CE

Accessory

Included

QSG, Warranty Card, Regulatory Guide, Power Cord, Batteries, Remote Control, RS232C(IN) adaptor, Screw, External remote control sensor, Cover-Jack
Fitur dan spesifikasi dapat berubah tanpa pemberitahuan terlebih dahulu. Gambar yang digunakan hanya untuk tujuan ilustrasi
Beberapa fitur Samsung Smart TV mungkin tidak tersedia tanpa persetujuan jelas terhadap pengumpulan dan penggunaan informasi pribadi.
Unduh Manual
Professional Display SHF Series 37" (LH37SHFPLBB/XD)
Panduan

2019.07.18

User Manual versi 01

(ENGLISH)

2017.07.25

Quick Guide versi 00

(INDONESIAN)

2016.10.28

User Manual versi 00

(INDONESIAN)

2018.05.02

Install Guide(MagicInfo Express 2 Setup for Windows ) versi 3.0 1011.8

(KOREAN, ENGLISH, ARABIC, BULGARIAN, CHINESE, CHINESE, CROATIAN, CZECH, DANISH, DUTCH, DUTCH(BEL), ESTONIAN, PERSIAN, FINNISH, FRENCH, , GERMAN, GREEK, HEBREW, HUNGARIAN, INDONESIAN, ITALIAN, LATVIAN, LITHUANIAN, NORWEGIAN, POLISH, PORTUGUESE, ROMANIAN, RUSSIAN, SERBIAN, SLOVAK, SLOVENIAN, SPANISH, SWEDISH, THAI, TURKISH, UKRAINIAN, VIETNAMESE)

2018.05.02

Install Guide(MagicInfo Express 2 Setup for MAC) versi 3.0 1011.8

(KOREAN, ENGLISH, ARABIC, BULGARIAN, CHINESE, CHINESE, CROATIAN, CZECH, DANISH, DUTCH, DUTCH(BEL), ESTONIAN, PERSIAN, FINNISH, FRENCH, , GERMAN, GREEK, HEBREW, HUNGARIAN, INDONESIAN, ITALIAN, LATVIAN, LITHUANIAN, NORWEGIAN, POLISH, PORTUGUESE, ROMANIAN, RUSSIAN, SERBIAN, SLOVAK, SLOVENIAN, SPANISH, SWEDISH, THAI, TURKISH, UKRAINIAN, VIETNAMESE)

2016.09.09

Install Guide(MagicInfo Express 2 User Manual) versi 2.6_1.2

(ENGLISH, ARABIC, BULGARIAN, CROATIAN, CZECH, DANISH, DUTCH, ESTONIAN, PERSIAN, FINNISH, GREEK, HEBREW, HUNGARIAN, INDONESIAN, LATVIAN, LITHUANIAN, NORWEGIAN, ROMANIAN, SERBIAN, SLOVAK, SLOVENIAN, UKRAINIAN, VIETNAMESE)