WDS-A403I/EUS
11ac Access Point WEA403i
Samsung access point WEA403i series support 802.11ac and dedicated WIPS module, the next generation of Wi-Fi, offering higher troughput, more capacity, less interference and secure wireless network while providing easy and reliable management. the WEA 403i series are dual concurrent radio access points with each radio capable of running in either 2.4 or 5GHz band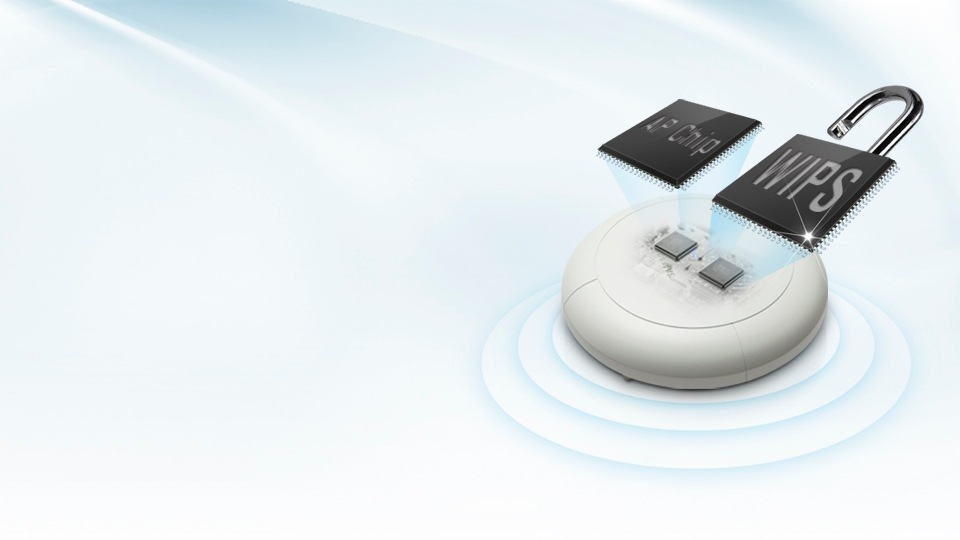 Dedicated Security Monitoring Module
Samsung AP built-in security monitoring module offers RF monitoring, which helps you avoid the need of additional sensors for WLAN security (Wireless Intrusion Prevention System - WIPS). Samsung Access Points ensure a secure wireless service across the network, making it ideally suited for business environments that need to protect confidential information.
AirMove enables a seamless handover with LTE Technology
In legacy Wi-Fi handover, a device scans for other APs and connects to the appropriate AP when the AP signal detected by the device is below a certain threshold. This technology basically requires a long scan time and degrades service quality. Samsung AirMove uses LTE Handover technology that allows the AP controller to determine the best timing and target AP for the handover. This way, users enjoy seamless service during voice calls and video, and a greater throughput that is double than what legacy Wi-Fi handover guarantees.
AirEqualizer
Samsung AirEqualizer optimises wireless resources by applying traffic schedule technology to the AP and allocates equal airtime to multiple devices. When numerous devices concurrently connect to an AP, AirEqualizer guarantees best performance by analysing individual connection requirements, typically delivering a gain of 50 or more compared to competitors.