The new Always On Displays allow consumers to use their phones for longer and more conveniently than ever, without ever worrying about missing a call or important notification. With Always On, users can constantly see the date and time and get all their notifications, without having the turn on the display and use up valuable battery life. With a variety of attractive designs for the display—date and time, calendars or personalized—Always On gives consumers a truly seamless experience.
Convenience and Power Conservation
When activated, the Always-On Display constantly shows your favourite information, but in a way that uses very little of the battery—less than one percent per hour, in fact. In case the battery goes below five percent, the Always-On Display is automatically turned off. Sure, the new Galaxy smartphones feature larger batteries that last longer than ever, but everyone wants to get the most life out of each charge as possible.
Furthermore, sometimes you don't want to shine the full glow of your phone -like when you are at the movies and you want to see if your friends have sent you a message about where to meet later. Having a subtler way of checking your phone would be a really big help. The Always-On Display is clear and easy to see, but keeps the brightness down to a minimum. Now, checking the time, date, battery level of your device, and your most important notifications, such as the number of missed calls and text messages, is incredibly easy, but it can be done subtly.
Customize Your Display
In addition to offering superior convenience, the Always-On Display can also be customized from the Settings menu and Quick Settings panel. There are clock modes, calendars and abstract patterns in a variety of styles to suit just about every taste. Select from analogue and digital clock faces, or even choose to display two clocks at once, so you can keep track of the time in different parts of the world. Or, if you prefer a more minimal style, opt to display an artistic abstract image. With so many customisation options, the Galaxy S7 4G+ and Galaxy S7 edge 4G+ set themselves apart from other devices. After all, your smartphone should be as unique as you are.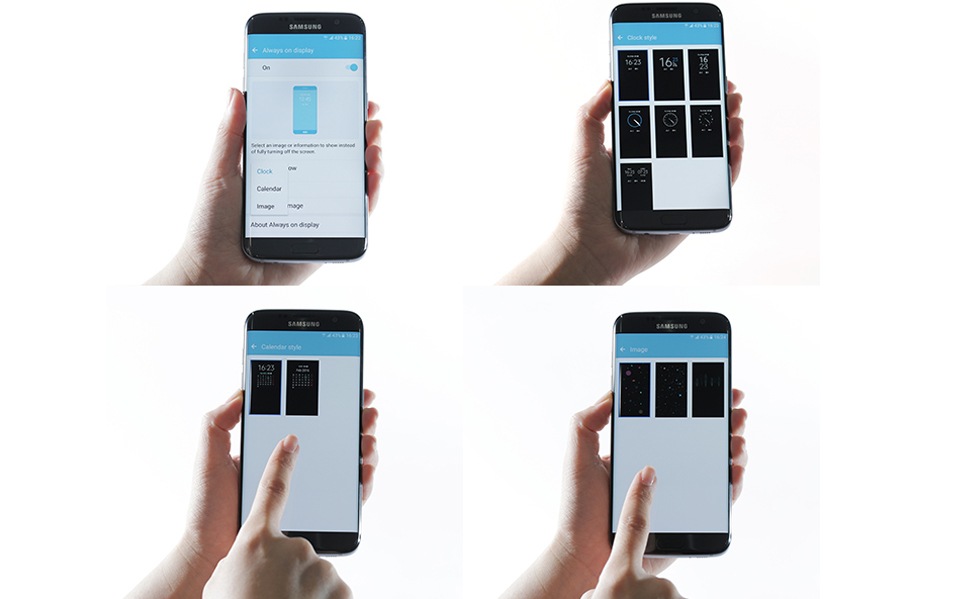 The Always-On Display is one more example of how Samsung creates innovations inspired by your life, designed with you in mind. The Galaxy smartphones have long been at the forefront of the industry, and now Samsung has made them even better, redesigned for how you experience life.
Article Published on Samsung Tomorrow -Click HERE to read more
*All functionality features, specifications and other product information provided in this document including, but not limited to, the benefits, design, pricing, components, performance, availability, and capabilities of the product are subject to change without notice or obligation.
Lihat produk kami terbaru - Galaxy A9 Pro 2016, Galaxy On7 2016, Samsung Z2 2016, Gear Iconx (Cord Free In Ear Fitness Tracker), Gear Fit 2(Fitness Tracker) oleh Samsung Indonesia