Our Brand Story
We exist to create human-driven innovations that defy barriers to progress.
#DoWhatYouCant
The technology that moves us forward, as a society and as people, is technology that is human-driven, that helps people express themselves and brings us closer together. Samsung creates some of the most advanced technologies in the world not because it can, but to empower people to make meaningful progress in their lives, and in return, create a better world for all.
We are Relentless Pioneers
And those people who defy barriers? We call them pioneers – they set the path that others follow, break new ground and see opportunities where others see obstacles. They are the inspiration we need to break new ground so they can break though barriers. Pioneers explore areas that many are too timid to explore, and move first wthout fear of failure. They see a better path forward for their fellow humankind and work tirelessly to overcome barriers.
Explore Infinitely
In 1969, Samsung Electronics was born. It started with a simple ambition—to help people achieve the impossible. It relied on its founder's optimism that with a focus on human needs, the company could defy barriers to progress and enable people to do what they can't.

Founder BC Lee
writing calligraphy "Explore infinitely"
Today, Samsung's more than 309,000 employees work every day to bring technological progress and innovations that make a difference in people's lives. This distinction is important—the notion that technology isn't progress—rather it is what we do with it that creates progress. Technology provides the tools that enable people to break down and remove the limitations that stand in the way of what's next.
Innovation for delight
Introducing our innovation in technologies like AI and 5G into more areas of everyday lives, developing experiences that help individuals become better, creating homes that feel like sanctuaries for happier families, and hyper-connecting our cities to create harmonious society.
The next chapter for our brand will be written in the most authentic way possible. By listening to the needs of the next generation, we are ready to be there for them as they create the changes they want to see in their world. They are not our users; they are our future. They are not for individualism; they are for togetherness. And together with them we hope to bridge the gap many of the old world's divisions.

After 50 years of innovations that help people defy barriers, Samsung isn't stopping. We aren't looking back. We are doing what we've always done—pushing boundaries with a pioneer spirit to defy barriers. Why? Because we must. Because we believe in making this world a better place—a healthier and happier place, with technology as an agent of positivity for all.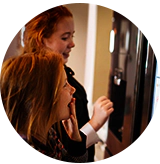 Human Experiences
We are committed to putting people at the center of everything, creating truly meaningful experiences in their daily lives. With a better understanding of transforming lifestyles, we are rebuilding innovative products and services to provide unforgettable moments
Defiant Optimism
Change should always be a force for good. From the beginning, part of our mission has been to improve the world around us. Even as the world's troubles look more urgent that ever, we wake up every morning knowing tomorrow can be better, seeking opportunities to learn, innovate and grow.
Progressive Innovation
A global company ultimately exists to improve how we live, and at Samsung, that means building products and services that make a difference to the lives of millions of people around the world.
Integrity & Transparency
Our motto is 'not always perfect but always perfectible'. Meaning that even if we do fall short, we always own it and continually improve until we've achieved perfection. We do this not only for ourselves, but for our partners, developers, customers and fellow pioneers around the globe.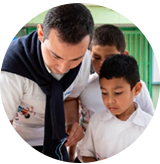 Social Betterment
We firmly believe that the benefits of technology must be accessible to all. Our efforts to grow as a more trusted brand are aimed towards creating better society for a sustainable future. Together with people, we will make the global community a better place for all.
*Some images may be fictional and/or simulated. For illustrative purposes only.