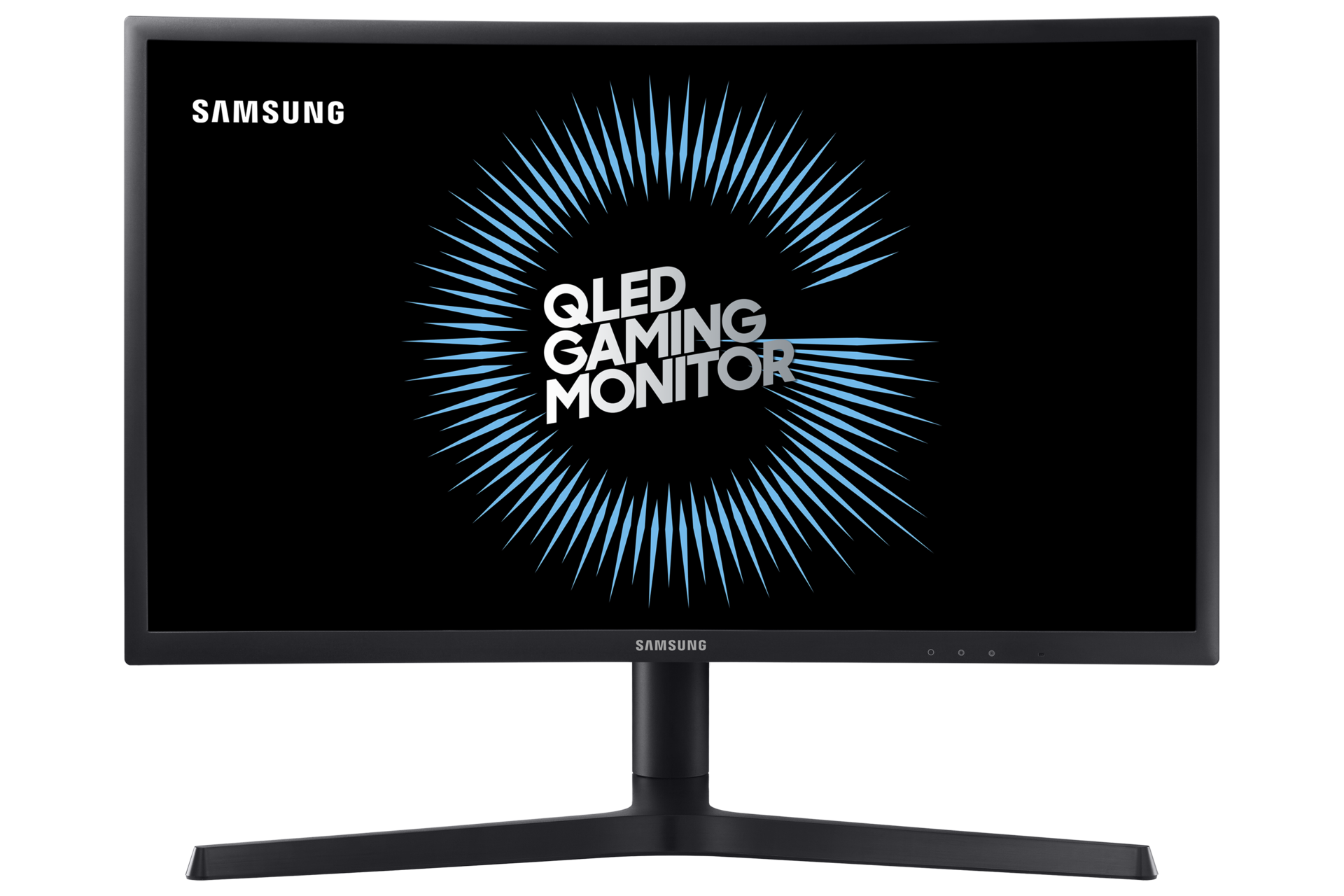 27" Curved Gaming monitor C27FG73 with the fast and smooth gameplay
LC27FG73FQEXXD
Curved Gaming Monitor
Quantum Dot Color
Super-fast and Smooth Gameplay
350cd/m2
Brightness (Typical)
3,000:1(Typ.)
Contrast Ratio Static
Samsung at Dreamhack winter 2016
Curved and super-fast
1ms response time (MPRT)
Blending its advanced motion blur reduction technology with its superior VA panel, Samsung has created this curved monitor with a super-fast 1ms MPRT (motion picture response time) that lets you enjoy unprecedented gaming performance without motion blur across the entire screen.
-SlightflickersmayoccurandtheFreeSynccannotbeusedifthefastestmodeorfastermodeisselected. -1msMPRTspecisbasedoninternaltests.Responsetimemayvarydependingontestconditions
Uninterrupted, flaw-free gaming
Refresh rate 144Hz
The rapid 144Hz screen refresh rate minimizes image lag and motion blur for smooth gaming, while user-friendly 60Hz/120Hz settings let you optimize monitor performance, on-screen display, without having to it each time in the display setting menu.
Redefine your gaming experience
Quantum dot color vibrations
Leveraging Quantum Dot technology, Samsung's radical curved gaming monitor with approximately 125% sRGB color coverage. Now the colors are more wide-ranging, richer and clearer, closer than ever to real life, making your gaming experience more like real-life action.
Optimized for any game genre
Multiple Game Modes
Developed in concert with the Samsung Galaxy Team, the semi-final winner in the LOL World Championship 2016, the CFG73's factory-calibrated game display modes instantly optimize black gamma levels, contrast ratios, sharpness and color value settings for any game genre, be it FPS, RTS, RPG, or AOS
Get the real gaming vibes
OSD dashboard
With Samsung's OSD dashboard menu optimally tailored for gamers, you can have a full view of key game settings at a glance and use shortcut keys to change the settings the way you want them. Set this Good Design Award winner and splash straightaway into the game.
Precise, firm positioning
Height-adjustable
The CFG73's sturdy vertical stand, designed for the most demanding gaming, can tilt, swivel, pivot and height adjust, giving you precise control over how you position the monitor, without space restriction—for the winning edge in any onscreen contest.
Curved to pull you in
1800R curved screen
The industry-leading 1800R curved screen pulls you into the gaming experience unlike any other monitor. With Eye Saver mode and Flicker Free technology reducing eye fatigue, you can play more intensely for longer in greater comfort.
Black and white, now in starker contrast
3000:1 contrast ratio
Samsung's advanced VA panel technology minimizes light leakage across the entire screen and corners and delivers a best-in-class 3000:1 contrast ratio for deep blacks and bright whites in even the darkest and brightest scenes.
Smoother gameplay
AMD Freesync
With AMD FreeSync technology, you'll enjoy flawlessly smooth gameplay in any kind of action. And Game Mode lets you effortlessly select screen settings optimized for different game genres to ensure you see darker areas in more the detail in game scenes.
1800R

Screen Curvature

16:9

Aspect Ratio

350cd/m2

Brightness (Typical)

3,000:1(Typ.)

Contrast Ratio Static

1920 x 1080px

Resolution

1(MPRT)ms

Response Time
Panduan Pengguna & Unduhan
Live Chat
Perbandingan Produk
Program CICILAN 0% dari berbagai macam Bank

GRATIS Ongkos Kirim ke Seluruh Indonesia *Periode terbatas
* Fitur utama mungkin berbeda dari Spek Utama
1ms MPRT spec is based on internal tests. Response time may vary depending on test conditions.
Buat Wishlist Anda
Jangan lewatkan produk yang Anda sukai.
Masuk / Daftar sekarang untuk mengakses Wishlist Anda di semua perangkat Anda dan dapatkan pembaruan mengenai promosi terbaik kami.
TAMBAH KE WISHLIST
Apakah Anda ingin menambahkan produk ini ke dalam Wishlist?
WishList
Item ini sudah ada di wishlist Anda
Dapatkan Pemberitahuan Stok
Dapatkan notifikasi ketika item ini tersedia untuk dibeli, dengan menambahkan email Anda.
Dengan memberikan email Anda, Anda setuju untuk mendapatkan promosi & notifikasi stok item dari Samsung.
Kami akan mengirim email kepada Anda ketika stok tersedia.
Terima kasih.
EMIs (Pay in Easy Monthly installments)
Hapus pilihan
Anda yakin ingin menghapus pilihan ini?
Pilihan akan diatur kembali jika Anda memilih Samsung care+.
Apakah Anda yakin untuk melanjutkan?
Protect your smartphone with insurance
An insurance that protects your smartphone anywhere and at any time to bring you greater peace of mind.
Coverage against breakage

Physical damage such as cracks or breakage of the screen or the rear window, which is detrimental to the functioning of the mobile phone.*

Cover against other damage

Damage caused by liquid or any physical damage, other than damage to the screen, affecting the use of the software or the charging of the mobile.*

Repair by official teams

Your smartphone will only be repaired by Samsung authorized service providers and Samsung genuine parts.
Option will be reset if you select Extended Warranty.
Apakah Anda yakin untuk melanjutkan?
If you select both exchange and bundle option, an additional exchange discount of the exchange option will not be applied. Apakah Anda yakin untuk melanjutkan?
If you select both exchange and bundle option, an additional exchange discount of the exchange option will not be applied. Apakah Anda yakin untuk melanjutkan?
Installment Calculate
Installments are provided by Santander Consumer Bank S.A.
How does it work?
Pay for your new Galaxy phone in monthly instalments and be invited to upgrade to the new Galaxy as soon as it launches.
01 Choose your device

Choose from the new Galaxy series.

02 Spread the cost

Pay a 10% deposit and then monthly instalments over 24 months. (0% finance available)

03 Yearly upgrades

Be invited to upgrade to the latest Galaxy phone after 12 months.
Upgrade Program
Upgrade your handset every 12 months.
How trade–in works
01

Choose your new Samsung device and tell us about your old one. If eligible, you will see an estimated trade-in value.

02

Get an upfront discount on the price of your new Samsung device.

03

Send your old device back in the supplied recycling pack to complete the trade-in.
Customize your watch
All from one hand
Now you get innovative smartphone with right tariff plan.
Check the Terms and Conditions
Hidupkan ponsel dan tahan catu daya

Layar berfungsi & tidak ada layar yang retak

Memiliki ID FCC & tidak di blacklist

Factory reset & non-aktifkan penguncian aplikasi
La liberté ne s'achète pas, elle se loue
Liberté

Possibilité de changer votre smartphone tous les 4 mois.

Sérénité

La garantie incluse et des assurances optionnelles.

Exclusivité

Le meilleur de la technologie à prix très attractifs.