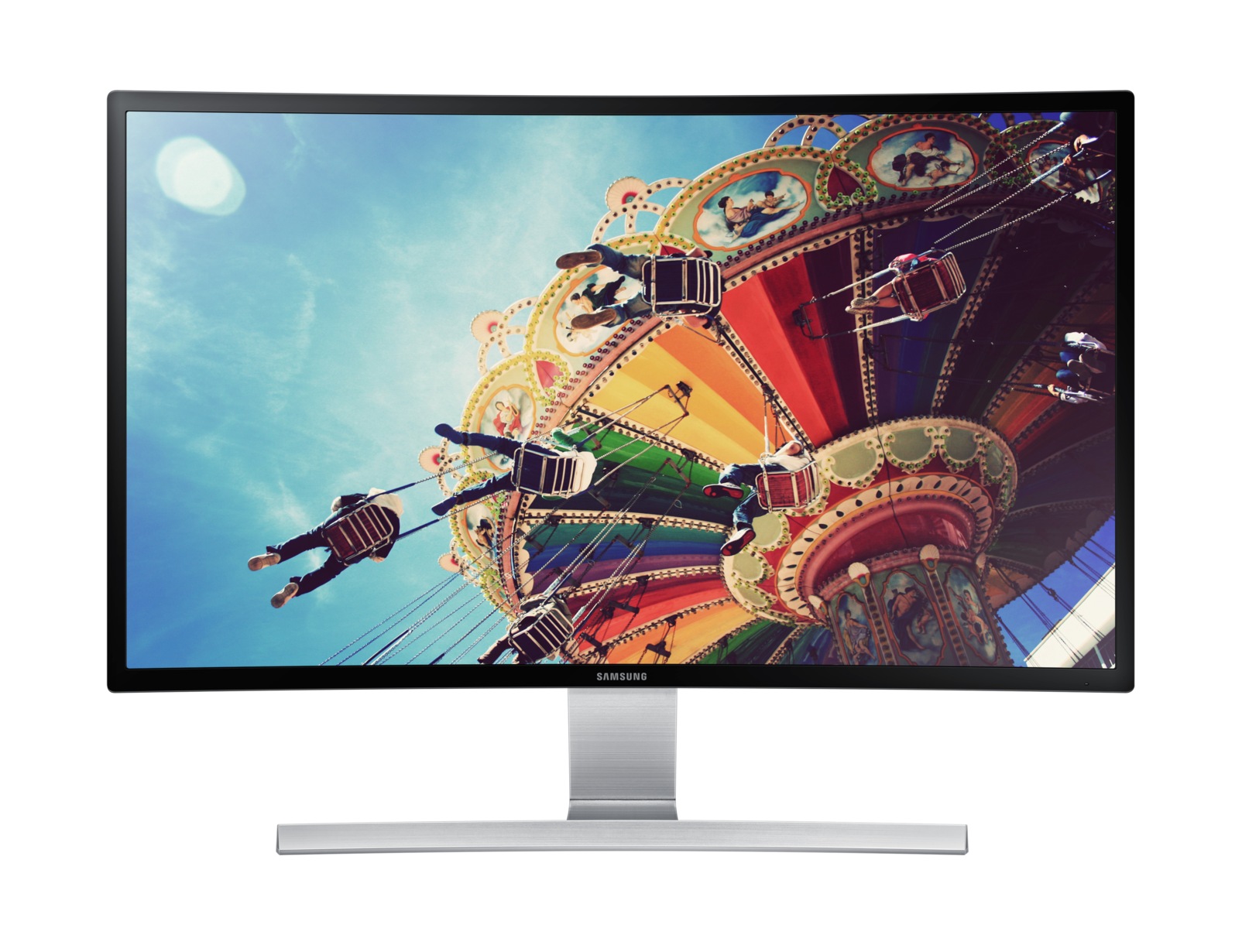 Curved Monitor 27" S27D590CS
LS27D590CS/XD
Curved Screen Design
Mega Dynamic Contrast 3000:1
2dual channel speaker stereo
Maaf! Produk ini sudah tidak tersedia.
Built-in Speakers
350cd/m²
Brightness (Typical)
An amazing curved screen for the ultimate immersive experience
SD590C adalah sebuah layar melengkung yang luar biasa dan menawarkan hasil tampilan hiburan ke tingkat yang lebih baik dan jernih. Radius dan kedalaman kurva menciptakan hasil pandangan yang lebih luas dan membuat layar tampak lebih besar dan lebih mendalam daripada layar datar dengan ukuran yang sama. Secara fisik tepi layar akan terasa lebih dekat dan cocok dengan kurva alami dari mata penggunanya, pengguna akan mendapatkan jarak pandang yang seragam di seluruh layar dan pengalaman menonton yang lebih nyaman.
Elegant minimal design created by a smooth ergonomic curve and refined metallic stand
Untuk mendesign kelengkungan pada monitor SD590C, Samsung mempelajari bagaimana mata manusia bekerja untuk menemukan lengkungan yang tepat untuk layar sehingga setiap bagian pada jarak yang sama dalam melihat menjadi lebih nyaman dan mendalam. Monitor ini juga dilengkapi dengan tampilan elegan yang membuat Anda tetap fokus pada konten Anda. SD590C juga didirikan dengan stand melengkung dan leher siku dan dibingkai dengan sempurna oleh bezel yang tipis, gambar hampir tampak melayang tanpa bobot, siluet yang elegan dan tajam.
Mega Dynamic Contrast and brilliant viewing experiences from every angle
SD590C memberikan peningkatan melihat dari sudut manapun, berkat layar melengkung dan sudut pandang ekstra-lebar 178 derajat. SD590C juga memiliki tampilan yang jelas secara vertikal dan horizontal, dan Mega Dynamic Contrast Ratio 3000 : 1 melengkapi layar melengkung ini dan memberikan gambar yang benar-benar hidup dengan warna hitam yang lebih pekat, putih murni, dan warna cerah luar biasa. Dengan bidang layar padang yang lebih luas, Anda dapat menikmati semua konten multimedia dengan luar biasa di mana saja.
Entertainment content comes alive with stereo speakers built right into the curved screen
Menghasilkan kualitas gambar yang tajam dan kualitas suara yang jernih. Itulah sebabnya SD590C diciptakan dengan 5-Watt, 2-dual channel speaker stereo yang di build in langsung kedalam Monitor lengkung ini sehingga memberikan suara stereo berkualitas tinggi yang menyelubungi Anda dan meningkatkan film dan musik dengan cara yang Anda akan berpikir Anda 'kembali di bioskop atau konser. Nikmati solusi total untuk visi dan suara yang membawa hiburan Anda ke tingkat yang lebih tinggi, semua dalam kenyamanan rumah Anda.
Realistic gaming enhanced by a curved screen lets you step right into the game
Dengan satu sentuhan tombol, Game Mode langsung menyesuaikan pengaturan monitor Anda untuk pengalaman gaming yang optimal. Feature ini dengan cerdas mendeteksi perubahan adegan, meningkatkan warna, dan mengubah kontras layar untuk membuat layar gelap menjadi lebih gelap dan bintik-bintik cahaya lebih ringan, sehingga Anda dapat melihat semua adegan setiap saat. Dan dengan layar melengkung menakjubkan, semua tindakan yang lebih mendalam daripada sebelumnya. Anda akan merasakan gaming yang luar biasa sehingga Anda tidak ingin beranjak dari kursi Anda.
Give comfort to your eyes with Flicker Free
Teknologi Bebas Flicker ini melindungi mata Anda dari ketegangan konstan yang disebabkan oleh kerlip layar pada monitor konvensional sehingga Anda dapat bekerja dan menikmati membaca, bermain game, menonton film, dan foto editing lebih lama tanpa kelelahan mata. Miliki lebih pengalaman visual yang mendalam dengan Flicker Free.
Go for a higher level of immersion with multiple curved screens
Siapkan diri Anda dalam melihat sebuah konten dengan cara yang baru. Dengan SD590C, Anda dapat memperluas dunia Anda hiburan lebih mendalam dengan menghubungkan dua atau bahkan tiga monitor secara bersamaan untuk membuatnya menjadi lebih luas, lengkungan yang diciptakan memberikan pengalaman menonton yang sangat mendalam untuk semua game dan konten multimedia.
*Dukungan graphic card diperlukan untuk fungsi multi-monitor
*Dukungan graphic card diperlukan untuk fungsi multi-monitor
Connectivity that comes optimized for entertainment
Samsung SD590C dilengkapi dengan kabel HDMI yang berkualitas tinggi dan semua koneksi yang Anda butuhkan. Mudah dihubungkan dengan konsol game, pemutar Blu-ray dan perangkat AV lainnya dengan kenyamanan dan kualitas HDMI, atau menggunakan port D-Sub untuk menghubungkan ke PC. Bahkan memiliki Display port, yang membuatnya sederhana dan mudah untuk terhubung ke display lainnya.
1920x1080

Resolution

16:9

Aspect Ratio

350cd/m²

Brightness (Typical)

4(GTG)

Response Time

3000:1

Contrast Ratio

178°/178°

Viewing Angle (H/V)

27
Panduan Pengguna & Unduhan
Live Chat
* Fitur utama mungkin berbeda dari Spek Utama
Buat Wishlist Anda
Jangan lewatkan produk yang Anda sukai.
Masuk / Daftar sekarang untuk mengakses Wishlist Anda di semua perangkat Anda dan dapatkan pembaruan mengenai promosi terbaik kami.
TAMBAH KE WISHLIST
Apakah Anda ingin menambahkan produk ini ke dalam Wishlist?
WishList
Item ini sudah ada di wishlist Anda
Dapatkan Pemberitahuan Stok
Dapatkan notifikasi ketika item ini tersedia untuk dibeli, dengan menambahkan email Anda.
Dengan memberikan email Anda, Anda setuju untuk mendapatkan promosi & notifikasi stok item dari Samsung.
Kami akan mengirim email kepada Anda ketika stok tersedia.
Terima kasih.
EMIs (Pay in Easy Monthly installments)
Hapus pilihan
Anda yakin ingin menghapus pilihan ini?
Pilihan akan diatur kembali jika Anda memilih Samsung care+.
Apakah Anda yakin untuk melanjutkan?
Protect your smartphone with insurance
An insurance that protects your smartphone anywhere and at any time to bring you greater peace of mind.
Coverage against breakage

Physical damage such as cracks or breakage of the screen or the rear window, which is detrimental to the functioning of the mobile phone.*

Cover against other damage

Damage caused by liquid or any physical damage, other than damage to the screen, affecting the use of the software or the charging of the mobile.*

Repair by official teams

Your smartphone will only be repaired by Samsung authorized service providers and Samsung genuine parts.
Option will be reset if you select Extended Warranty.
Apakah Anda yakin untuk melanjutkan?
If you select both exchange and bundle option, an additional exchange discount of the exchange option will not be applied. Apakah Anda yakin untuk melanjutkan?
If you select both exchange and bundle option, an additional exchange discount of the exchange option will not be applied. Apakah Anda yakin untuk melanjutkan?
Installment Calculate
Installments are provided by Santander Consumer Bank S.A.
How does it work?
Pay for your new Galaxy phone in monthly instalments and be invited to upgrade to the new Galaxy as soon as it launches.
01 Choose your device

Choose from the new Galaxy series.

02 Spread the cost

Pay a 10% deposit and then monthly instalments over 24 months. (0% finance available)

03 Yearly upgrades

Be invited to upgrade to the latest Galaxy phone after 12 months.
Upgrade Program
Upgrade your handset every 12 months.
How trade–in works
01

Choose your new Samsung device and tell us about your old one. If eligible, you will see an estimated trade-in value.

02

Get an upfront discount on the price of your new Samsung device.

03

Send your old device back in the supplied recycling pack to complete the trade-in.
Customize your watch
All from one hand
Now you get innovative smartphone with right tariff plan.
Check the Terms and Conditions
Hidupkan ponsel dan tahan catu daya

Layar berfungsi & tidak ada layar yang retak

Memiliki ID FCC & tidak di blacklist

Factory reset & non-aktifkan penguncian aplikasi
La liberté ne s'achète pas, elle se loue
Liberté

Possibilité de changer votre smartphone tous les 4 mois.

Sérénité

La garantie incluse et des assurances optionnelles.

Exclusivité

Le meilleur de la technologie à prix très attractifs.