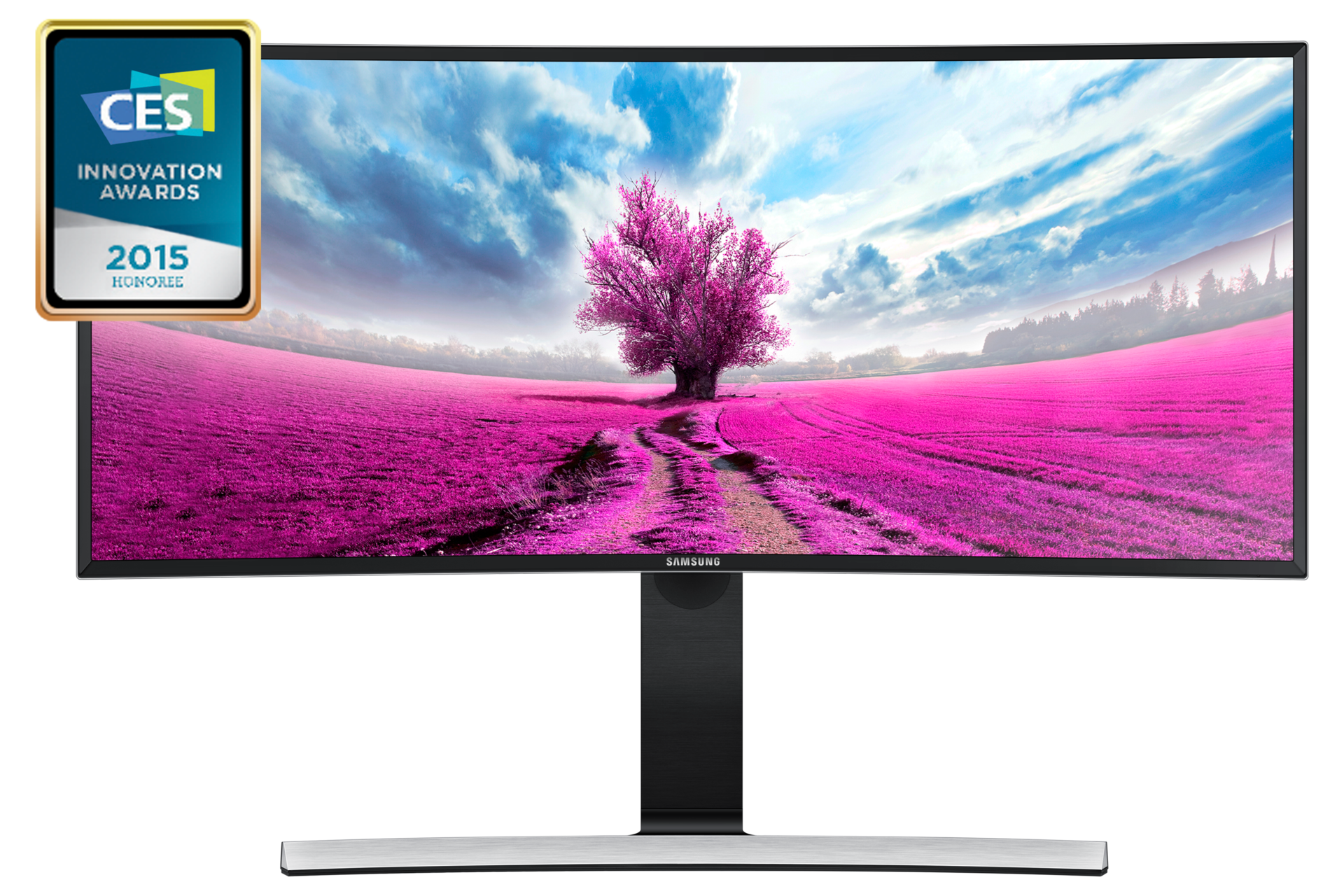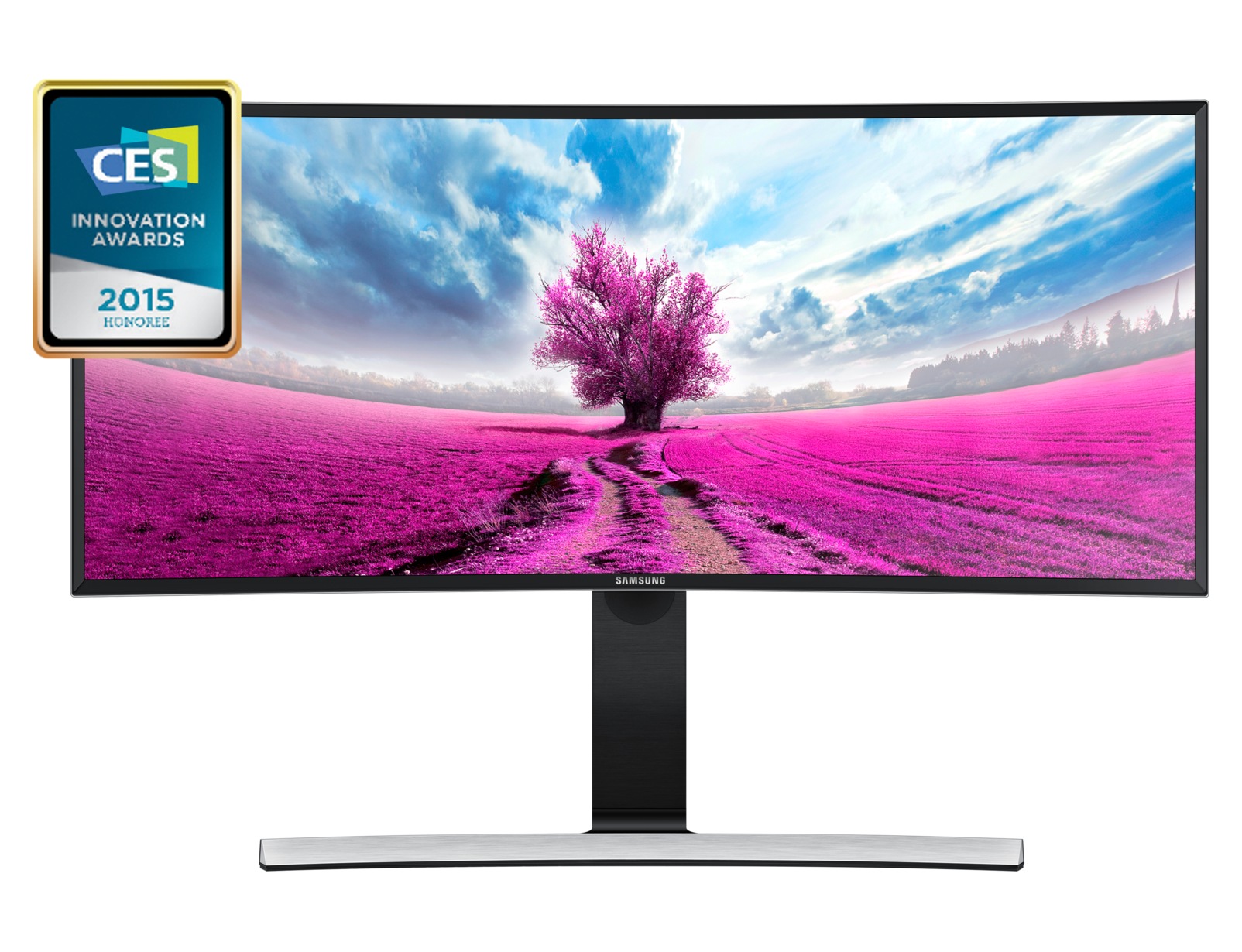 Curved Monitor 34" S34E790C
LS34E790CNS/XD
Kecerahan : 300 cd/m2
Mega Dynamic Contrast 3000:1
Magic Bright, Flicker Free
Maaf! Produk ini sudah tidak tersedia.
Built-in Speakers
300cd/m²
Brightness (Typical)
Curved around your eyes for the ultimate viewing
Melalui inovasi terbaru dalam teknologi, monitor telah berevolusi dari layar datar ke layar melengkung yang disesuaikan dengan kelengkungan alami dari bola mata manusia, sehingga pengalaman menonton lebih selaras dan lebih nyaman. Hadir dengan lengkungan terbaik di kelasnya dan didukung aspek rasio ultra-wide 21:9, Samsung Layar melengkung SE790C memberikan kenyamanan penglihatan yang tak tertandingi.
• 3000R Kelengkungan: tingkat kelengkungan yang dirancang sesuai dengan pandangan mata Anda dalam menghadirkan sudut pandang yang
lebih lebar, sehingga pengalaman menonton Anda lebih nyaman dan lebih berkesan.
• Aspek Rasio Ultra-wide 21:9: Lebih dekat dan lebih personal dengan teater panoramik, atau membagi layar menjadi beberapa
ruang untuk efisiensi tak tertandingi
Experience vibrant picture quality with Ultra WQHD and a best-in-class contrast ratio
SE790C memberikan kualitas gambar yang benar-benar hidup dan meningkatkan kenyamanan menonton dari sudut mana pun, sehingga memenuhi kebutuhan Anda secara optimal, baik untuk hiburan maupun pekerjaan.
• Ultra WQHD: satu tingkat di atas WQHD dengan 2,5 kali pixel Full HD dan resolusi 3440 x 1440, memberikan pengalaman visual yang tak tertandingi. Anda dapat melihat lebih detail secara sekilas dan konten atau gambar yang lebih luas.
• Static Contrast Ratio 3000:1: tampilan gambar lebih hidup dibandingkan monitor konvensional biasa. Warna-warna lebih cerah dan lebih kontras.
• Sudut Pandang Luas: Menyajikan 178 ° sudut pandang lebar secara horisontal dan vertikal, sehingga pengalaman menonton Anda lebih optimal di mana pun Anda duduk.
Ingeniously designed to minimize light leakage
Berkat teknologi kristal cair, Samsung Layar melengkung memastikan kulit hitam lebih seragam di seluruh layar dengan kebocoran cahaya minimal, dibandingkan dengan layar IPS.
A superlative ergonomic design that also delivers on comfort and convenience
Melalui desain dan engineering secara keseluruhan, SE790C lebih dari sekedar monitor dengan penampilan yang menakjubkan. Fitur lainnya adalah VESA mounting dan berbagai pilihan konektivitas sesuai kebutuhan Anda.
• HAS Stand: HAS Stand dirancang secara ergonomis untuk memenuhi kebutuhan individu dengan pengaturan ketinggian hingga 100mm.
• VESA 100x100: Dengan VESA 100X100, Anda dapat menggantungnya di dinding dengan mudah.
• Konektivitas: Akses konektivitas yang lengkap dengan 2 port HDMI, 1 port display, dan 4 port USB 3.0.
• Desain Premium: Terbuat dari bahan premium metal dengan desain cantik berbentuk huruf T, membuat ruang Anda terlihat berbeda.
Ultra-wide screen with ultra-capable multitasking
Mengelola semua jendela Anda pada satu layar panoramik Ultra-Lebar. Baik itu dua jendela berdampingan atau sebuah gambar didalam gambar, tingkatkan produktivitas Anda dengan fitur multitasking yang terbaik di kelasnya dan kualitas gambar yang luar biasa.
•PBP: Picture-by-Picture memungkinkan Anda melihat 2 sumber input yang berbeda pada satu layar dengan tetap menjaga kualitas gambar dari sumber aslinya.
•PIP 2.0: Multitask dan menonton video dengan Picture -in - Picture 2.0. Anda dapat mengubah ukuran gambar kedua hingga menutupi 25 % dari layar dan posisi mana saja Anda suka.

Take your entertainment to new heights of immersion and comfort
SE790C dilengkapi dengan fitur canggih dalam 'menghidupkan' gambar dan suara, sehingga pengalaman menonton lebih berkesan.
• Speaker Stereo Ganda (7W x 2) yang terintegrasi: SE790C dibuat dengan 7-Watt, 2-channel Speaker stereo ganda. Berkat teknologi Samsung Dual Sound Engine dan acoustic mechanical engineering, SE790C menghadirkan suara asli yang lebih kaya dari speaker dengan mesin tunggal.
• Mode Game: Monitor secara instan menyesuaikan pengaturan ke mode game dengan meningkatkan kegelapan gambar, sehingga Anda dapat melihat semua gerakan cepat pada game dengan jelas.
• Kecepatan 4ms Response Time/60Hz Refresh Rate: gerakan secepat apa pun di layar dapat terlihat dengan jelas dan lancar; tidak ada blur, judder atau efek ghosting.
Give comfort to your eyes with Flicker Free
Teknologi Bebas Flicker melindungi mata Anda dari ketegangan konstan disebabkan oleh layar berkedip yang sering dijumpai pada monitor konvensional.
Anda dapat bekerja dan menikmati membaca, bermain game, menonton film, atau meng-edit foto dalam waktu yang lebih lama tanpa kelelahan mata.
Nikmati tampilan memukau dengan teknologi bebas flicker.
3440x1440

Resolution

21:9

Aspect Ratio

300cd/m²

Brightness (Typical)

4 (GTG)

Response Time

3000:1

Contrast Ratio

178°/178°

Viewing Angle (H/V)
Panduan Pengguna & Unduhan
Live Chat
* Fitur utama mungkin berbeda dari Spek Utama
Buat Wishlist Anda
Jangan lewatkan produk yang Anda sukai.
Masuk / Daftar sekarang untuk mengakses Wishlist Anda di semua perangkat Anda dan dapatkan pembaruan mengenai promosi terbaik kami.
TAMBAH KE WISHLIST
Apakah Anda ingin menambahkan produk ini ke dalam Wishlist?
WishList
Item ini sudah ada di wishlist Anda
Dapatkan Pemberitahuan Stok
Dapatkan notifikasi ketika item ini tersedia untuk dibeli, dengan menambahkan email Anda.
Dengan memberikan email Anda, Anda setuju untuk mendapatkan promosi & notifikasi stok item dari Samsung.
Kami akan mengirim email kepada Anda ketika stok tersedia.
Terima kasih.
EMIs (Pay in Easy Monthly installments)
Hapus pilihan
Anda yakin ingin menghapus pilihan ini?
Pilihan akan diatur kembali jika Anda memilih Samsung care+.
Apakah Anda yakin untuk melanjutkan?
Protect your smartphone with insurance
An insurance that protects your smartphone anywhere and at any time to bring you greater peace of mind.
Coverage against breakage

Physical damage such as cracks or breakage of the screen or the rear window, which is detrimental to the functioning of the mobile phone.*

Cover against other damage

Damage caused by liquid or any physical damage, other than damage to the screen, affecting the use of the software or the charging of the mobile.*

Repair by official teams

Your smartphone will only be repaired by Samsung authorized service providers and Samsung genuine parts.
Option will be reset if you select Extended Warranty.
Apakah Anda yakin untuk melanjutkan?
If you select both exchange and bundle option, an additional exchange discount of the exchange option will not be applied. Apakah Anda yakin untuk melanjutkan?
If you select both exchange and bundle option, an additional exchange discount of the exchange option will not be applied. Apakah Anda yakin untuk melanjutkan?
Installment Calculate
Installments are provided by Santander Consumer Bank S.A.
How does it work?
Pay for your new Galaxy phone in monthly instalments and be invited to upgrade to the new Galaxy as soon as it launches.
01 Choose your device

Choose from the new Galaxy series.

02 Spread the cost

Pay a 10% deposit and then monthly instalments over 24 months. (0% finance available)

03 Yearly upgrades

Be invited to upgrade to the latest Galaxy phone after 12 months.
Upgrade Program
Upgrade your handset every 12 months.
How trade–in works
01

Choose your new Samsung device and tell us about your old one. If eligible, you will see an estimated trade-in value.

02

Get an upfront discount on the price of your new Samsung device.

03

Send your old device back in the supplied recycling pack to complete the trade-in.
Customize your watch
All from one hand
Now you get innovative smartphone with right tariff plan.
Check the Terms and Conditions
Hidupkan ponsel dan tahan catu daya

Layar berfungsi & tidak ada layar yang retak

Memiliki ID FCC & tidak di blacklist

Factory reset & non-aktifkan penguncian aplikasi
La liberté ne s'achète pas, elle se loue
Liberté

Possibilité de changer votre smartphone tous les 4 mois.

Sérénité

La garantie incluse et des assurances optionnelles.

Exclusivité

Le meilleur de la technologie à prix très attractifs.