Samsung Multiroom Link
2015-12-17
Wouldn't it be nice to be able to turn on and play your tunes in every room of the house, no matter where you are or what you're doing, without having to run to the other room where your stereo or computer is?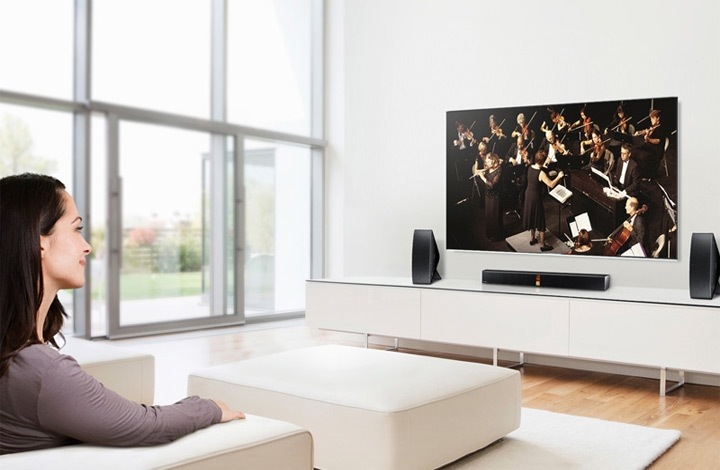 Your Home, Your Music
In the past, if you wanted to have a home theatre system that spanned the entire house, you needed an elaborate setup of wires for all the speakers, and they had to connect all the way back to the base unit. And, you probably had to pay a lot of money to bring in an audio technician to set it all up.
Well, that was then. And this is now.
With Samsung Multiroom Link, you can easily set up a sound system that runs everywhere you want it to. Just add multiroom speakers and other compatible devices wherever you might want to listen to your music. Multiroom Link lets you create a complete and unified audio system that runs throughout your entire home.
Complete Wireless Music Freedom
Audiophiles might discover it first, but you don't have to be an expert to enjoy it. That's because you can run the whole system from an app on your smartphone. You can stream your music—regardless of the source—from room to room.
Imagine setting up a lovely solarium where you can enjoy a book and a nice cup of coffee in the afternoon, surrounded by your plants and antiques. You wouldn't dream of putting in a big stereo, or cluttering it up with wires, and now you don't have to. Just place a pair of Multiroom Speakers unobtrusively hidden behind some leaves, and turn on Mozart. You could even add a Soundbar with internet radio connectivity built in if you really want to go all out. In fact, Multiroom Link is compatible with a wide range of devices that can all be connected wirelessly, including your Samsung Multiroom Speakers (M5/M7), Link Mate, Soundbars, Blu-ray disc players, Home Entertainment Systems, TVs and more.

Bespoke Surround Sound Experience
You can even create a multi-channel home theatre experience without actually having a home theatre system. All you have to do is add speakers! For example, you can create amazing 4.1-channel sound by placing a Soundbar in the front and two M5 or two M7s in the rear. With the app, it really is that easy to set up. Just hit the "Surround" button and select the speakers that you've synched to the location you want. Then hit "Done", turn up the volume, and be surrounded with amazing sound. And with different Multiroom speaker combinations, you can even enjoy 5-channel surround sound, which is perfect for when you're watching the latest blockbuster on your large-screen TV.

Legacy Audio Systems are Welcome Too
There is even something for old-school audiophiles who still enjoy the look, feel, and sound of their old systems—whether it's the old CD player they're still attached to, or the treasured LP player that they have lovingly preserved over the years. They can all be connected with a specially designed unit called Link Mate, which has an array of audio inputs - Optical, Coaxial, RCA (2CH) - turning your legacy audio systems into streaming multi-room systems.
For many enthusiasts, this is the perfect way to take an entire high-end analog audio system that has been living a secluded life in the den, and bring it into the world of connected digital devices. They can still enjoy their music with the acoustics of the room where they've set their system up, or they can enjoy their music anywhere throughout the house.
And it works the other way, too! They can play digital music streamed from their smartphone through Link Mate and out through those gorgeous wood paneled speakers, surrounding themselves with the warm and rich analog sound they love. Another aspect they'll appreciate is that it works through Wi-Fi, meaning that the sound is produced at a quality much higher than what other wireless systems using Bluetooth can produce*.
* Audio quality depends on the audio source quality.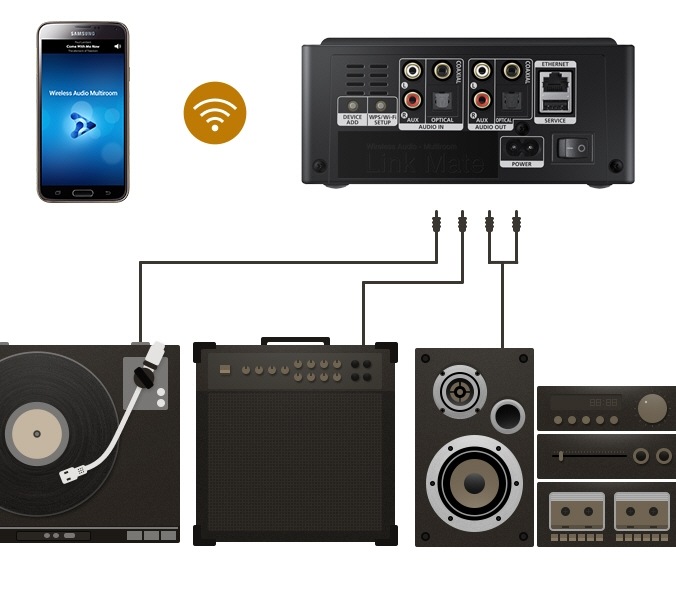 Enjoy all your favourite streaming music services with the Samsung Multiroom App
The Samsung Multiroom App combines the incredible audio quality of Samsung Multiroom speakers with the best of the internet's subscription streaming music services*, supporting Tunein, Pandora, Rhapsody, Amazon, Rdio, 8Tracks, iHeart Radio, Deezer, Napster, and Spotify Connect, with more to be added in the future. And thanks to Samsung's partnership with Spotify, Spotify App users can also enjoy this seamless music experience across various Samsung devices by using the Spotify Connect feature on the app. To top it all off, with the Samsung Wireless Audio Multiroom (WAM) speaker, the first product in the world that can stream output from Spotify to multiple speakers simultaneously, Spotify App users can create a surround sound effect or even a multi-room listening experience for playing their favourite tunes. With either app, music-lovers can now enjoy tether-free entertainment in any room of the house, from various music sources.
* Subscription streaming music service providers in The Samsung Multiroom App may vary depending on your region.
When Dream Becomes Reality
The dream of the truly connected home is here. Say goodbye to scattered content libraries and isolated spaces for enjoying your tunes. Say hello to controlling all your music from the palm of your hand—anywhere in your house.
* Wi-Fi connection is required.
* Multiroom Link is only available in select 2014 models; please check www.samsung.com/id to see if the service is available on your device.
* Multiroom Link availability may vary depending on your region and product model; please check www.samsung.com/id for more details on when your product will be receiving the firmware update required to activate Multiroom Link.
* A software update may be required for some early models.