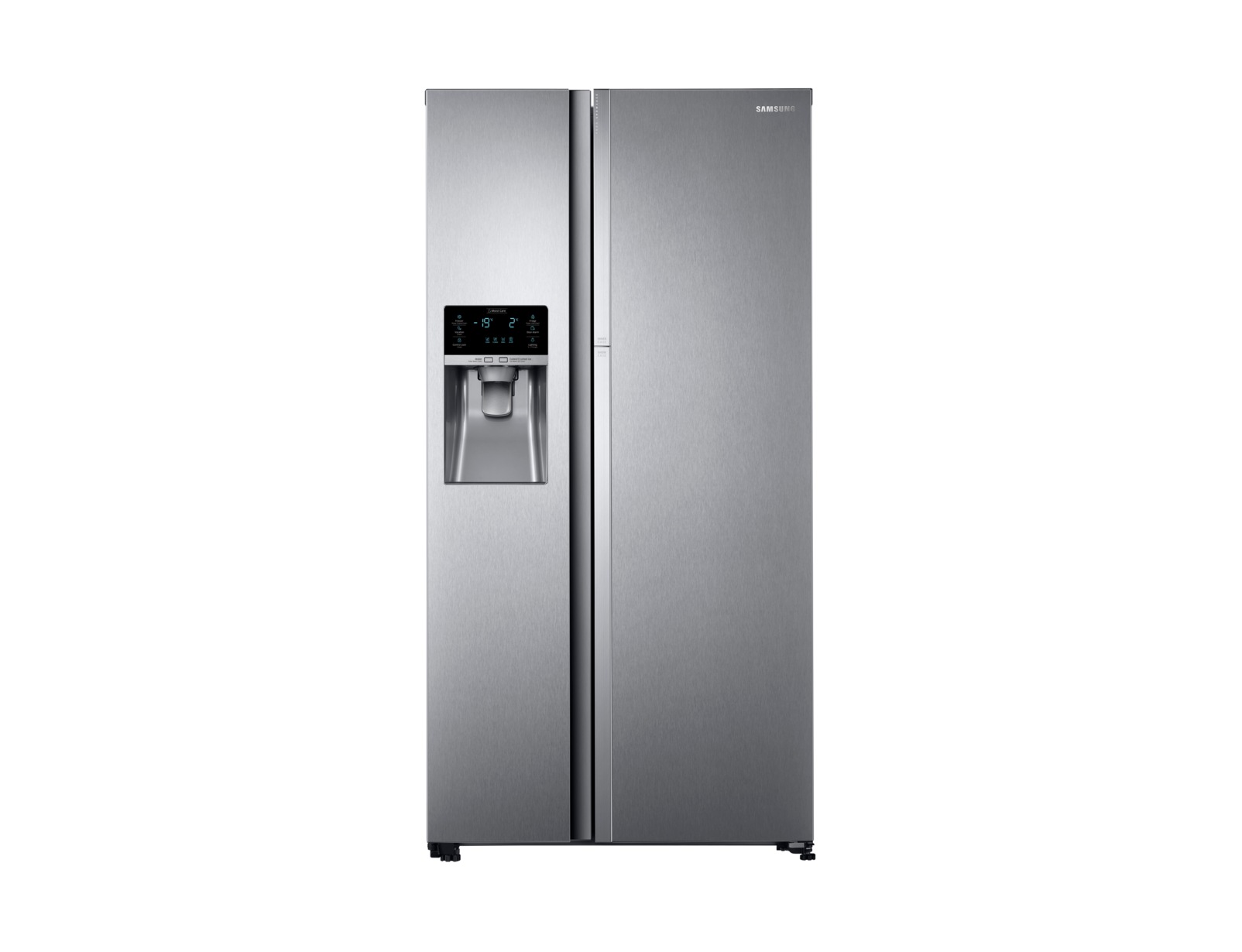 RS6500 FSR dengan Twin Cooling Plus™, 575 L
RH58K6467SL/SE
Food Showcase Refrigerator (FSR)
Twin Cooling Plus™ & Metal Cooling
Precise Chef Cooling
Maaf! Produk ini sudah tidak tersedia.
Metal Cooling Panel
Twin Cooling Plus™
Ice Maker
Segar 2x Lebih Lama
Dengan teknologi Twin Cooling Plus™ yang memiliki dua sistem pendinginan terpisah sehingga menjaga makanan segar 2x lebih lama. Anda tidak perlu khawatir lagi makanan mubazir karena layu dalam kulkas!
Mempertahankan Kesegaran
Teknologi Metal Cooling di bagian dalam pintu Showcase menjaga suhu agar tetap optimal sehingga makanan tetap segar, bahkan jika Anda sering membuka dan menutup pintu Showcase.
Suhu Dingin tidak Berfluktuasi
Teknologi Precise Chef Cooling membantu meminimalisir suhu yang berfluktuasi menjadi ±0.5°C*. Teknologi ini dapat mendeteksi adanya perubahan secara berkala dan mengontrol kinerja kompresor dengan tepat.
* Berdasarkan hasil uji internal. Dibandingkan dengan kulkas Samsung konvensional dengan variasi suhu 3°C.
Lebih Mudah Meraih Makanan Favorit
Akses lebih mudah dan cepat untuk mengambil makanan sehari-hari. Food Showcase juga memudahkan penataan isi lemari es sehingga lebih terorganisir.
InnerCase
InnerCase adalah tempat terbaik untuk menjaga bahan makanan Anda tetap segar dan tahan lama.
Rak yang Mudah Dipindahkan
Fleksibilitas pengaturan rak dalam kulkas sehingga dengan mudah Anda memindahkan rak untuk memuat botol-botol tinggi atau wadah besar.
Kapasitas Besar
Kapasitas besar 575 liter untuk memuat kebutuhan seluruh anggota keluarga.
Menjaga Udara Agar Tetap Bersih
Anti-bacterial Protector menjaga udara tetap bersih dan higienis. Menyaring bakteri dan bau tak sedap melalui filter aktif, sehingga rasa dan kesegaran makanan tetap terjaga.
Lebih terang dengan LED Light
Penerangan LED bekerja dengan lebih efisien, dengan lampu yang lebih terang, hemat energi, dan tahan lama dibandingkan penerangan konvensional.
575ℓ

Net Total(Liter)

Twin Cooling +

Cooling Type

Dispenser Type

Water Dispenser

Warna

Easy Clean Steel

Icemaker

Auto Icemaker

Anti-Bacteria

Yes
Panduan Pengguna & Unduhan
Live Chat
* Fitur utama mungkin berbeda dari Spek Utama
Buat Wishlist Anda
Jangan lewatkan produk yang Anda sukai.
Masuk / Daftar sekarang untuk mengakses Wishlist Anda di semua perangkat Anda dan dapatkan pembaruan mengenai promosi terbaik kami.
TAMBAH KE WISHLIST
Apakah Anda ingin menambahkan produk ini ke dalam Wishlist?
WishList
Item ini sudah ada di wishlist Anda
Dapatkan Pemberitahuan Stok
Dapatkan notifikasi ketika item ini tersedia untuk dibeli, dengan menambahkan email Anda.
Dengan memberikan email Anda, Anda setuju untuk mendapatkan promosi & notifikasi stok item dari Samsung.
Kami akan mengirim email kepada Anda ketika stok tersedia.
Terima kasih.
EMIs (Pay in Easy Monthly installments)
Hapus pilihan
Anda yakin ingin menghapus pilihan ini?
Pilihan akan diatur kembali jika Anda memilih Samsung care+.
Apakah Anda yakin untuk melanjutkan?
Protect your smartphone with insurance
An insurance that protects your smartphone anywhere and at any time to bring you greater peace of mind.
Coverage against breakage

Physical damage such as cracks or breakage of the screen or the rear window, which is detrimental to the functioning of the mobile phone.*

Cover against other damage

Damage caused by liquid or any physical damage, other than damage to the screen, affecting the use of the software or the charging of the mobile.*

Repair by official teams

Your smartphone will only be repaired by Samsung authorized service providers and Samsung genuine parts.
Option will be reset if you select Extended Warranty.
Apakah Anda yakin untuk melanjutkan?
If you select both exchange and bundle option, an additional exchange discount of the exchange option will not be applied. Apakah Anda yakin untuk melanjutkan?
If you select both exchange and bundle option, an additional exchange discount of the exchange option will not be applied. Apakah Anda yakin untuk melanjutkan?
Installment Calculate
Installments are provided by Santander Consumer Bank S.A.
How does it work?
Pay for your new Galaxy phone in monthly instalments and be invited to upgrade to the new Galaxy as soon as it launches.
01 Choose your device

Choose from the new Galaxy series.

02 Spread the cost

Pay a 10% deposit and then monthly instalments over 24 months. (0% finance available)

03 Yearly upgrades

Be invited to upgrade to the latest Galaxy phone after 12 months.
Upgrade Program
Upgrade your handset every 12 months.
How trade–in works
01

Choose your new Samsung device and tell us about your old one. If eligible, you will see an estimated trade-in value.

02

Get an upfront discount on the price of your new Samsung device.

03

Send your old device back in the supplied recycling pack to complete the trade-in.
Customize your watch
All from one hand
Now you get innovative smartphone with right tariff plan.
Check the Terms and Conditions
Hidupkan ponsel dan tahan catu daya

Layar berfungsi & tidak ada layar yang retak

Memiliki ID FCC & tidak di blacklist

Factory reset & non-aktifkan penguncian aplikasi
La liberté ne s'achète pas, elle se loue
Liberté

Possibilité de changer votre smartphone tous les 4 mois.

Sérénité

La garantie incluse et des assurances optionnelles.

Exclusivité

Le meilleur de la technologie à prix très attractifs.