Spend time watching,
not searching
Seamless and effortless. New 2018 Q Smart simplifies
everything so you can spend more time doing what you love.
No more fumbling, fussing, and searching.
Get onboard a more intelligent TV experience.

* Smart service and GUI may vary by model and region.
All you need is one
One Remote Control
One single, sleek remote to control your connected devices.
Stop fumbling around for the right remote, and spend time watching more doing less.
* Actual product and remote control may differ from image shown.
* Compatable devices only.

SmartThings,
endless possibilities
SmartThings
SmartThings will help you to get seamlessly connected with a broad range of smart devices
and appliances, from your fridge to your mobile, giving you an intuitive way to take full
control of your home, and beyond. Experience the truely connected life.
* SmartThings compatible devices may vary by region.
* Users with models previous to the Galaxy S6 or other mobile brands need to download the SmartThings app through application store.
* iOS&non-galaxy Android devices need to download SmartThings App.
* Connected device may vary by country.
* Smart service and GUI(Graphic User Interface) may vary by model and region.
2018 new QLED with SmartThings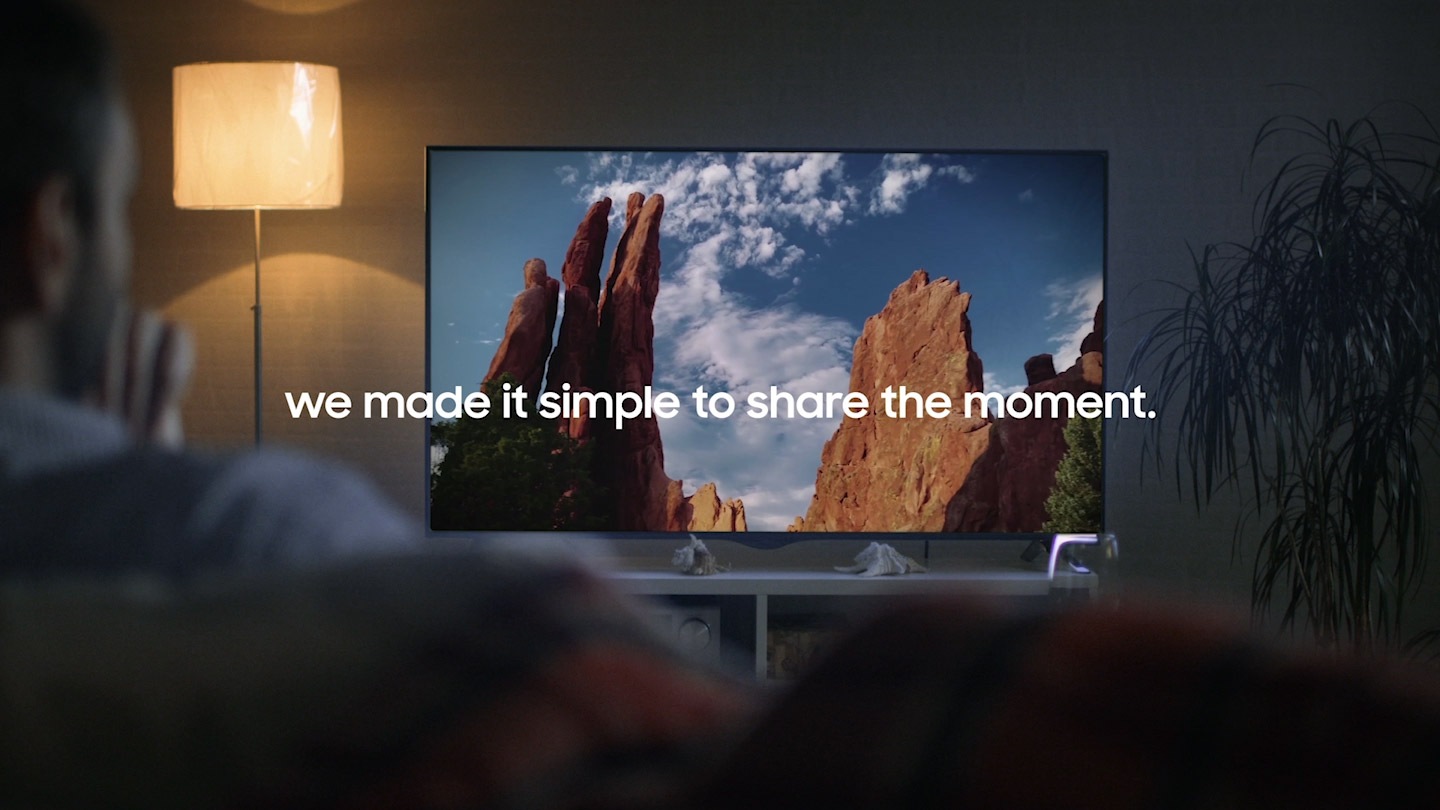 Easily set up using your mobile
All you need is your mobile for the simple 5-step set up.
* Auto recognition between mobile phone and TV may vary depending on the mobile device. For mobile devices
that do not support auto recognition, open the SmartThings app on your mobile to begin set-up.
* A Samsung Account is required to set up TV via mobile.
* Set-up process is also available via remote control.
Entertainment
never stops
Content Sync & Share
Continue your entertainment non-stop as
you move around the house. Now you can sync
and share your content to your mobile, TV,
and even your refrigerator all cross
Samsung Devices via Samsung Cloud. That means
you can still grab your popcorn from the kitchen
without pausing or missing scenes.
You've got
a notification
Notification
Got laundry on the go? Don't bother getting up to go
check the status. You'll get a pop up message
on the corner of your TV screen when it's done.
Know what's ready when it's ready so you can relax
and enjoy your shows without thinking about it.
* iOS&non-galaxy Android devices need to download SmartThings App.

Ultimate control
in one place
IoT Dashboard
Directly control your home IoT devices
seamlessly from your TV. From the Dashboard,
you can also individually set each different
connected device. Now do everything in
one place without leaving your TV.
* Connected device may vary by country.
One app. All set to go.
SmartThings app
Have several smart devices to manage?
No problem. Simply download SmartThings App on your mobile to control and monitor
your TV and connected devices all in one screen! One app is all you need.

* Smart service and GUI may vary by model and region.
* Agreement of the Smart Hub Terms and Conditions and Privacy Policy is required before use.
* Compatible OS(Operating System) or app required.
* Auto recognition between mobile phone and TV may vary depending on the mobile device. For mobile devices that do not support auto recognition, open the SmartThings app on your mobile to begin set-up.
* A Samsung Account is required to set up TV via mobile.
* Actual product and remote control may vary by image shown.
* SmartThings compatible devices may vary by region.
* Users with models previous to the Galaxy S6 or other mobile brands need to download the SmartThings app through application store.
* Steamlink service and GUI may vary by region.
* Images are simulated and for illustration purposes only. The appearance and design specifications which is not affecting to product performance are subject to change without notice
* Please refer to the product detail page for each model.
* For the Smart functions, compatible devices or phones required.