AM071FNCDEH/EU
DVM, Ceiling, Heat Pump
The Samsung Ceiling Type air conditioning unit is a flexible temperature control solution with two different installation options that let you make the best use of space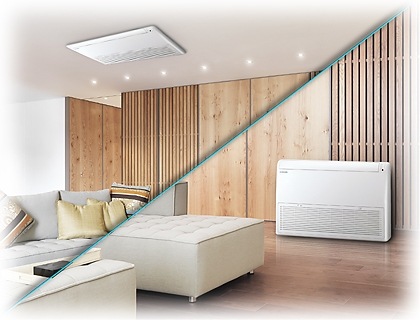 Two-Way Installation
The two-way installation option enables users to choose the best solution for their specific requirements. This flexible unit can be deployed under the ceiling or as a free-standing floor unit. If space is limited and airflow needs to come from above, the ceiling setting is ideal, while the floor-standing option is perfect when room is abundant. This two-way design is efficient, cost-effective and elegant.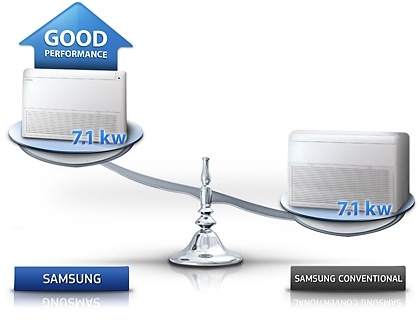 Compact but Powerful
The Samsung Ceiling Type air conditioning unit is slim and compact, offering a wider choice of installation locations. At just half the size of competitor units, this air conditioning system's cooling power is comparable to larger products. Its smaller size and lighter weight mean your business benefits from reduced set-up costs.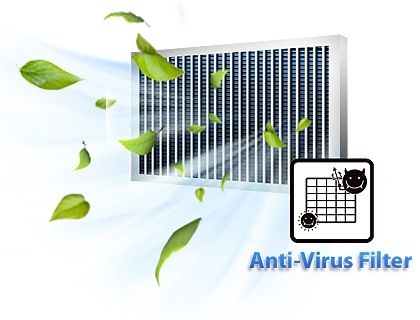 Anti-Virus Filter
The anti-virus filter lets businesses and their users benefit from cleaner air in their premises. This feature is specifically designed to keep local air free from dust particles and to minimise the spread of mould spores and harmful bacteria. This generates a more comfortable and safe environment for business users.
Specification
Features
Power Supply (Indoor Unit) Φ, #, V, Hz
System
Capacity

Cooling

7.1 kW

Cooling [Btu/h]

24200 Btu/h

Heating

8 kW

Heating [Btu/h]

27300 Btu/h

Power Input (Nominal)

Cooling

80 W

Heating

77 W

Current Input (Nominal)

Cooling

0.35 A

Heating

0.29 A

Fan

Type

Sirocco Fan

Motor (Output)

120 x 1 W

Air Flow Rate (High / Mid / Low)

18 / 16.5 / 15 CMM

Air Flow Rate(High/Mid/Low)[L/S]

300 / 275 / 250

Piping Connections

Liquid Pipe

9.52 mm

Liquid Pipe

3/8"

Gas Pipe

15.88 mm

Gas Pipe

5/8"

Drain Pipe (Φ,mm)

ID 18 HOSE

Field Wiring

Power Source Wire

1.5 ~ 2.5

Transmission Cable

0.75 ~ 1.5

Refrigerant

Type

R410A

Control Method

EEV NOT INCLUDED

Sound

Sound Pressure (High / Mid / Low) [dB(A)]

44 / 42 / 40 dBA

Sound Power

63 dBA

External Dimension (Indoor Unit)

Net Weight

21 kg

Shipping Weight

25.5 kg

Net Dimensions (WxHxD)

1000 x 650 x 200 mm

Shipping Dimensions (WxHxD)

1080 x 730 x 300 mm
* Samsung air conditioners contain fluorinated greenhouse gas R410A with GWP=2088
Manual Download
DVM, Ceiling, Heat Pump (AM071FNCDEH/EU)
Manuals

2019.01.14

User Manual ver 09

(ENGLISH)

2016.04.28

Safety Guide ver 1.0

(ENGLISH, FRENCH, GERMAN, GREEK, HUNGARIAN, ITALIAN, NEPALI, POLISH, PORTUGUESE, RUSSIAN, SPANISH)