High Efficient Commercial Split (CAC) Outdoor
Outstanding Climate Performance

Samsung's High Efficient Commercial Split (CAC) Outdoor unit is a smart choice for conserving both running costs and energy consumption.

Designed to perform in frozen climates

Dedicated Design

The High Efficient CAC is specifically designed to provide optimal performance in extremely cold environments. It features a Base Heater (150W), which prevents water condensation from freezing. The height of its Cabinet Grid is twice that of Samsung's universal outdoor units, which helps to prevent damage.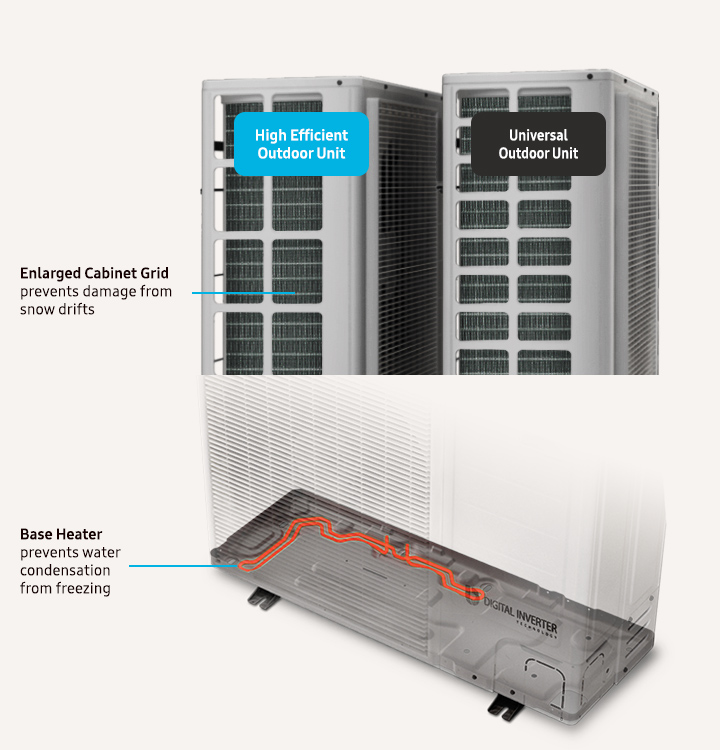 Wide range of operation

The High efficient CAC system air conditioner not only excels in heating performances, but it also provides exceptional cooling with its expansive operating range it offers cooling operation from -20°C to 50°C with the maximum piping length up to 75m, and guaranteed heating performance from -25°C to 24°C for indoor comfort all-year-round.

Energy Efficiency
All High Efficiency CAC models are efficiency rated SEER A++ (up to 7.9)/SCOP A++ (up to 4.6).