Samsung officially launches new
AI-powered Wind-Freeᵀᴹ air conditioner
Samsung now officially launches its new wall-mounted air conditioner platform for 2020. The all-new range is available in five different executions of which three versions feature Samsung's unique Wind-Free™ Cooling technology, complemented by new intelligent technologies for enhanced indoor comfort and improved energy efficiency.
13 January 2020, Amsterdam, the Netherlands – Samsung Electronics Air Conditioner Europe B.V. (SEACE) today officially launches a completely new wall-mounted air conditioner platform with R32 refrigerant, featuring its unique Wind-Free™ Cooling technology and new smart control functionalities, as initially announced and showcased at Interclima 2019 in Paris, France.
"The new range underlines Samsung's proven track record of consistently launching industry-leading cooling and heating products with distinctive designs and intelligent features that make daily life easier" said Xavier Feys, Vice President Pre-Sales, Business Development, Customer Service and Product Management at SEACE. "With its enhanced Wind-Free™ technology and new powerful Digital Inverter Boost, the new 2020 air conditioner range offers consumers a pleasant indoor climate experience while enhancing energy efficiency."

Wind-Freeᵀᴹ cooling technology
Samsung introduced the market's first wall-mounted air conditioner with Wind-Free™ technology in Europe in 2017. Air conditioners with Wind-Free™ technology follow a three-step cooling mode. In the first step, the temperature is lowered quickly in Fast Cooling mode. Second, it uses a dehumidifying feature to set the optimal level of humidity. Finally, when the desired temperature is reached, Wind-Free™ Cooling mode is activated to maintain those levels and provide an ideal level of comfort.
In Wind-Free™ Cooling mode, fresh air is dispersed gently and evenly through thousands of micro-holes, creating a "Still Air" condition¹. It allows people to live, work and relax comfortably without experiencing unpleasant cold drafts.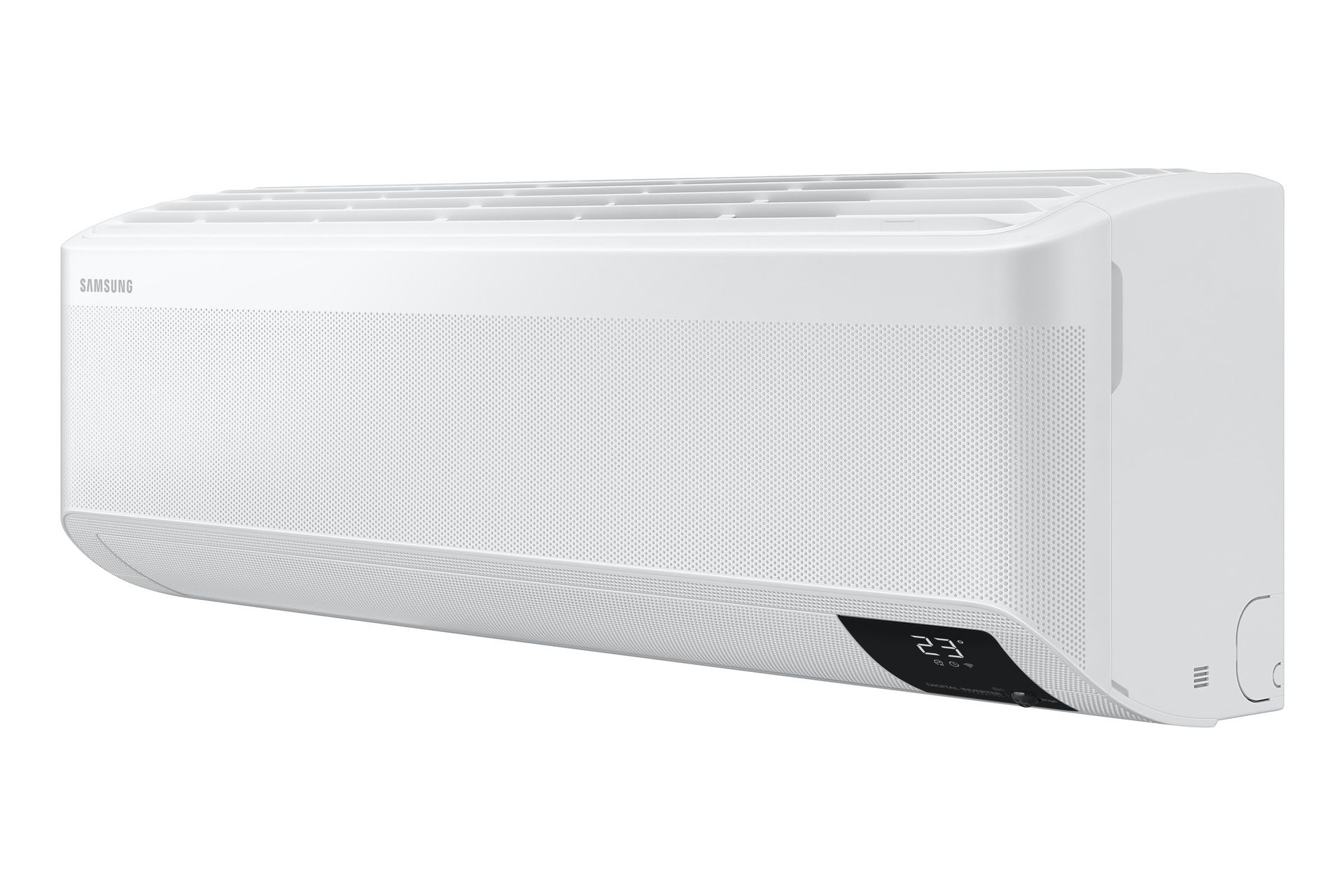 Smart Operation
The new Samsung wall-mounted range also optimises the cooling process with its AI (Artificial Intelligence) Auto Comfort feature², allowing consumers to use their air conditioner more efficiently. AI Auto Comfort analyses room conditions, user-preferred temperatures and cooling modes, and even the outdoor climate to automatically switch to the most appropriate setting.
The units can be controlled and monitored remotely by using the Samsung SmartThings App², letting users turn their air conditioner on or off, select preferred cooling modes, schedule operations, and even monitor power consumption - all at a touch. And with Samsung Bixby voice control, the unit can simply be told what the user wants via the smartphone.

Enhanced energy efficiency
The new generation Wind-Freeᵀᴹ wall-mounted air conditioners uses Samsung's new energy-efficient Digital Inverter Boost compressor, allowing consumers to maintain their desired temperature while reducing energy consumption. The new Digital Inverter Boost compressor is developed to help maintaining indoor temperature in an efficient way, and not having to turn the unit on and off repeatedly.
It has a built-in Motion Detect Sensor (MDS)² that tracks user movements to cool efficiently while avoiding wasting energy. The sensor can detect when there are no users in the room, automatically changing the air conditioner settings to slightly increase the temperature or turn on the standby mode. The top of the range Wind-Freeᵀᴹ Elite unit comes with an A+++ energy label for both SEER and SCOP, the highest energy rating achievable in Europe. ³

Product lineup
Samsung's new wall-mounted air conditioner platform is available with R32 refrigerant as from first quarter 2020 as Single Split (RAC) and as Multi Split (FJM). The availability of the different ranges may differ per local market.
Product lineup RAC
Capacity
2.5 kW
3.5 kW
5.2 kW
6.8 kW
| Wind-Freeᵀᴹ Elite | Wind-Freeᵀᴹ Avant | Wind-Freeᵀᴹ Comfort | Cebu | Luzon |
| --- | --- | --- | --- | --- |
| • | • | • | • | • |
| • | • | • | • | • |
| | • | • | • | • |
| | • | • | • | • |
Product lineup FJM
Capacity
2.0 kW
2.5 kW
3.5 kW
5.2 kW
6.8 kW
| Wind-Freeᵀᴹ Elite | Wind-Freeᵀᴹ Avant | Wind-Freeᵀᴹ Comfort | Cebu | Luzon |
| --- | --- | --- | --- | --- |
| • | • | • | • | • |
| • | • | • | • | • |
| • | • | • | • | • |
| | • | • | • | • |
| | • | • | • | • |
1. ASHRAE (American Society of Heating, Refrigeration, and Air-Conditioning Engineers) defines "Still Air" as air currents moving at speeds below 0.15m/s, which lacks the presence of cold draughts.
2. Availability of described features may be subject to execution. SmartThings functionality is available on Android and iOS devices. A Wi-Fi connection and Samsung SmartThings account are required. Bixby voice control is supported in English (US, UK, Indian), Chinese, Korean, French, German, Italian and Spanish.
3. Energy rating is based on 9k BTU version and is according to EU No 626/2011 (Lot 10) label classification 2019, on a scale from D to A+++.