SMART Signage Solutions
Samsung Smart Signage Platform (SSSP) 4.0
Powerful and Convenient Performance
The Tizen integration expands possibilities for users to create and share dynamic content within the SSSP 4.0. An enhanced graphics engine equips the platform with advanced animation capabilities to accommodate scrolling text and simultaneous multi-source video content without interruption. Additionally, the Tizen OS brings PC-less touch navigation to the SSSP 4.0, making it easier and more convenient for users to scroll through both menu options and Web browsers.
Integrated Application Development
Transcending past hardware performance, the Tizen OS enables partners to develop and deploy advanced web applications directly within the SSSP 4.0. Through an integrated Software Development Kit, developers can access a set of JavaScript application program interfaces (APIs) to build customized applications that suit their partners' specific needs. For added convenience, users can leverage the SSSP 4.0's open-source platform and HTML5 compatibility to develop applications faster and more accurately.
Scalable and Secure
Optimized for business extendibility, the SSSP 4.0 enables remote application management and development without compromising security. The integrated, open-source Node.js cross-platform enables server-side and networking partner application management to seamlessly extend collaboration and content integration possibilities. In doing so, the Tizen OS deploys a holistic security architecture that ensures safe information exchange across the system, platform and application layers, and makes the SSSP 4.0 ideal for industries such as finance, payment and IoT where confidentiality is paramount.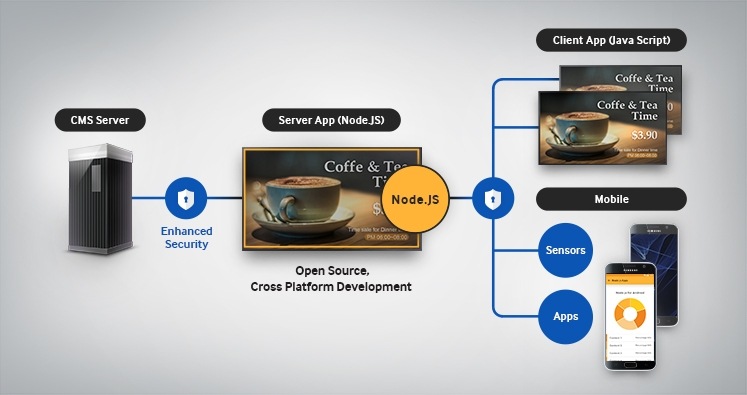 All-in-One Remote Management
Samsung's SSSP 4.0 empowers users to manage their entire signage portfolio through a central remote server and make adjustments across individual displays or display groups from personal devices at any location. To further simplify this process, users can leverage open API connectivity to synchronize the platform with their own content management solutions (CMS) and provide a full, controllable view of all relevant hardware and display content.