Government
Find out how Samsung can help you enhance public services and defense operations with highly secure communications.
The New Government Experience
Establish Secure Government Communications
Reinforce Defense Forces with Cutting-Edge Technology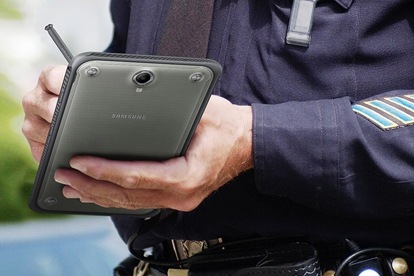 Improve Public Safety Services with Mobile Solutions
Ensure the safe and secure delivery and of digital services to protect information and privacy

Encourage flexible and efficient communication between government agencies by establishing a rigid security system. Provide a wide range of innovative devices, solutions and infrastructures to transform the work culture into a collaborative environment. Achieve productivity gains and reduce communication costs by leveraging the latest mobile technology.

Secure Virtual Collaboration

Government employees can collaborate easily and securely with one another anywhere in the world with video conferencing technology on large flat displays. Equipped with cameras, these large flat displays can automatically power on at meeting times. Both the participants in the conference room and the participants at the remote location can collaborate seamlessly through a secure unified communication system.

Call Protection for Mobile Phones

Government officers face many situations when they need to communicate sensitive information over the phone. With an embedded security VoIP solution for Samsung smartphones, administrative offices can forego large desk phones and conduct confidential communications on mobile devices for greater flexibility.

Government-Grade Mobile Security

Federal agencies need flexible and secure mobility solutions to enable the exchange of classified information among government officials. Common Criteria-certified mobile devices can ensure secure collaboration in any location, leading to a boost in operations efficiency.

Eavesdropping Prevention

With the help of advanced encryption technology, eavesdropping—one of the most dangerous threats to government communication—can be prevented. End-to-end encrypted voice services and messaging blocks external intervention, allowing for information to be communicated safely.

Modernise defence forces with digitally enhanced tactical communication and situational awareness

Execute efficient defence operations by embedding technology smartphones, tablets, GPS, camera, etc into the entire combat process. Equip soldiers with mobile devices updated with the latest security standards to ensure quick and secure command delivery and report, leading to a tactical advantage on the battlefield.

Tactical Communication

Military personnel can communicate in real-time by utilising tablets, providing a more efficient delivery of mission command from the command center to the battlefield. Real-time communication through tablets enables not only voice communication, but also the sharing of images and videos. Soldiers on the field can therefore perform more accurate executions of orders

Enhancing Situational Awareness & Immediate Reporting

Equipping soldiers on the field with anti-shock and anti-dust rugged mobile devices enables them to always be fully aware of their environment. With accurate knowledge of their physical context—current GPS location, weather conditions, and geographical surroundings—soldiers can minimise risks on the battlefield. When missions are cleared, soldiers can report the results on-the-spot using mobile devices.

Leverage the benefits of mobile technology to improve the productivity of public safety service

Increase the amount and quality of work employees can do in the field with telework and mobile equipment. Drive operational excellence by reducing operation processing time and expenses through service automation, and increase efficiency through various mobile capabilities.

Modernising Law Enforcement

Officers can use mobile devices to access government data to improve their productivity in the field. Monitoring speeding cars or regulating illegal parking are made easier with car plate recognition software on mobile devices, and with a fingerprint scanner attached, law enforcement officers can also use mobile devices to quickly identify suspects. Officers can access social media to help solve crimes as well.

Safe & Efficient Fire Rescue

Firefighters face many situations that require the use of two hands. Having wearable devices on their wrists can allow them to perform their duties more efficiently and safely. These devices also protect the health of the firefighters by clearly displaying their heart rates.

Increasing Fieldworker Productivity

Mobile solutions can help fieldworker simplify their jobs by allowing them to operate as truly mobile workers. With rugged tablets and smartphones, GPS navigation, and wireless access to files, caseworkers can be far more productive in the field.