It's time to unbox your phone and experience a new way to do business. The Galaxy S8 and S8+ defies barriers, so you can enjoy more good days and work more effectively.
Productivity
Infinity Display · 10nm AP · Water and Dust Resistance · Dual SIM and MicroSD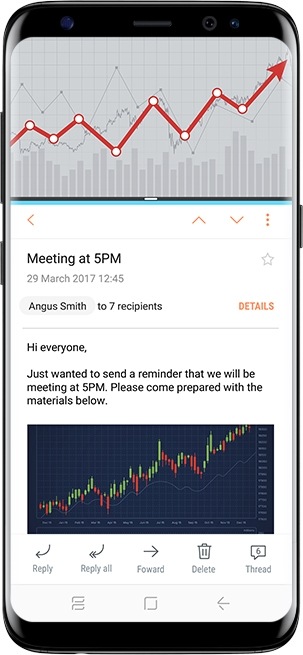 Infinity Display
Multitasking made easy
The big and beautiful edge-to-edge 3D Infinity Display has 18% more viewing space, bringing documents, presentations and web pages to life in glorious detail and making it simpler to switch between multiple windows. Multitasking is made easier with an adjustable split-screen and you can enjoy more good days watching your favourite entertainment brought to life during your down time.
10nm AP
Work faster and more efficiently
The Galaxy S8 and S8+ have a faster, more powerful processor to make light work of memory-intensive programs and applications, large-scale projects and multiple tasks. The new processor uses much less energy too, so you can get more done without having to reach for the charger.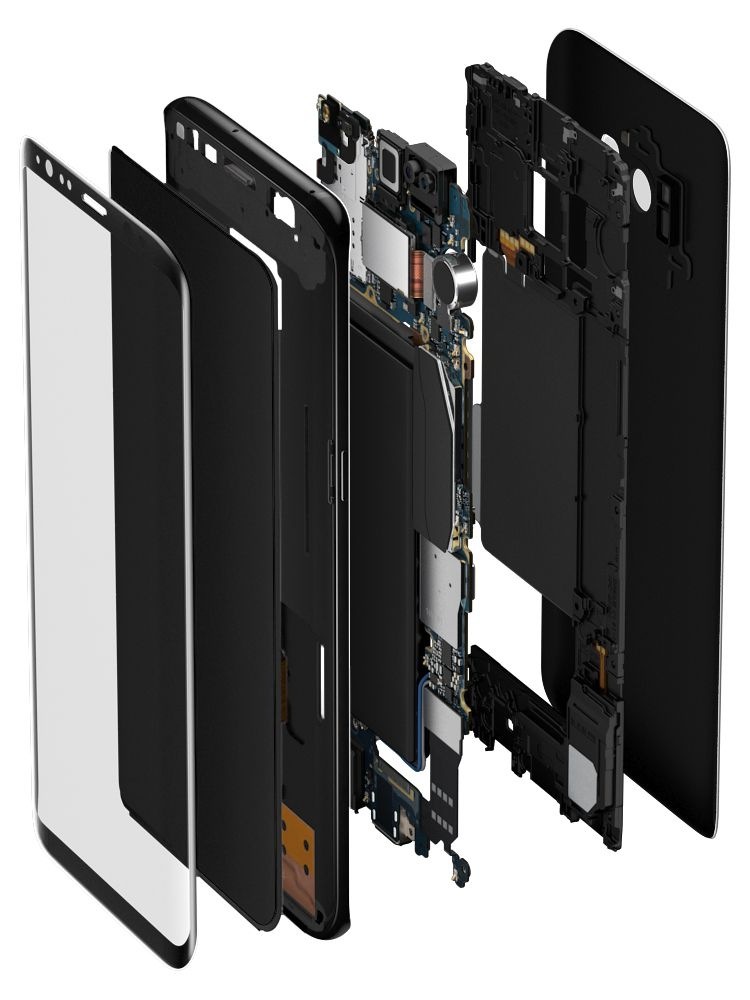 Mobile Application Processor: better smartphone performance using less power
more powerful CPU faster processing when working with large programs and multiple files
more capable GPU: see content come to life in vivid detail on your smartphone
Water and Dust Resistance
Made to work on the move
We understand that work doesn't just happen in the office, so the Galaxy S8 and S8+ have been designed to stand up to water and dust*. You can still locate your client's office using Google Maps during a downpour, keep up to date with work while lounging on a sandy beach or check your business's social channels while working off-site. Enjoy more good days wherever your business takes you.
*IP68: water resistant in up to 1.5m of water for up to 30 minutes (rinse off afterwards). Resistant to dust, dirt and sand.
Dual SIM and MicroSD
Watch your business grow
Enjoy more good days whilst working away from the office. With the Galaxy S8 and S8+, you can add up to 256GB of additional MicroSD storage* to view and work on all your important files, documents and presentations wherever you are.
*MicroSD card not included. Availability of dual SIM services vary by country.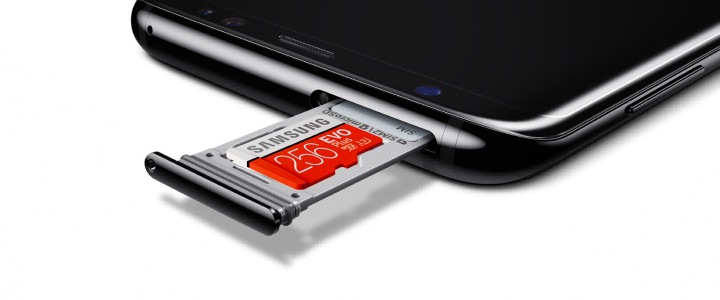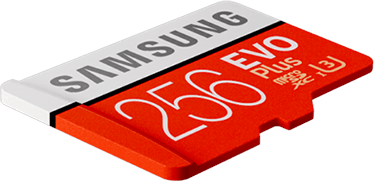 Security
Iris · Samsung Pass · Knox 2.8
Iris
For your eyes only
The Iris Retina Scanner* on the Galaxy S8 and S8+ keeps the data on your smartphone safe from prying eyes. It's 200 times more secure than using a fingerprint scanner to lock/unlock your phone, so you can go about your business safe in the knowledge that if you lose your phone the data on it won't fall into the wrong hands.
*Biometric data collected through the iris scanner is not intended for medical purposes. For more information, please refer to the product's health and safety guide.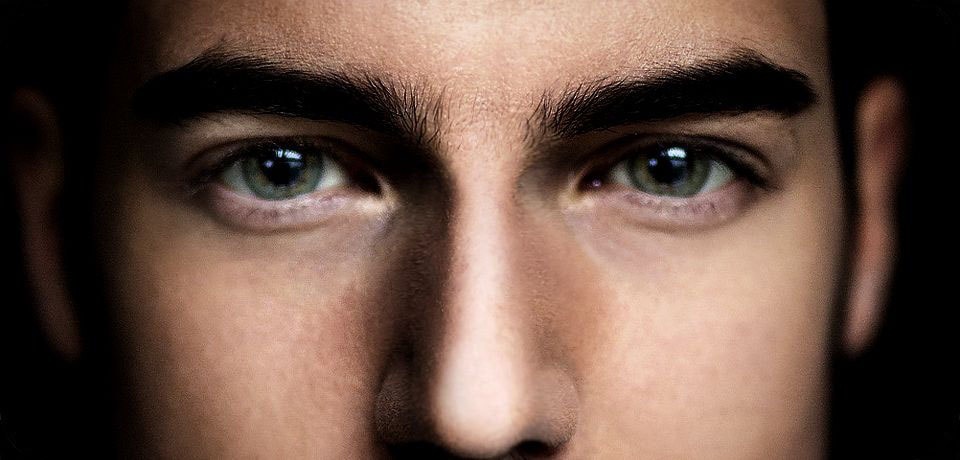 Samsung Pass
Forget passwords
Remembering usernames and passwords can be a real hassle – especially when you're required to change them regularly. With Samsung Pass*, you can forget about remembering passwords and pin codes. Simply log in to websites and accounts using your unique fingerprint or iris. Samsung Pass encrypts your biometric data and secures it with Samsung Knox for a secure and convenient way to use services on your smartphone.
*Availability of Samsung Pass may vary by country.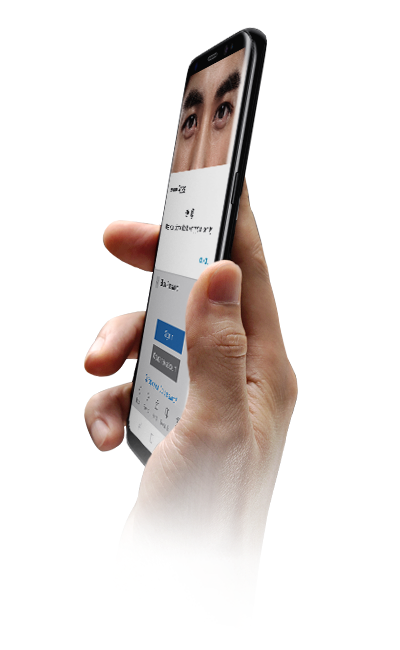 Knox 2.8
Best-in-class business security
Samsung Knox 2.8 is built in to the Galaxy S8 and S8+ from the chip up, so you can enjoy more good days at work without worrying about data threats to your smartphone. Knox 2.8 defence-grade security* offers around-the-clock protection from malicious snooping and malware attacks, making it the most advanced Android security platform there is.






*Knox Container is optional.
**TIMA is TrustZone-based Integrity Measurement Architecture.

Convenience
Samsung DeX · Bixby Vision · Bixby Home

Samsung DeX
Introducing a new desktop experience
Wouldn't it be great if you could quickly and conveniently turn your smartphone into a desktop? Well, with Samsung DeX* you can. When you need to work with a full-size keyboard or see your work on a large monitor, attach your Galaxy S8 or S8+ to the DeX Station and enjoy a desktop experience. Whether you're working on a presentation at a client's office or reviewing work in the departures lounge, Samsung DeX enables you to work the way you want.
*DeX Station and accessories sold separately.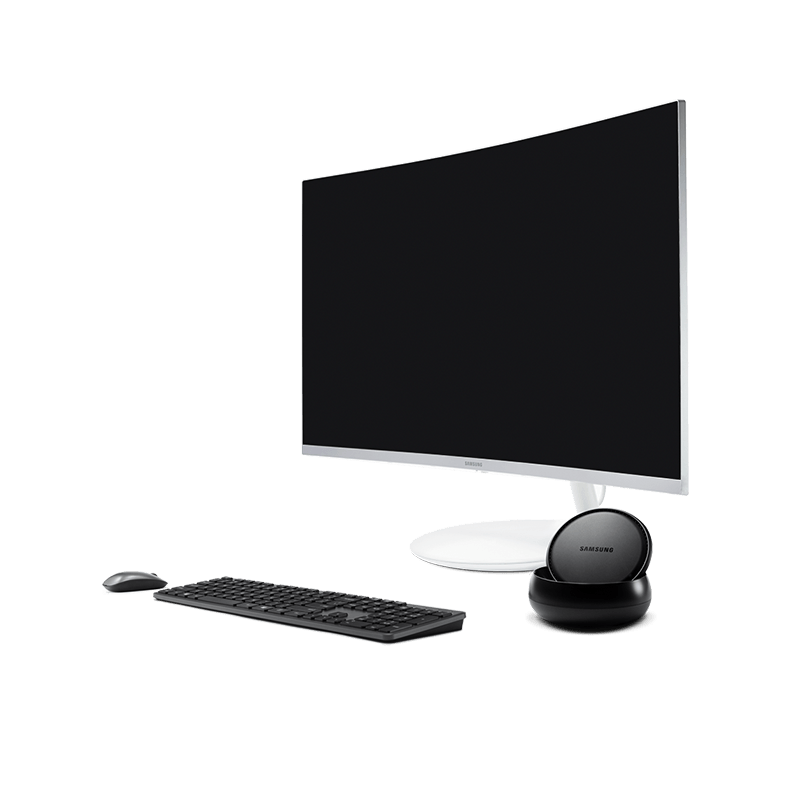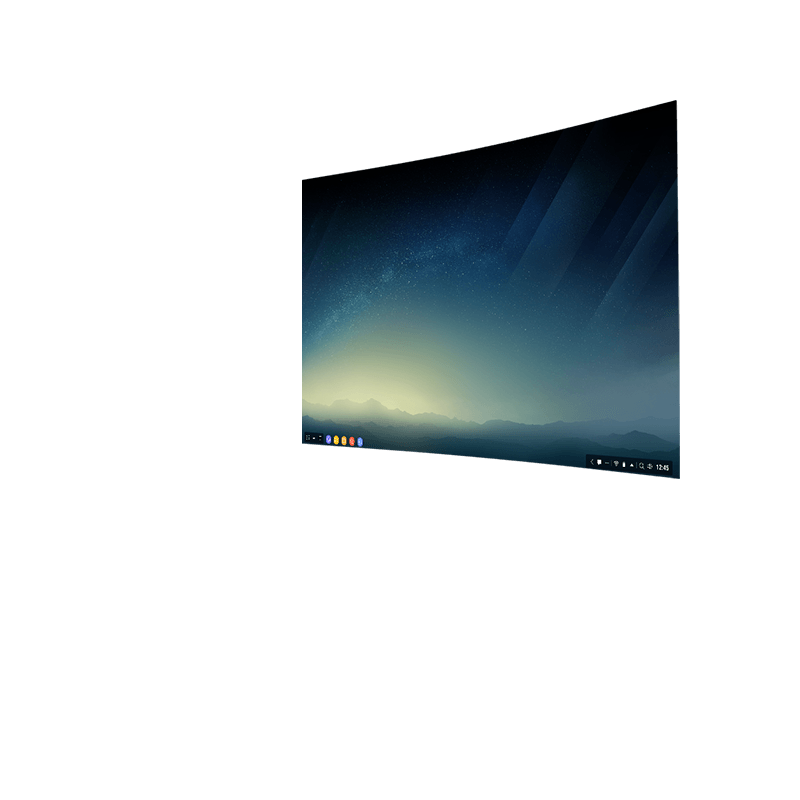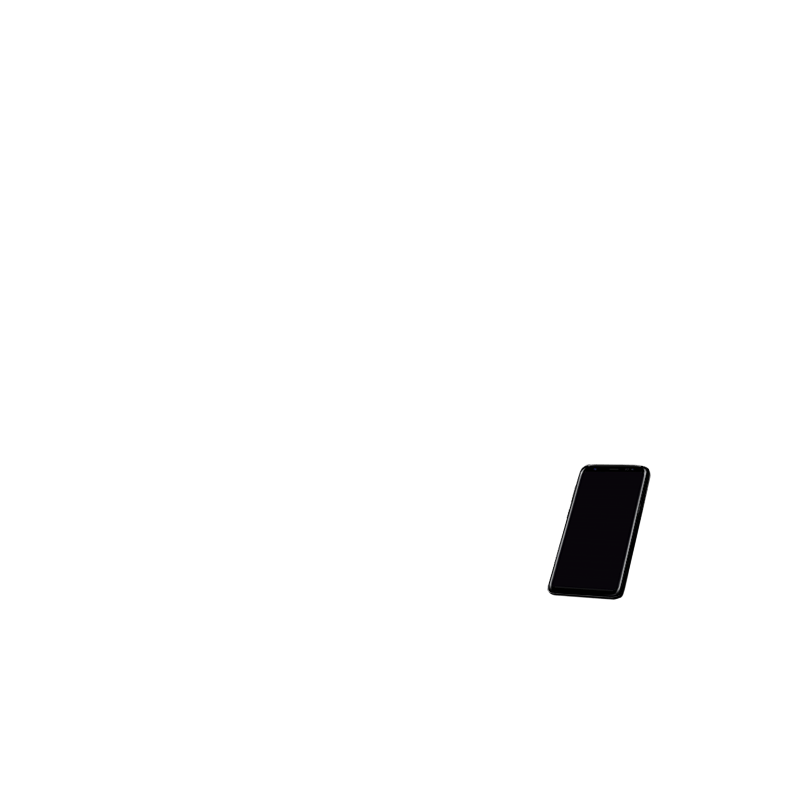 Bixby Vision
A new way to search and work
You're unlikely to have a good day at work if you can't understand an important document. But Bixby Vision on the S8 and S8+ will quickly put you in the picture. Simply aim the camera at the words on the document to get an immediate translation. You can even use Bixby Vision to save new connections to your contact list – just snap a picture of their business card to add their name and number.
Easily translate documents
Aim the camera at the words on a document to get the translation on the spot.
*Not available in all languages.
Save contact information
Hold a business card in front of the camera to have the details added to your contacts.
Bixby Home
Information tailored to you
Enjoy more good days with Bixby Home – your personalised and customisable dashboard, which gives you quick and easy access to the latest news, weather and important information, and your favourite apps. You can access Bixby Home on your Galaxy S8 or S8+ by pressing the Bixby key or swiping right on the lock screen or home screen.

Before work
Prepare for a good day by checking your to-do list and keeping an eye on the weather forecast.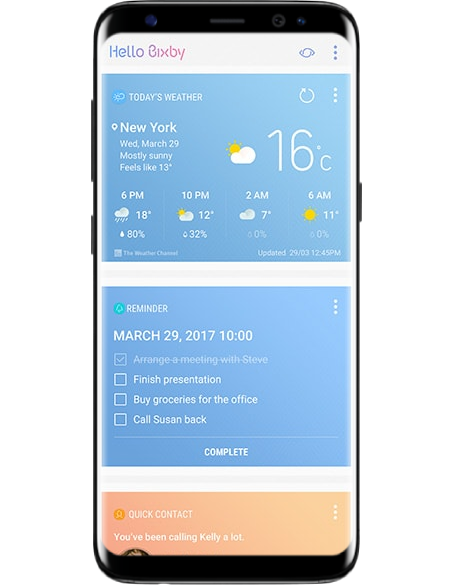 At work
Have a good day at work by keeping track of your schedule and on top of emails.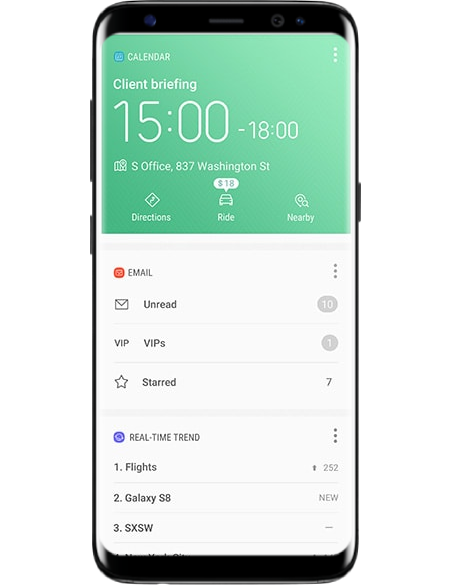 SPEC+
OS

Android

Display

5.8" 146.5mm, full rectangle
(5.6" 143.3mm, rounded corners)
Camera

Dual Pixel 12.0 MP
Memory size - User memory is less than the total memory due to storage of the operating system and software used to operate the phones features.
Actual user memory will vary depending on the mobile phone operator and may change after software upgrades are performed.
Network : The bandwidths supported by the device may vary depending on the region or service provider
Measured diagonally, the screen size is 5.8" in the full rectangle and 5.6" with accounting for the rounded corners
OS

Android

Display

6.2" 158.1mm, full rectangle
(6.1" 154.5mm, rounded corners)
Camera

Dual Pixel 12.0 MP
Memory size - User memory is less than the total memory due to storage of the operating system and software used to operate the phones features.
Actual user memory will vary depending on the mobile phone operator and may change after software upgrades are performed.
Network : The bandwidths supported by the device may vary depending on the region or service provider
Measured diagonally, the screen size is 6.2" in the full rectangle and 6.1" with accounting for the rounded corners