Claim between €60 and €340 cashback and still give back
Take home a selected Samsung Home appliance from a participating retailer and claim between €60 and €340 or donate to one of our chosen charities.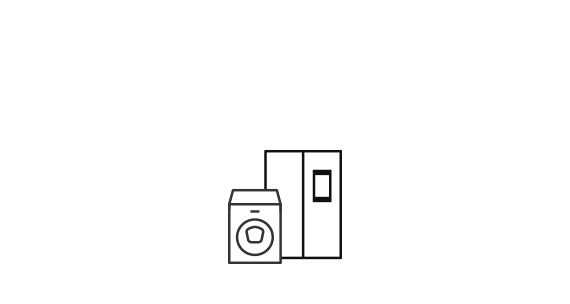 Step 1:
Buy a qualifying Samsung product from 16 September until 3 November 2020.
Step 3:
Register your purchase, including proof of receipt and appliance serial numbers.
Step 4:
Choose whether you would like to claim your full cashback value or, if you wish, to donate some of it
(in €5 increments) to one of our chosen charities. For example for a €200 Cashback claim, you can donate
€55 to a charity and choose to have the remaining €145 transferred to your bank account.
Step 5:
Once validated, the cashback amount will be shared by way of bank transfer to your bank account within 30 days.
If you have selected a charity to receive some of your cashback, they will receive it in the same timeframe.
Laundry
2020 WD5300T Washer Dryer with ecobubble™ and AutoDose, 8kg
Cashback Value: €70
DV8000 Heat Pump Tumble Dryer
Cashback Value: €90
Samsung Electronics (UK) Limited. ROI residents aged 18+ only. Purchase a selected new (i.e. not second hand) Samsung home appliance between 16.09.20 – 03.11.20 from a participating retailer (either in-store or online). To claim, visit www.samsung.com/ie/charitycashback2020 complete the claim form and submit it together with a scanned proof of purchase. Claims may only be submitted between 30 and 60 days after purchase. To claim, and for full terms and conditions, see www.samsung.com/ie/charitycashback2020.