Design Collaboration with Moschino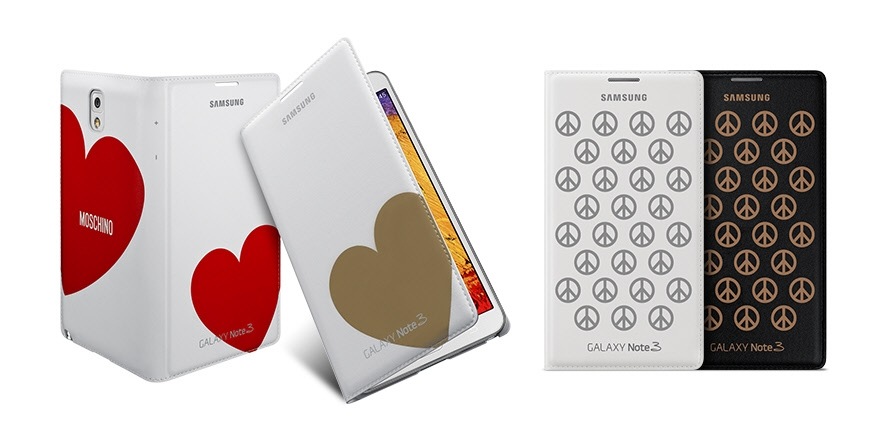 Four different designs inspired by the heart shape and peace sign are incorporated into the Moschino Premium Flip Wallet. The four different Premium Flip Wallet designs include the following: a white cover with red heart, white cover with gold heart, black cover with gold peace signs and a white cover with black peace signs. Complement the Premium Flip Wallet to style your outfit and stand out in stunning elegance.
Premium Line-up dedicated to GALAXY Note 3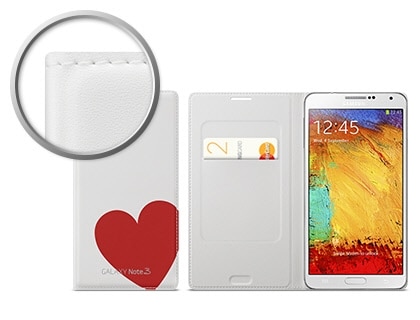 Premium Flip Wallet cover has sturdy finishing touches, so it shows the design appropriate for the GALAXY Note 3. The backstitch such as those made ​​by hand of the craftsman is added, Premium Flip Wallet cover of artificial leather makes you feel a sense of solidity and luxury. Premium Flip wallet has a feature for storing a single credit card. So This enables a convenient user experience.
Better Usability
The Samsung Premium Flip Wallet also provides maximum side protection for your Samsung GALAXY Note 3, reducing the possibility of smears and scratches. The screen will automatically turn on when you open the cover of Premium Flip Wallet, so you can use it conveniently via Auto WaKe-Up function.