Charging Has Never Been Easier
With the Wireless Charging Battery Cover attached, simply put your Galaxy S4 onto the Wireless Charging Pad—and that's it...charging made simple. Put the pad on your Desk, in the Kitchen or anywhere in the house or office so anyone with an S4 and Wireless charging back cover can charge their handset. No more bad connections and desperately trying to unplug the handset when it rings, just pick it up and answer. Now you're truly free! *Wireless Charging Pad and Wireless Charging Cover also available separately.
Efficient Charging
Our Wireless Charging Kit delivers outstanding safety and is Qi-certified by WPC (Wireless Power Consortium), reducing power consumption by minimising heat generation and increasing charging efficiency.
Sophisticated Design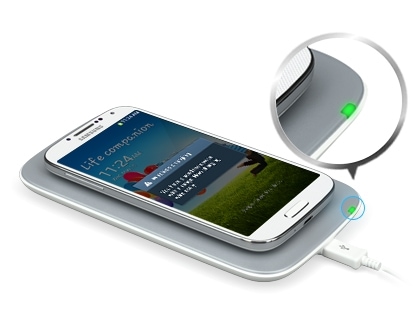 The slim wireless charging pad was carefully designed to be a perfect fit for the Galaxy S4 and allows you to easily check the charging progress through the LED indicator
Stylish Fit
Replacing the stylish standard battery cover, the Wireless Charging Cover retains the sophisticated and slim feel of the Galaxy S4.