Samsung MultiView camera offers great photography from all angles
Dec 16. 2011
3" Wide Flip-out touch display for camera users to shoot, record and view life from all angles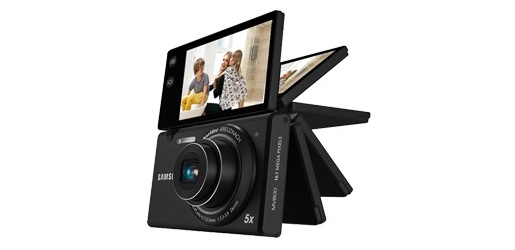 Samsung Electronics, a global leader in digital media and digital convergence technologies unveils the Samsung MultiView MV800, with a 3 inch Wide Flip-out Display.
The ultra slim and stylish device boasts enhanced picture quality, touch screen technology, as well as many innovative and user-friendly features to ensure that all users can relax and enjoy their shooting experience, confident of capturing even the most challenging images.
The 3.0" Wide Flip-out Display opens up a world of possibilities, whether it is capturing the perfect self-portrait to polish your online profile, or extreme low and high angled shots to demonstrate your photographic prowess. The unique screen tilts up and down so you can frame every shot, and easily view back your images from any perspective.
For style-conscious consumers on the lookout for sophisticated, minimalist styling, the device's ultra- slender design and contemporary metallic finish promises to make a visual impact. The Samsung MultiView MV800 camera offers 16.1 megapixels for premium picture quality, along with a 5x optical zoom lens to capture every detail in close-up and 26mm wide-angle lens for capturing larger gatherings in high definition. By packing this technology into a sleek and slim device, the Samsung MultiView MV800 is the ideal camera for premium-quality image capture on the move.
Features include:
Magic Frame: which includes 12 fun background templates as customisable options for your own creations.
Picture-in-Picture shot: lets you insert one image with another, you can even use the Flip-out display to snap a self-portrait and put yourself in the picture.
Smart Filter: menu of 14 artistic effects, including the newly added Water Paint for a stylish watercolour finish or the Cartoon capability, transforming any photo into a fun animated film format.
Funny Face features: allows you to bend, stretch and manipulate portraits of loved ones by tapping and dragging to radically distort facial characteristics, ready to share and enjoy.
The Samsung MultiView MV800 is now available in black from stockists nationwide at RRP €279.99.
For more information on the Samsung MultiView MV800, please visit: www.samsung.com/ie


About Samsung Electronics Co., Ltd. Samsung Electronics Co., Ltd. is a global leader in semiconductor, telecommunication, digital media and digital convergence technologies with 2010 consolidated sales of US$135.8 billion. Employing approximately 190500 people in 206 offices across 68 countries, the company consists of nine independently operated business units: Visual Display, Mobile Communications, Telecommunication Systems, Digital Appliances, IT Solutions, Digital Imaging, Memory, System LSI and LCD. Recognised as one of the fastest growing global brands, Samsung Electronics is a leading producer of digital TVs, semiconductor chips, mobile phones and TFT-LCDs. For more information, please visit www.samsung.com/ie
List
No Prev Page
No Next Page