Never miss a thing: Talk, shoot, share at the same time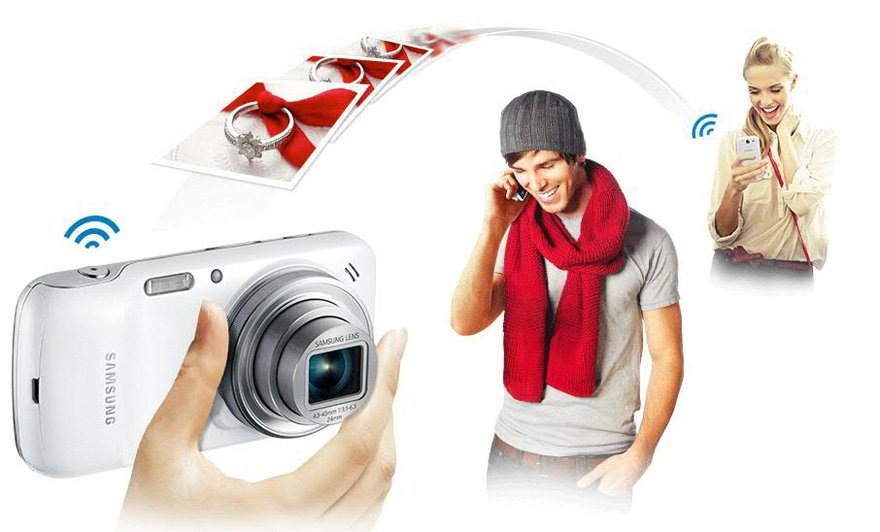 In-call Photo Share Don't just share memories; create experiences. In-call Photo Share creates new picture-taking possibilities. Take a shot and send it in a text to a friend—while you're talking with her on the phone! Zoom-ring control lets you instantly launch the camera app and control photographic functions. The Galaxy S4 zoom isn't a smartphone with a camera. Part advanced still and video camera, and part Android-powered smartphone, the Galaxy S4 zoom is one device that's always in touch with your world.
A spin of the zoom ring turns your smartphone into a precision camera
Quick Launch and Shortcut Quick Launch and Shortcut give you instant access to multiple camera modes. Just a quick twist of the Galaxy S4 zoom's front-mounted zoom ring, followed by a quick touch of the display, lets you dial up different camera modes from: Auto, Gallery, Smart Mode, Manual, Progrem, and more by with the all-new My mode.
Travel near or far with a zoom ring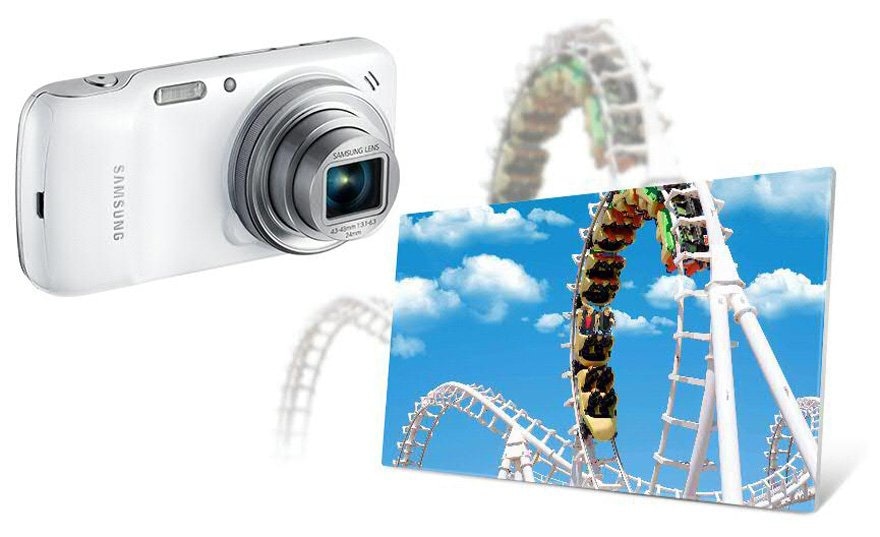 Optical Zoom Control The zoom control re-imagined. Optical zoom control replaces traditional dials and buttons with smooth, easy-to-operate digital controls. Professional-quality accuracy and unprecedented ease of use are just a quick twist of the zoom ring away, making it easy to capture wide-angle shots and create tight-focus effects.
Capture close-ups, even from far away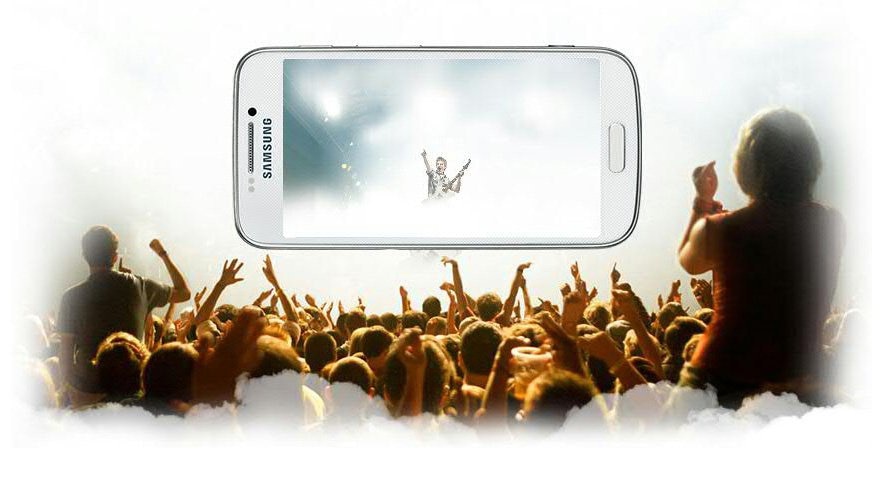 10x Optical Zoom Bigger doesn't always mean better. The small-size/big-performance Galaxy S4 zoom is equipped with 10x optical zoom to let you capture clear images and beautiful, accurate colour, even from far away. And thanks to the Galaxy S4 zoom's professional-quality optics and precise zoom-ring adjustment, you can take eye-popping close-ups, too—all without having to lug around heavy camera gear.
Better low-light performance and motion capture
16M BSI CMOS Sensor Advanced sensor technology makes your pictures come alive. The super-fast, super-sensitive 16-megapixel BSI (back side–illuminated) CMOS sensor needs less light for proper exposure and quicker focus than conventional sensors. So even if a moment happens in the dimmest lighting conditions, your photos will capture everything
It remains perfectly still, even when you don't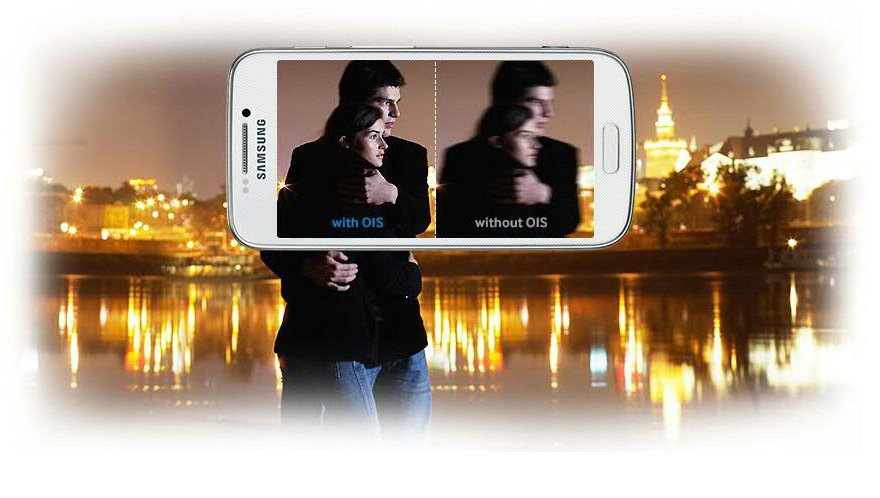 OIS (Optical Image Stabilisation) Shooting in a hurry doesn't have to mean shooting blurry. The Galaxy S4 zoom's Optical Image Stabilisation (OIS) system gives images crisp focus, even if you're not perfectly still. Don't miss a shot worrying about the right conditions. Click with confidence and create photos and video that come out sharp and clear—even in low-light situations, when zooming in for a shot, or while you're on the move.
Make the most of every journey with location-based suggestions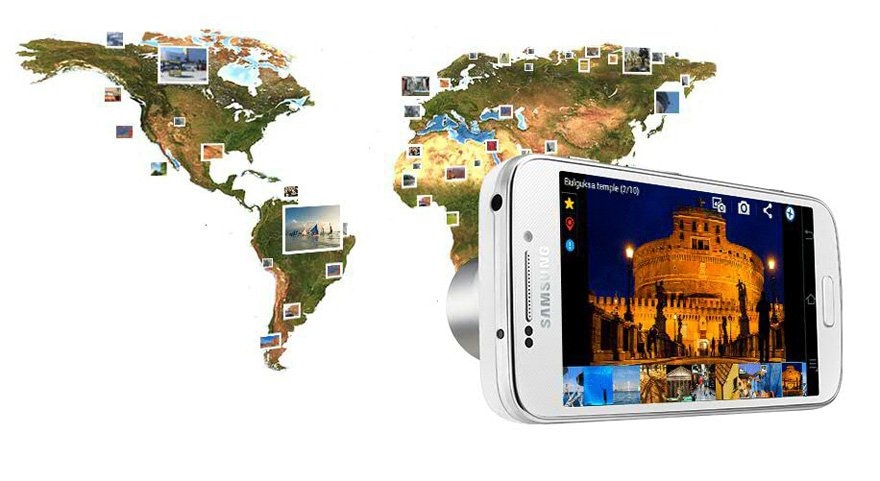 Photo Suggest It's like a photo tour guide in your pocket. Photo Suggest instantly connects you to huge libraries of images taken by fellow photographers, to help you find and compose your best shots anywhere in the world. Bring more life to your photos—and more photos to your life—with leading social apps and widgets, including TourWrist, Panoramio, TripAdvisor and others.
Optimal settings for anything you want to capture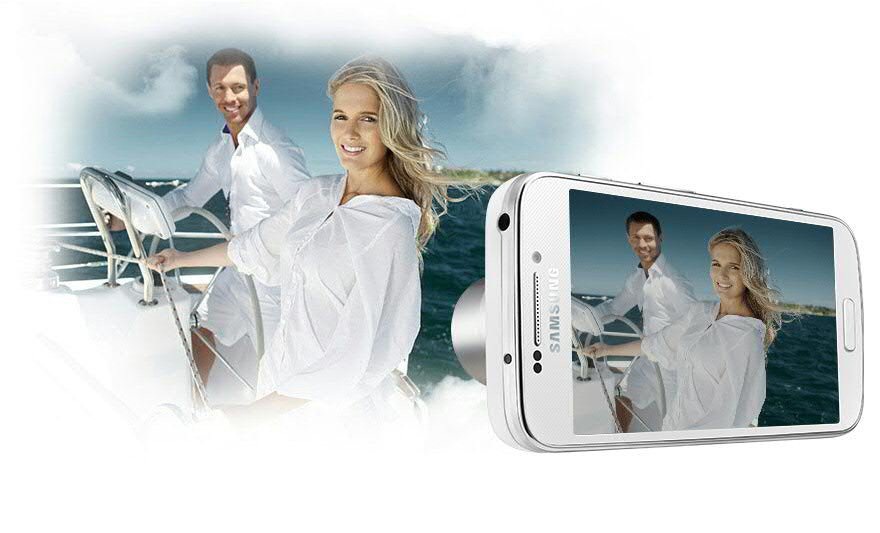 Smart Mode Suggest Capture everything life can throw at you, and still come back with amazing pictures. Smart Mode Suggest recognises lighting conditions, scenery, and objects, and instantly recommends the optimal Smart Mode. You can also choose from any of the more than 20 recommended optimised Smart Modes to lend unique touches to your pictures.
Compose and capture shoots with the best possible settings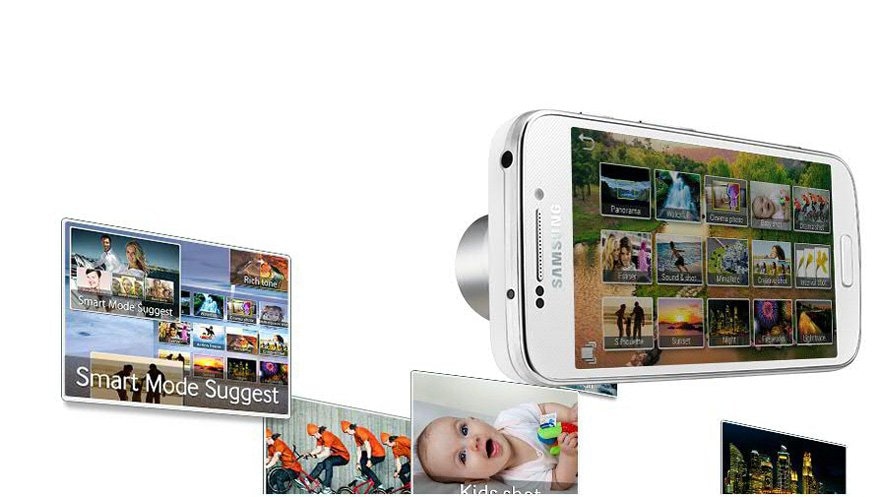 Smart Mode Stop worrying about settings, and start taking professional-quality artistic shots. A quick tap of the Smart Mode button gives you access to a wide range of special modes. Use Drama Shot to merge continuous shots of moving objects into a single composed image, or Action Freeze to instantly capture high-speed action. Using Light Trace, unleash your inner Picasso and have your subject draw with a handheld light to capture prolonged exposure effects. You can also record sound to your photo to relive the moment exactly how it happened with Sound & Shot. Just choose the mode you want and go.
Smart Simulator
User manual & Downloads
How It Stacks Up
CPU Speed

2.7GHz, 2.3GHz, 1.9GHz

Resolution (Main Display)

3040 x 1440 (Quad HD+)
* User memory is less than the total memory due to storage of the operating system and software used to operate the phones features. Actual user memory will vary depending on the mobile phone operator and may change after software upgrades are performed.

** External Memory may be used to store media (photos, video, and music files) but not applications.

Notice to our customers - safe battery use

If your mobile phone battery is damaged, for example if it is dented, we recommend that you stop using it immediately and replace it with a Samsung genuine battery. If a damaged battery is used, this may affect performance of the battery and in some cases cause damage or injury through overheating, fire or explosion. Examples of situations in which a battery may become damaged are: use in an excessively hot environment, dropping the battery, external pressure on the battery, pet-biting, etc. We recommend that spare batteries are kept in a hard-shell case when not in use.

You should use only Samsung genuine or approved batteries that have been specifically designed for use in Samsung products. The use of incompatible batteries, cables and chargers may not be safe to use and could cause damage to the device or external damage. Please purchase Samsung-branded batteries from reputable and approved sellers to ensure the batteries are not counterfeit.
Network band : The bandwidth supported by the device may vary depending on the region or service provider.