How do I add a GIF to the Always On Display on my Galaxy S9/ S9+?
The Always On Display (AOD) feature allows you to keep a part of the screen on even during sleep mode.

With Galaxy S9/ S9+, you can set a preloaded GIF file or animated file from the Gallery on an AOD.
1
Open 'Settings' and then select 'Lock screen and security'.
2
Slide the switch to activate the 'Always on Display' function and then tap 'Clock and FaceWidgets' beneath.
3
Tap 'Clock style'.
4
Select 'Always on Display'. If you want to use a preloaded GIF, tap 'Add GIF' and select the file. If you want to use a GIF that is already in the mobile Gallery, tap '+'.
5
Select the GIF in Gallery.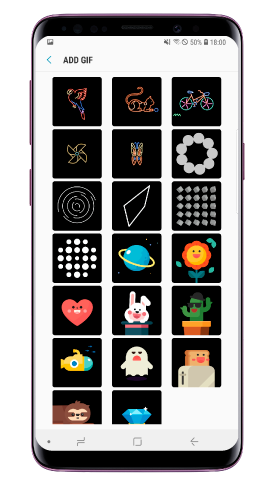 6
Tap 'Apply'.
Please note: If GIF's playtime is under 5 seconds, the file will be played twice automatically.  
We would love to know your feedback to help us improve. Please click submit to tell us what you think.
Please answer all questions.