How do I add food and set a calorie goal using the S Health app?
S Health: recording food and healthy eating goals

The S Health app allows you to keep a food diary, showing you the calorie and nutritional breakdown, as well as setting healthy goals.
 
Adding foods
1. Tap the Add on the foods icon on the main screen.
 
This will say Food if it is the first record of the day, or will show the updated calorie count if you have already added a food today).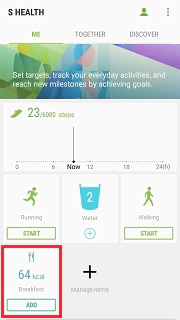 2. Select the type of meal you are recording. (If it is the second or later meal of the day, you may need to tap Add Meal first)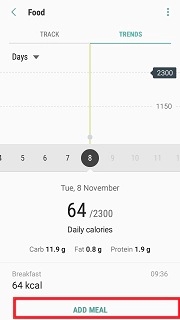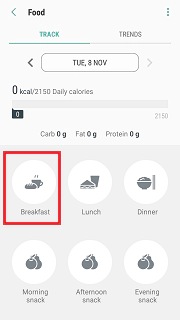 3. Enter your food into the Search bar (or select Frequent or My Food to choose something you have recorded before), then select the correct item from the drop down list.
4. Check that the item is correct, or select one of the other items on the list, then tap Next.
 
Repeat until all food items have been added.
5. You will now see your total calorie and nutritional breakdown for the day so far. Tap Trends at the top of the screen to see your food intake statistics over time.

Setting a daily calorie goal

 To set a daily healthy eating goal,
 
1. Tap the + sign (Manage items) from the app home screen
2. Tap Goals at the top of the screen

4. Use the slider to select your daily calorie goal