How do I navigate the Home screen on my Samsung Galaxy Ace 4?
Indicators
At the top of the screen you will see a number of indicators in the notification panel for measures such as battery charge, mobile network signal strength and internet signal strength. Some apps have their own indicator icons and you can usually turn these on or off in the settings menus for such apps.
Touching the notification panel and dragging it down will you allow you quickly toggle on and off many of your phone's signals, including WiFi, Bluetooth and GPS.
Widgets
A widget is a simple application extension that is often part of a larger application already installed on the device. Widgets come in various shapes and sizes, are customisable, and reside on any available Home screen for quick access.
Widgets provide you with quick access to information without requiring you to open the app that manages this information. An example is the Calendar widget, which provides you with a quick view of your upcoming calendar events without requiring you to open the Calendar application.
Apps
App (short for application) is another word for a computer program. There are hundreds of thousands of apps available through Google Play and Samsung Apps, many of which can be downloaded and used for free.
Google apps folder
The Google apps folder contains a number of Google app icons for Google apps that come pre-installed on the Galaxy S5. You can create your own folders to store any app icons you wish. Use folders to better organise your Home screen.
My Magazine screen indicator
Touch the My Magazine screen indicator to access the My Magazine app.
Screen indicator
Touch a square icon to jump to the panel of your Home screen that corresponds to that square. Touch the Home icon to jump to the original panel.
Favourite apps
The bottom section of your screen has space for four app icons (in addition to the Apps icon). This bottom section is static: no matter which panel you are on you will always see the same app icons in this section. We recommend you reserve this space for icons for the four apps you use most often.
Switching Home screen panels
To switch from one Home screen panel to another (in order to access more of your app icons and widgets) simply slide your finger on the screen from left to right or from right to left.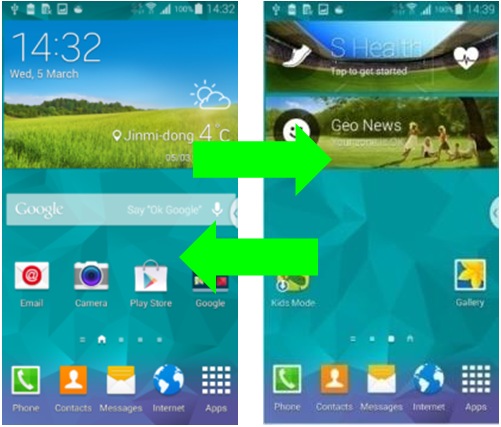 Not finding what you're looking for? We're here to help.
Call
0818 717100Phone Support
Smartphone support | Mon-Sun | 8am to 8pm
All Products support | Mon-Sun | 8am to 8pm

0818 302 016Samsung Shop
For new and existing orders | 9am - 5pm, 5 days a week
0124 75161B2B Support
For business support
8am - 6pm, Mon - Fri
Calls to 0818 numbers are a National Call number.
These are subject to call charges which vary by network and are subject to change.
Calls maybe recorded for training and quality purposes.
For information on how we collect and use your details, please refer to our Privacy policy
* For any printer related enquiries please visit the HP website.
Contact Us