How do I use Safe Mode on my Galaxy A5?
If you find that your device freezes sometimes or is sometimes unresponsive, it could be because of a third party application.
To see if this is the case you need to boot the device into Safe Mode and check if the symptoms occur afterwards. If the symptoms disappear while using the phone in Safe Mode, the problem is likely to be caused a third party application.  Powering up your device in "Safe mode" will enable you to use your device as normal, but without any third party applications running or available.
Third party means any applications you have downloaded on to the phone.
To boot the device into Safe Mode, first ensure the device is switched off and then please see the steps below:
1
Press and hold the Volume down key.
2
While continuously holding down the Volume key press the Power key briefly to power up the device.
3
The device will power up in Safe mode. You can now stop pressing the Volume down.
4
Swipe the screen – Safe mode icon will still be displayed.
5
Tap Apps.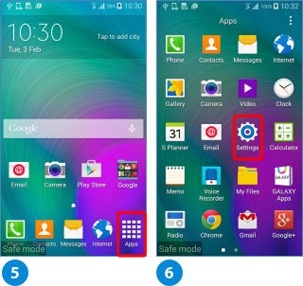 7
Scroll down to and tap on Application manager.
8
In the Downloaded area, tap on a recently downloaded app you suspect may be causing an issue.
Once the app details are displayed tap on UNINSTALL. (please note, the apps shown here are shown only for demonstration purposes only)
9
You can also scroll across to SD Card to repeat the same process if any apps are installed on your SD Card.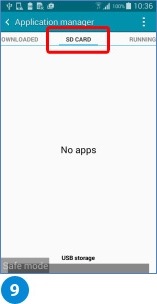 After uninstalling an app turn your phone off and on again and verify if the problem has been resolved. 
If the problem persists, repeat the process by uninstalling the next application that you expect is causing the problem until the problem is resolved.
If your device symptoms no longer persist after uninstalling a specific app, you can attempt to re-install apps that you uninstalled prior you believe were not the cause of the problem. If you found an application that was causing problems, contact the application supplier for support. 
Getting out of Safe Mode 
Restart your phone to turn Safe Mode off. 
If you are having difficulty getting out of Safe Mode, the most common reason is a sticky or faulty Volume Down button. This can happen especially if the phone has been dropped or has been subject to liquid damage. 
Check the button to make sure it is not sticking, and remove any protective cover to make sure that it is not inadvertently pressing against the button. 
If the button is sticky, clean carefully around the button with a soft cloth to try and clear it. 
If you are still having problems, you may need to send your phone for repair. 
Find your location service centre here or contact us by clicking here.
Not finding what you're looking for? We're here to help.
Online
Twitter
Tweet us | 9am-9pm, 7 days a week.
Smartphone support | 24 hours, 7 days a week
All product support | Mon - Sun, 8am - 10pm
SmartThings | Mon - Fri, 9am - 5:30pm
Email
We'll respond within 24 hours of your request.
Call
0818 717100General Support
Smartphone support | 24 hours, 7 days a week
All product support | Mon - Sun 8am - 10pm

B2B Support
Monday to Friday | 9am to 6pm

Calls to 0818 numbers are a National Call number.
These are subject to call charges which vary by network and are subject to change.
Calls maybe recorded for training and quality purposes.
For information on how we collect and use your details, please refer to our Privacy policy
* For any printer related enquiries please visit the HP website.
Contact Us