Viewing your phone screen on your tablet or PC using SideSync
Transferring files with SideSync
SideSync allows you to share screen and data between your PC and mobile device. 
You can also transfer content such as photos or files from your device to your PC using a USB cable here.
If you have a mobile device such as a tablet or smartphone, the SideSync app is available to download from the Google Play Store.  
SideSync software for your Windows PC or Mac can be downloaded here (You can find the links on the top left hand corner of the screen)  
Is my device compatible with SideSync?
Smartphones: Android version 4.4 or higher
Tablet: Android Lollipop (5.0) or higher
Windows: XP SP3 or higher (32 / 64 bit supported)
Mac computer:  SideSync supports MAC OS X 10.7 or over from 4.0.0.15095_2 version 
You will need to have SideSync on both devices you wish to connect. 
When can I not use SideSync?
Certain applications will not allow you to mirror your smartphone or tablet to the PC screen. For example, Netflix is a secured application and has a function to prevent mirroring. If you get a blank screen when connected to the PC, it is likely that this is due to the application being secured.
Is it already available on my NotePro?
For some tablets such as the NotePro, you will be able to install SideSync by tapping the Stub icon: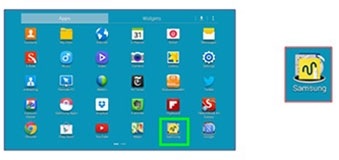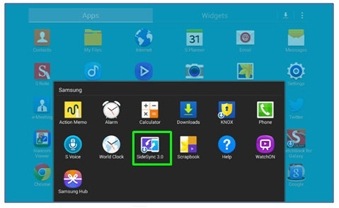 Installing and connecting your devices using SideSync
Once you have SideSync installed on both devices, you can start to set up and connect your devices using SideSync. 
In the below example, we will show you how to connect your NotePro tablet to a smartphone but the process will be similar for connecting other devices.
1
Once connected, tap Next then Start on both devices you wish to connect.
2
Tablets or smartphones: select your phone from the list of devices that appear on your tablet screen.
PC: the simplest method of connection is to connect your mobile to your PC using a USB cable. This will allow SideSync to automatically connect your PC and mobile device. If you do not have a USB cable, you can also connect using a QR or PIN code (this option will appear on the screen.) 
Both devices need to be connected to the same WiFi network. 
If a confirmation pop-up window appears on your phone, tap OK to accept the connection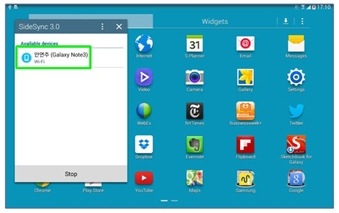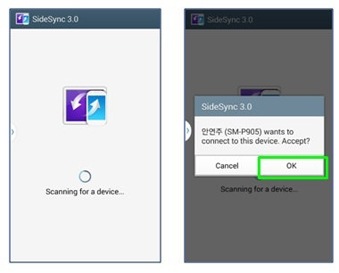 3
The connection process will commence. In this example, the Note 3 screen will be displayed once the connection is complete.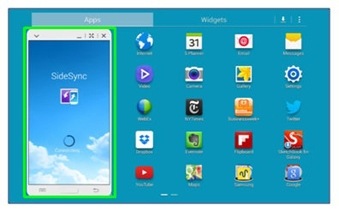 You can now touch and drag the window showing your phone's screen to any position on your tablet.
To resize the shared screen, touch and drag the bottom-right corner of the window.
Transferring files to or from your smartphone from your PC/tablet
Note that drag-and-drop file sharing is not supported on some devices, and is not supported for models released prior to the Galaxy Note 3 (Note 2, S3, S4) 
If you are having difficulty transferring files or your model is not compatible, you can use other methods to transfer files or media between devices. See the list of related content at the bottom of this article for more information
1
To transfer files, drag and drop the file you want to transfer in or out of the shared screen.
In the below example, we will show you how transfer a picture from your tablet to your smartphone 
1
When phone and tablet are connected select the Gallery.
2
Drag and drop the file to transfer into the shared phone screen.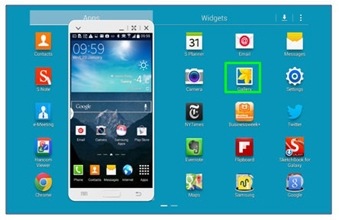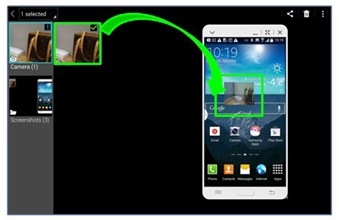 3
The shared phone screen will display the directory. Tap on the folder you wish to save the file to, then tap Done.
4
You will see a pop up confirming the file copied.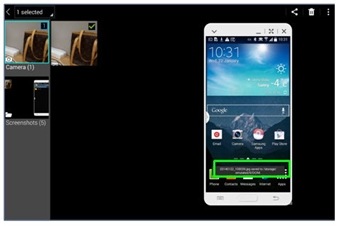 5
When the transfer is complete, you can check the shared file on the phone.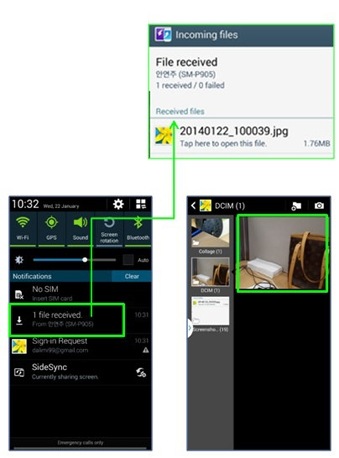 6
You can also drag and drop file from the phone connected via SideSync to the tablet. The tablet's My Files area will open automatically.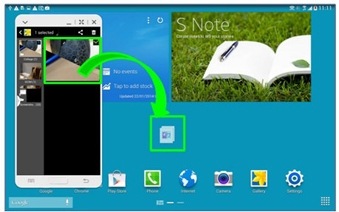 7
Choose the folder you wish to save the file to and then tap Done.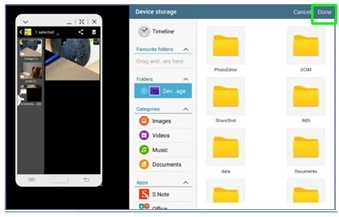 Not finding what you're looking for? We're here to help.
Online
Twitter
Tweet us | 9am-9pm, 7 days a week
Smartphone support | 24 hours, 7 days a week
All product support | 8am - 10pm, 7 days a week
SmartThings | 9am - 5:30pm, Mon - Fri
Email
We'll respond within 24 hours of your request.
Call
0818 717100General Support
Smartphone support | 24 hours, 7 days a week
All product support | 8am - 10pm, 7 days a week

0818 302 016Samsung Shop
For new and existing orders | 9am - 5pm, 5 days a week
0124 75161B2B Support
For business support
8am - 6pm, Mon - Fri
Calls to 0818 numbers are a National Call number.
These are subject to call charges which vary by network and are subject to change.
Calls maybe recorded for training and quality purposes.
For information on how we collect and use your details, please refer to our Privacy policy
* For any printer related enquiries please visit the HP website.
Contact Us