How do I control my SUHD Smart 3D LED TV using Motion Control?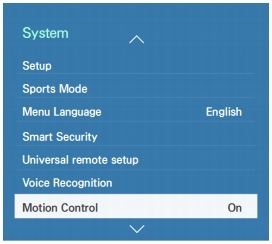 1. Set Motion Control to On.
(MENU/123) > MENU > System > Motion Control > Motion Control

2. Face the TV camera, raise your hand to a comfortable position, and then move your index finger to the left or right slowly with it fully extended upwards.

3. Move your hand left or right slowly to move the pointer to a function.

4. Curl your index finger down to select a function, and then raise it again to run the selected function.

Please note:
- This function is only available on certain models in specific geographical areas.
- Motion Control is available in either direction control or motion pointing mode.
- 9000 models need to be connected to the TV camera in order to use Motion Control
Not finding what you're looking for? We're here to help.
Call
0818 717100Phone Support
Smartphone support | Mon-Sun | 8am to 8pm
All Products support | Mon-Sun | 8am to 8pm

0818 302 016Samsung Shop
For new and existing orders | 9am - 5pm, 5 days a week
0124 75161B2B Support
For business support
8am - 6pm, Mon - Fri
Calls to 0818 numbers are a National Call number.
These are subject to call charges which vary by network and are subject to change.
Calls maybe recorded for training and quality purposes.
For information on how we collect and use your details, please refer to our Privacy policy
* For any printer related enquiries please visit the HP website.
Contact Us