46" H7000 Series 7 Smart 3D Full HD LED TV
UE46H7000STXXU
Sorry! This product is no longer available
Screen Type
Colour
SMART TV Feature
Connections
Great multitasking with Multi-Link Screen (Dual)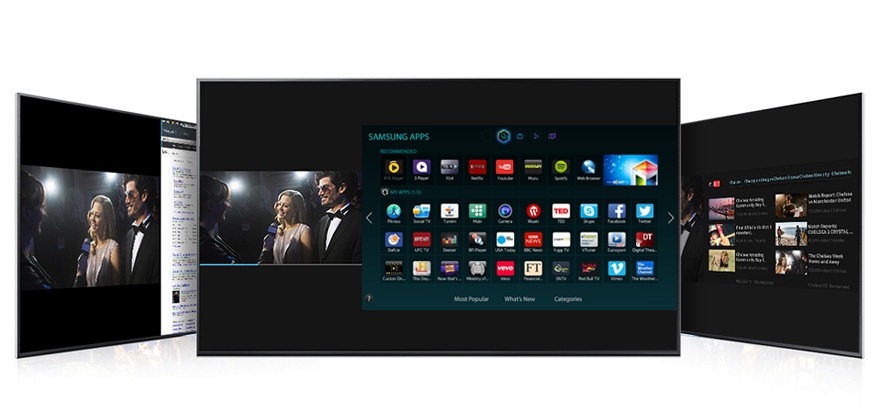 Samsung's Multi-Link Screen brings your entertainment experience to a whole new level by providing multiple-screen viewing. You can search for information on the internet about a TV show that you're watching on the same screen, or watch recommended video clips related to the live show you're watching simultaneously.1
Powerful optimisation for enhanced picture quality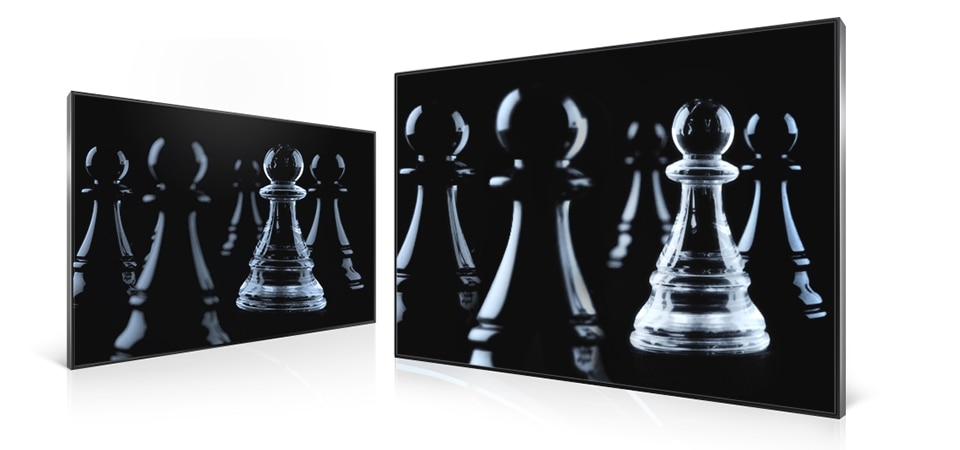 Samsung's segmented dimming technology lets you enjoy viewing with deeper black and purer white shades, making everything you see more vivid and dramatic. It's all thanks to sophisticated contrast enhancement that gets the most from your TV and lets you enjoy all your entertainment at its best. Samsung's Micro Dimming gives you images more defined than ever.
Powerful Quad Core processor for faster performance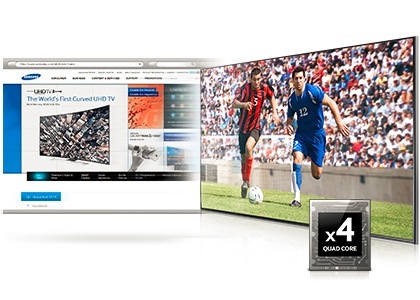 Thanks to a powerful Quad Core processor, your Samsung Smart TV offers enhanced performance. You'll notice the difference straight away, with faster multitasking and switching between content and web browsing, as well as smoother interaction. With this extra power, your entertainment experience will be so much more enjoyable, with less waiting and more viewing.
Say a keyword to find it with Voice Interaction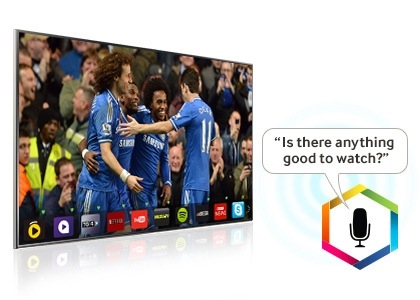 S Recommendation with Voice Interaction lets you discover more of the TV you love by suggesting what's new to watch based on what you like. It Intelligently learns your preferences; the more you watch the smarter it gets. All you need to do is ask your TV to find you something to watch, it will respond to your natural voice and instantly search Live TV, video on demand services and apps to recommend TV and online content tailored to you. Now you'll always know what's on without the need to look for it.
Enjoying Smart TV is now easier and faster
The industry's reference Smart platform just got better. The leading Smart TV experience is now even more powerful, with faster access to Smart features, true multitasking and an intuitive interface. As soon as you turn your TV on the Smart Hub provides instant access to your most frequently used and favourite content, channels and sources from the new customisable bar at the bottom of the screen. To enable you to access even more great entertainment the Smart Hub intelligently organises and manages all your content into five easy to navigate panels: On TV; Movies & TV Shows; Multimedia; Apps.2
Easier motion control with finger and hand gestures
With Samsung's latest Motion Control, not only can you control your TV using hand movements, you can even use a range of simple finger gestures. Enhanced Motion Control recognises even finger movements, so a finger is all it takes to select the channel or volume level, load apps, scroll webpages and navigate Smart Hub.3
Easy touchpad and motion control for your TV
The new Samsung Smart Control combines an ergonomic design with motion recognition, a touch pad and a new button console to provide you with simpler, more accurate content selection and ultra responsive control. When navigating the Samsung Smart Hub panels or accessing content listings spanning multiple pages, you can use the remote's touchpad to literally flip from page to page and select the content you want using the four directional buttons. Intuitive motion recognition makes navigating and selecting content a breeze, simply point and select. The Smart Control also includes Voice Interaction functionality, enabling you to find Web or video content quickly and conveniently using natural language.
All the excitement of the big match with Football Mode
Feel like you're actually in the stadium cheering on your favourite team with Samsung's Football Mode. At the press of a button it optimises picture and sound settings for a better football viewing experience. With the Auto Highlights feature, your TV can automatically select and save important moments of the big match on your connected hard drive (not included) so that you can watch them again and again at your leisure.4
Updated Smart View connects your TV, devices and content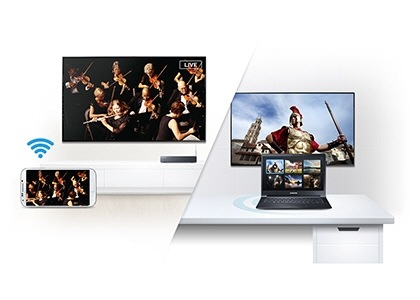 The Smart View 2.0 app turns your compatible Smart phone or tablet into a second TV screen. Need to leave the room while your favourite programme is on? Take it with you. You can even watch a different channel to the one on your TV by selecting a different source on the app. Share those special photos, videos and music stored on your mobile device on your TV via the Smart View 2.0 app and the Multimedia panel. You can even use your Smart phone or tablet as a game controller and enjoy all the exciting titles available on the Games panel.6
Clear Motion Rate minimises motion blur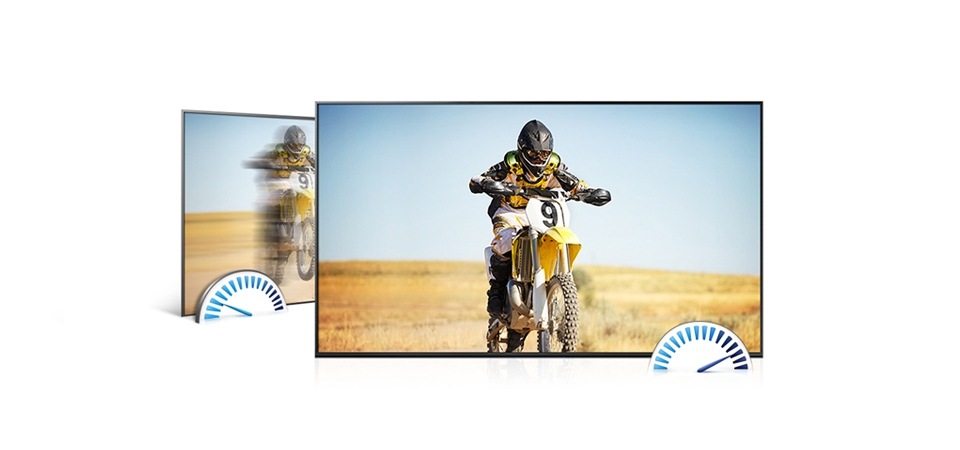 Thanks to Samsung's advanced Clear Motion Rate (CMR) technology, even fast moving scenes are delivered with clarity. A higher CMR means clearer viewing and less motion blur, so you can enjoy action films, sports and other entertainment at their very best. This technology is possible due to an enhanced panel refresh rate, image processor speed and backlight technology. That means viewing that's clearly better.
More vibrant colours for better images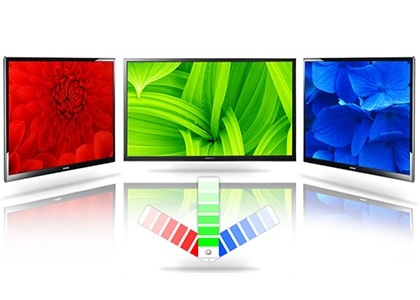 Using an advanced picture quality improvement algorithm, Samsung's Wide Colour Enhancer Plus drastically improves the quality of any image and uncovers hidden details. Now see colours as they were meant to be seen with Wide Colour Enhancer Plus.
Immersive realism with Samsung Full HD 3D technology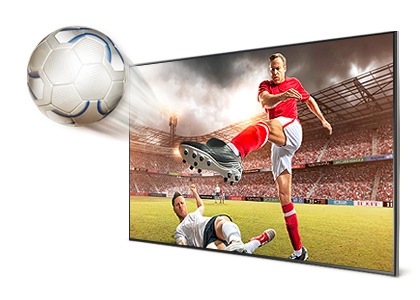 Samsung Active Full HD 3D brings your TV to life – get closer to the action, immerse yourself in the drama - from every angle the Samsung 3D experience is the same, without compromising on superior 2D High Definition picture quality. Lightweight 3D glasses enable you to experience outstanding picture quality, greater depth and vibrant colours and enjoy the full 3D experience.5
See your mobile content on a large TV screen quickly and easily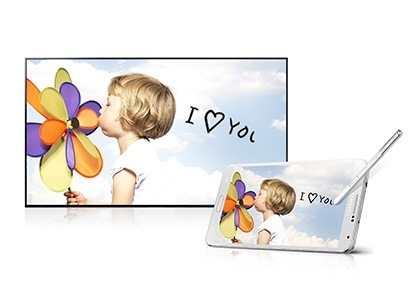 With your new Samsung Smart TV, you can enjoy content from mobile devices on a bigger screen quickly and easily. Samsung's enhanced screen mirroring technology makes the process simple, with no need to change the TV source. Just open the notification panel on your mobile device, select the Screen Mirroring icon and select the TV. That's all you need to do to enjoy apps, games and more on a full-size TV.7
Watch movies from your USB
With ConnectShare Movie, simply plug your USB memory drive or HDD into the TV and instantaneously enjoy movies, photos or music. Now, you can experience a wide variety of content in the comfort of your living room on your TV.
1920x1080

Resolution

7

Series

Wide Color Enhancer (Plus)

Wide Color Enhancer (Plus)

4

HDMI
How It Stacks Up
Screen Type

Colour

SMART TV Feature

Connections
HDR

PurColor

Ultra Clean View

Series

4
*Terms and conditions apply.
Certain features with the Smart Hub may not be available without expressed consent regarding the collection and use of personal information. Content available through Smart Hub may vary among product categories, models and territories. Certain applications must be purchased and may not be available in all regions.
*† S-Recommendation provides recommendations based upon popular content until it has built sufficient insight into viewing preferences to enable it to make personal recommendations. S-Recommendation/On TV requires a Saorview, UPC or Sky TV input to operate. Recommendations and content based on channels available. Internet access and collection and use of personal data required.
† AV Forums Reference Status awarded to Samsung Smart Hub platform (14th of March 2013).

1 Multi-Link Screen experience may vary by region or territory. Features may vary depending on TV model's specifications.
2 Smart Hub: Certain features with the Smart Hub may not be available without expressed consent regarding the collection and use of personal information. Content available through Smart Hub may vary among product categories, models and territories. Certain applications must be purchased and may not be available in all regions
3 Smart Interaction performance may vary based on content availability, clarity and volume of your voice, and ambient noise levels. Not all dialects and languages are supported. Voice Interaction will only be available through the Smart Control
4 PVR function and SNS sharing are available only for smart DTV model External HDD drive is required to activate Auto Highlights
5 3D glasses required
6 Setup requires your TV and mobile device to be on the same network (AP) Supported feature may vary by OS and devices
7 Screen Mirroring: This function is optimised for use with the latest Samsung smart phones and tablets. Compatibility with your mobile device may be limited by model, version and support of mirroring functions such as AllShare Cast or Screen Mirroring; please contact a Samsung service representative for assistance regarding compatibility at the time of purchase.

Catch up apps available now or coming soon on all 2014 Smart TVs (H4500-HU8500). Apps may not operate on previous Samsung Smart TVs. Recommended minimum broadband speed for catch up apps is 2 Mbps.

**Features and specifications are subject to change without prior notification.

Further environmental information for this product may be found in the Environment section by selecting "More Downloadable File" under the support tab above.