55" HU6900 Series 6 Smart UHD LED TV
UE55HU6900UXXU
Sorry! This product is no longer available
Screen Type
Colour
SMART TV Feature
Connections
4 times the Full HD resolution
Ultra HD viewing means you can see every intricate detail on the screen clearer than ever. Your Samsung UHD TV offers a resolution four times higher than Full HD, with accurate true-to-life colour. Enjoy a picture that's optimised for even greater clarity and detail than you've ever seen before.
UHD upscaling enhances the quality of all of your viewing
Thanks to the Samsung UHD Picture Engine, you can enjoy various kinds of content with near UHD-level picture quality, even if it's not from a UHD source. Samsung's innovative processing enhances broadcast TV shows and movies as well as video on demand and more. That means not only does it process UHD sources at crisp 4K resolution, it even converts lower-resolution content to a level of clarity that's almost like Ultra High Definition.
A more detailed picture made for UHD resolution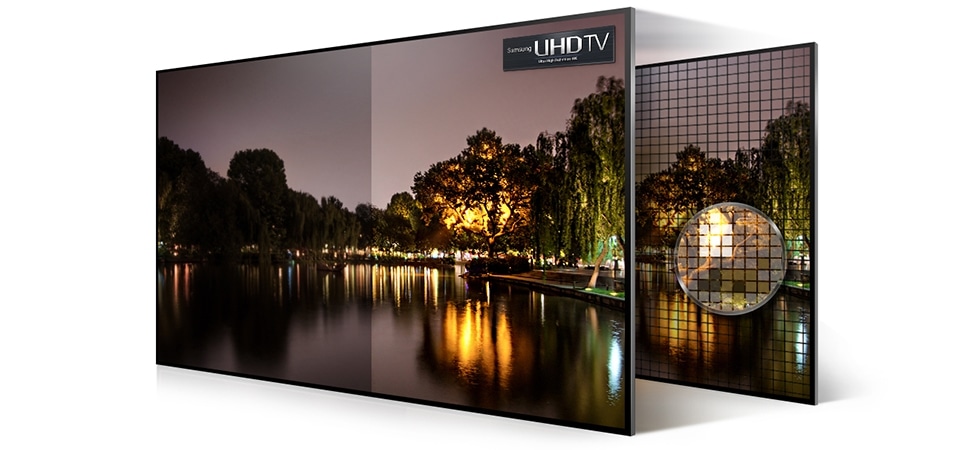 Samsung's advanced UHD dimming technology brings the ideal level of contrast and colour to your UHD viewing. The higher resolution of UHD also means that the picture requires more processing for a highly-detailed image. That's why Samsung UHD dimming technology has been developed to process black and white as optimally as possible and produce colours that are far more vivid.
Future Ready
TV technology is always evolving and so does Samsung UHD TV. With UHD Evolution Kit, your Samsung UHD TV can be updated to be compatible with future UHD standards without buying a new TV. Get ready for future UHD standards with Future Ready.1
Great multitasking with Multi-Link Screen (Tri)
Samsung's Multi-Link Screen brings a broader level of multitasking to your viewing experience. Driven by a faster Quad Core Plus processor, it provides the ability to view multiple screens at once. It splits the screen into live TV and a pre-populated web browsing experience to let you find out more about the programme you're watching, while the On TV panel lets you plan your next show. Alternatively, you can even watch live TV while exploring your favourite apps.2

Powerful Quad Core processor for faster performance
Thanks to a powerful Quad Core processor, your Samsung Smart TV offers enhanced performance. You'll notice the difference straight away, with faster multitasking and switching between content and web browsing, as well as smoother interaction. With this extra power, your entertainment experience will be so much more enjoyable, with less waiting and more viewing.
Enjoying Smart TV is now easier and faster
The industry's reference Smart platform just got better. The leading Smart TV experience is now even more powerful, with faster access to Smart features, true multitasking and an intuitive interface. As soon as you turn your TV on the Smart Hub provides instant access to your most frequently used and favourite content, channels and sources from the new customisable bar at the bottom of the screen. To enable you to access even more great entertainment the Smart Hub intelligently organises and manages all your content into five easy to navigate panels: On TV; Movies & TV Shows; Multimedia; Apps.
All the excitement of the big match with Football Mode
Football Mode sharply and vividly brings out the green grass of the pitch and all the other colours of the stadium. A powerful multi-surround sound effect also lets you hear all the excitement. Once you turn on Football Mode, it will automatically start recording all action on the TV. And when there's a change in sound, like the roar of the crowd's cheer, or a change in the score, it will know to automatically save the highlights for you to watch later. Play live and recorded matches simultaneously for the ultimate football experience at home.3


Easy touchpad and motion control for your TV
Using your TV is more intuitive with the Samsung Smart Control. Using the touchpad you can flip between Smart Hub panels and scroll down webpages, and by pointing the remote, you can utilise Motion Control to move the on-screen cursor to navigate and enter text easily. Useful video control keys also help you watch movies, TV and other content you've downloaded or streamed on demand.
Updated Smart View connects your TV, devices and content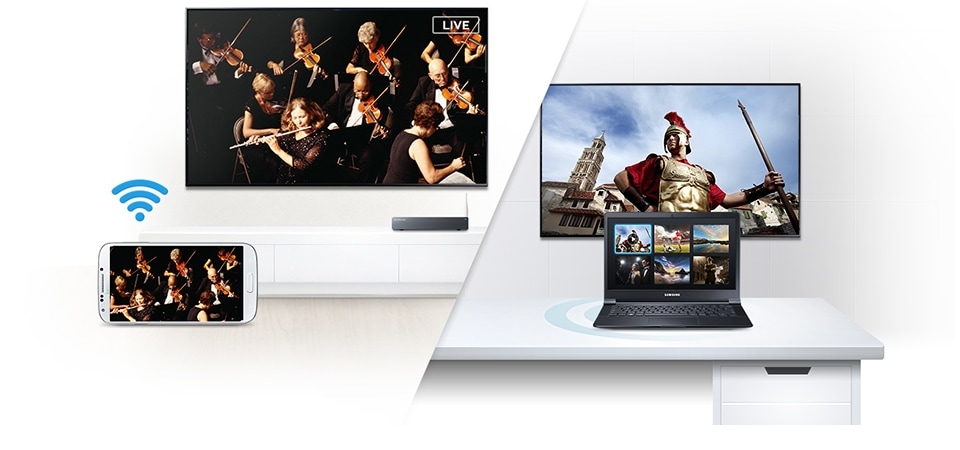 Samsung's latest Smart View 2.0 app makes it easier to enjoy all your content however you like. Using your home network, you can stream live broadcast TV content to your smartphone or tablet and use your mobile device as a TV remote control. Or you can access and enjoy content on your Smart TV from your smartphone or PC through Smart Hub's Multimedia Panel. It's easy to use, so all you have to do is enjoy.


Be entertained quicker with faster startup
Now you can get straight to your entertainment quicker than ever. Instant On means your Samsung Smart TV boots up in less than 2 seconds. That's much faster than the 2013 Samsung Smart TV, so you can spend less time waiting and more time viewing than ever before. Think about it: all those saved seconds add up. You no longer have to waste time while your TV turns on.4
See your mobile content on a large TV screen quickly and easily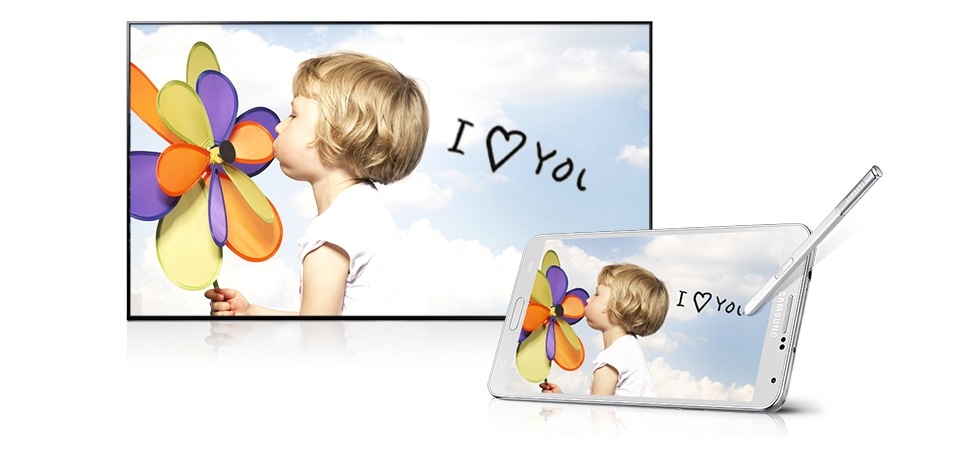 With your new Samsung Smart TV, you can enjoy content from mobile devices on a bigger screen quickly and easily. Samsung's enhanced screen mirroring technology makes the process simple, with no need to change the TV source. Just open the notification panel on your mobile device, select the Screen Mirroring icon and select the TV. That's all you need to do to enjoy apps, games and more on a full-size TV. 5
3,840 x 2,160

Resolution

6

Series

Wide Color Enhancer (Plus)

Wide Color Enhancer (Plus)

4

HDMI
How It Stacks Up
Screen Type

Colour

SMART TV Feature

Connections
UHD Processor

HDR

Slim Design

Universal Guide
*Terms and conditions apply.
Certain features with the Smart Hub may not be available without expressed consent regarding the collection and use of personal information. Content available through Smart Hub may vary among product categories, models and territories. Certain applications must be purchased and may not be available in all regions.
1 Evolution Kit sold separately. It will enhance your smart features to the levels of the corresponding year of launch of your Evolution Kit. Only the software and processing hardware will be upgraded; other hardware will not be upgraded. Evolution Kit may not support certain apps and functions previously installed or available on your TV. Please check www.samsung.com for more details before purchasing the Evolution Kit. Based on currently determinable UHD connectivity, broadcasting and Blu-Ray standardisation initiatives. TV panel cannot be upgraded and may differ from future standards.
2 Multi-Link Screen experience may vary by region or territory. Features may vary depending on TV model's specifications.
3 Features may vary by region and depending on TV model specifications. Auto Highlights only available on TVs with PVR (Personal Video Recorder) functions. External HDD drive (not included) is required to activate Auto Highlights.
4 Actual remote control may differ from image shown.
5 Screen Mirroring: This function is optimised for use with the latest Samsung smart phones and tablets. Compatibility with your mobile device may be limited by model, version and support of mirroring functions such as AllShare Cast or Screen Mirroring; please contact a Samsung service representative for assistance regarding compatibility at the time of purchase.

Catch up apps available now or coming soon on all 2014 Smart TVs (H4500-HU8500). Apps may not operate on previous Samsung Smart TVs. Recommended minimum broadband speed for catch up apps is 2Mbps.

*Features and specifications are subject to change without prior notification.