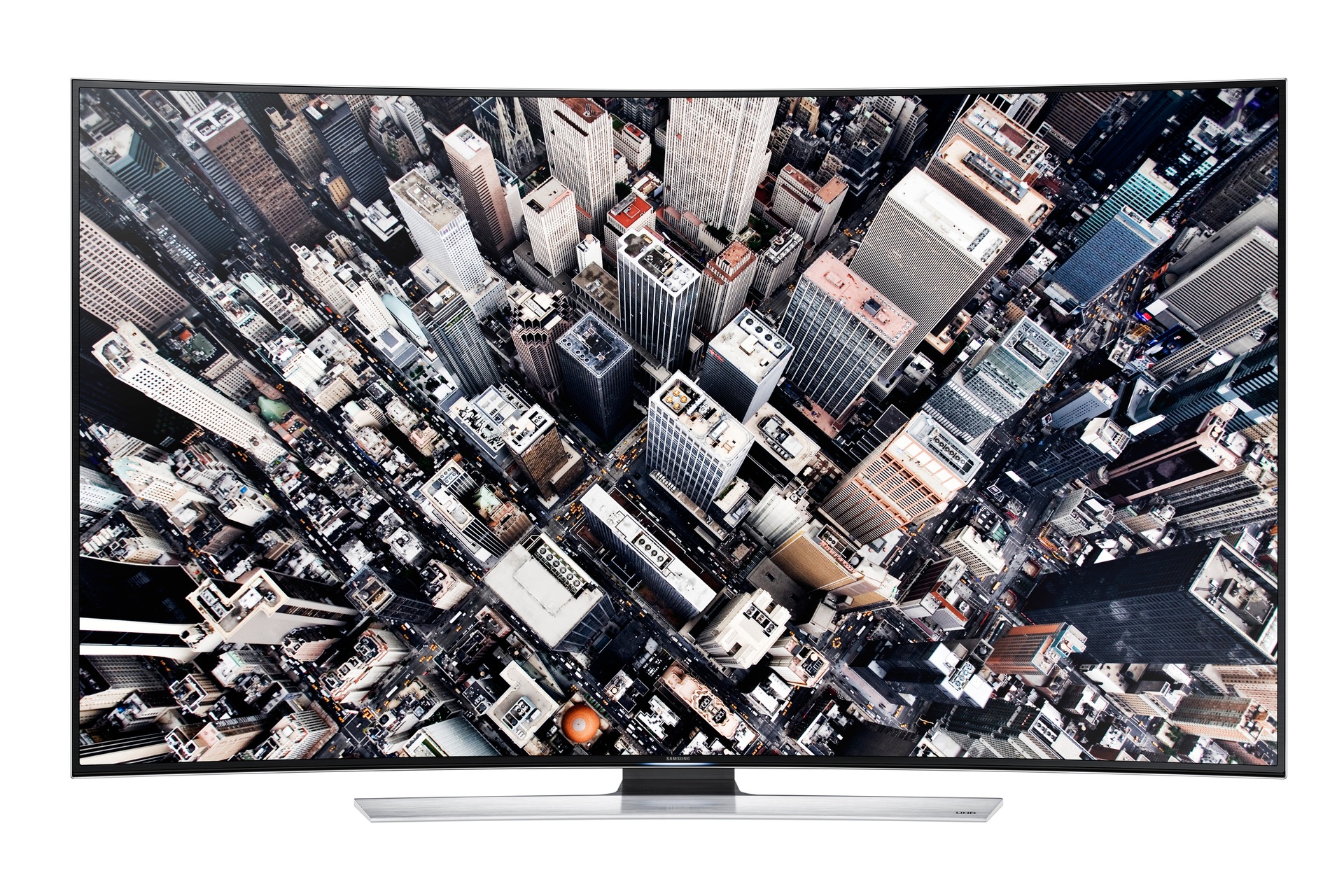 65" HU8500 Curved Smart 3D UHD 4K LED TV
UE65HU8500TXXU
Sorry! This product is no longer available
Screen Type
Colour
SMART TV Feature
Connections
CURVED SCREEN
Curved Screen
Surround your senses with the Samsung Curved UHD, the future of TV viewing.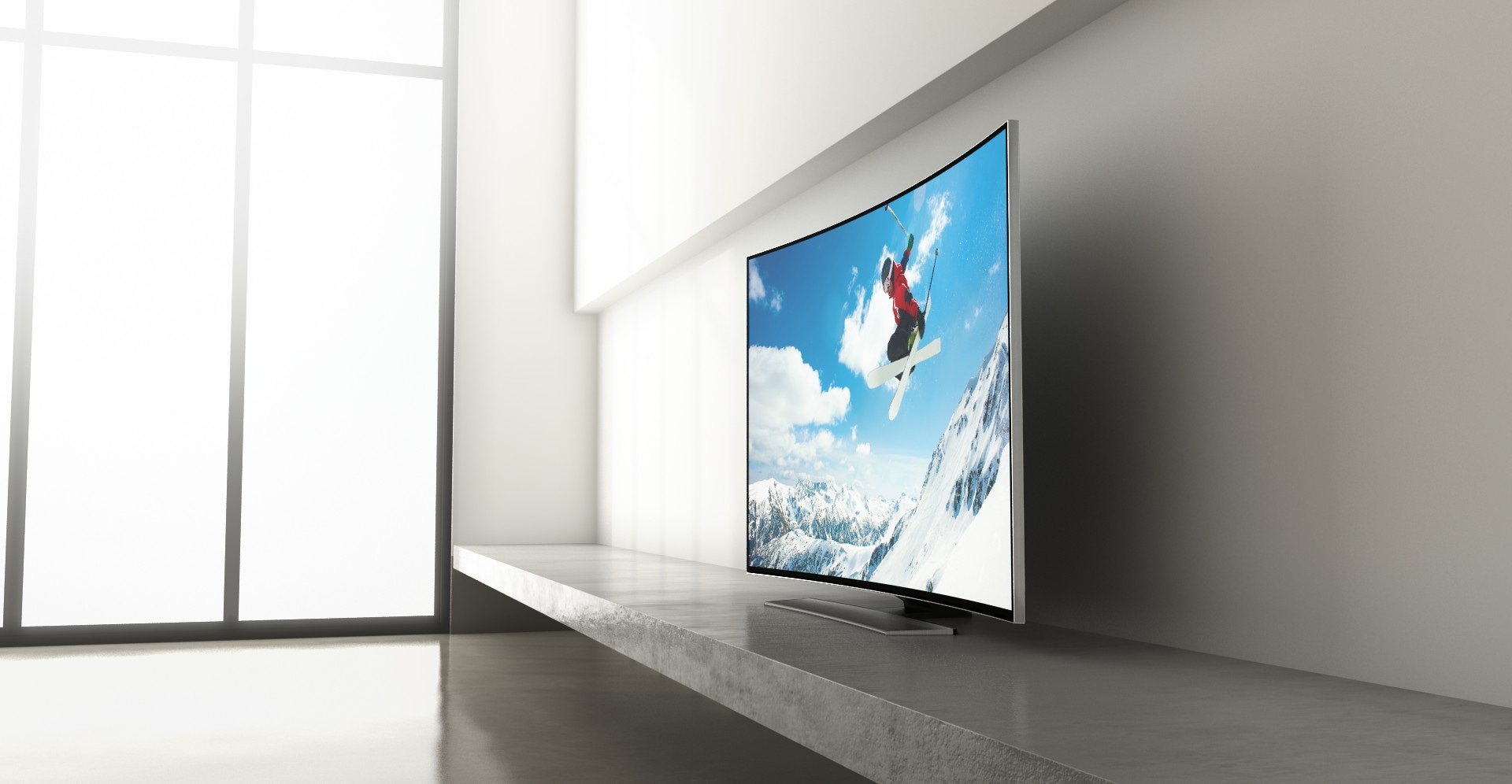 CURVED SCREEN
Wider viewing angles
Designed with a 4.2m radius curvature optimised for the average viewing distance¹ of most living rooms, it also offers a wider field of view by shortening the distance between you and the screen's corners to create more natural viewing angles.
CURVED SCREEN
Deeper sense of depth
Auto Depth Enhancer technology makes you feel like you're literally there by analysing different areas on screen and applying contrast enhancements to each of these areas to provide a superior sense of depth.
UHD UP-SCALING
UHD Up-scaling
Enjoy all your favourite live TV shows and Blu-Ray discs crisper than ever before.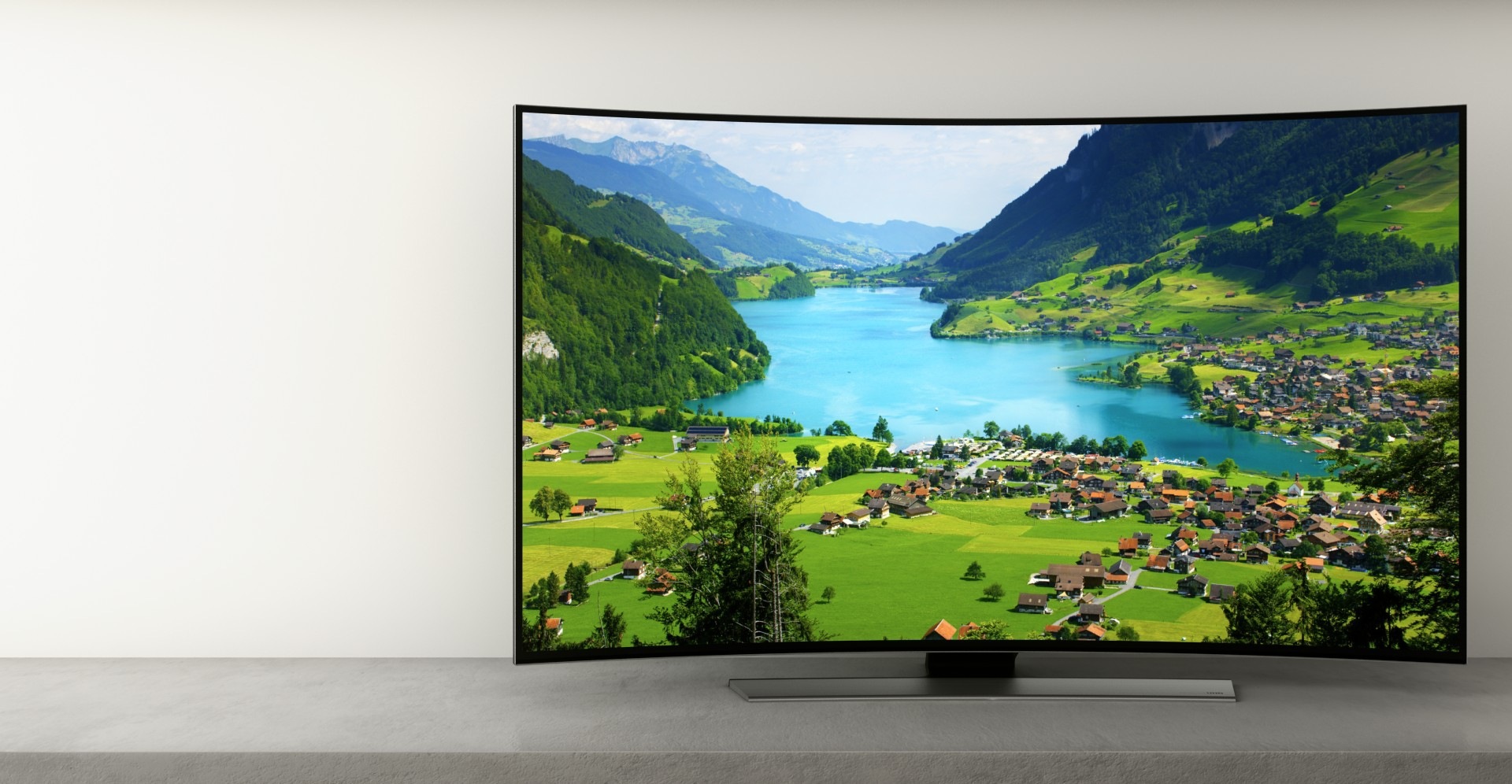 CLEARER
PurColour
Appreciate the purest expression of colour. With the ability to produce more accurate and natural colours than ever before, your TV screen will open a new window into reality.
CLEARER
4 Times More Detail than Full HD
UHD produces the brightest, clearest images with four times the detail of Full HD to deliver an amazing viewing experience.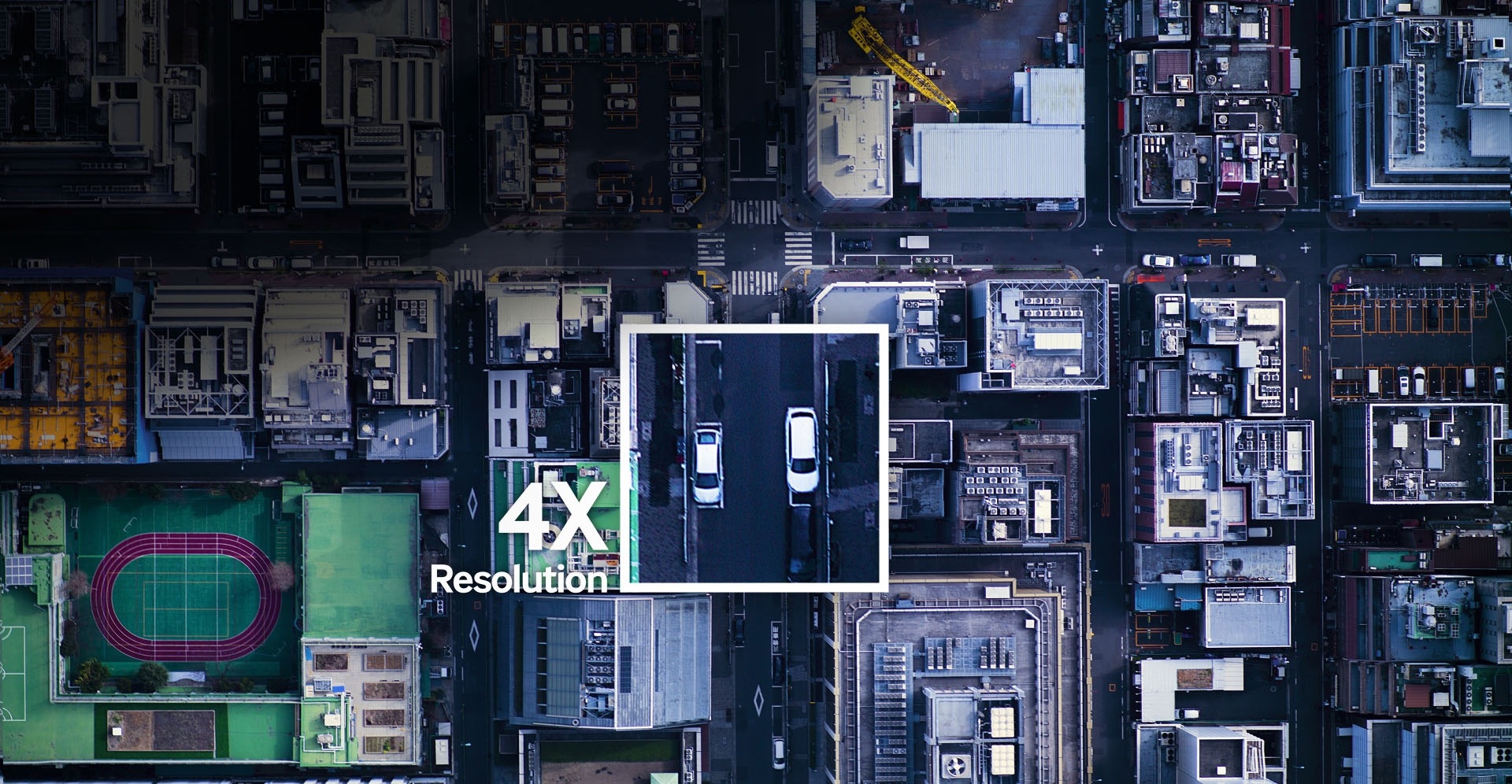 FUTURE READY
UHD Smart Evolution Kit
Unique to Samsung, the UHD Smart Evolution Kit² completely reengineers your TV without having to replace it. The HU8500 is compatible with all current UHD connected sources and can be upgraded to be compatible with future UHD standards as well.
Multiscreen viewing

Samsung's Multi-Link Screen³ brings a broader level of multitasking to your viewing experience as it provides the ability to view multiple screens at once.

Quad Core Plus

The new Samsung Smart TV experience is lightning fast on the HU8500 thanks to the Quad Core Plus processor which is up to two times faster than Quad Core, delivering quicker loading and navigation. The powerful processor significantly boosts performance with speedier access to Smart features and true multitasking capabilities.

S Recommendation

S Recommendation with Voice Interaction⁴ lets you discover more of the TV you love by suggesting what's new to watch based on what you like. It intelligently learns your preferences; the more you watch the smarter it gets.

Smart Hub

The industry's reference Smart platform⁵ just got better. The leading Smart TV experience is now even more powerful, with faster access to Smart features, true multitasking and an intuitive interface.

Games Panel

The exciting new Games panel lets you and your family enjoy a wide variety of fun games instantly on the largest screen in your home, without the need for any additional hardware.

Samsung Smart Control

The new Samsung Smart Control combines a premium metallic ergonomic design with motion recognition, a touch pad and a new button console to provide you with simpler, more accurate content selection and ultra-responsive control.
A Closer Look
Everything looks super-sharp, no matter the source.

Through a UHD up-scaling process, the UHD picture engine converts Full HD, HD and lower resolution sources to nearly-UHD clarity.

Stay in touch.

A built-in camera pops up for easy Skype™ sessions with family and friends, or for controlling your TV with gestures. When it's not in use, the camera stays hidden to keep the beautiful, clean curve of your TV.

With its screen floating above a metal plate, this TV frames whatever you're watching so beautifully, it's as if nothing else exists.

It's like you're there.

With ultra-high-definition sharpness, colour accuracy and picture clarity, absolutely nothing comes between you and the most mind-blowingly vivid viewing experience.

The screen is uniformly curved.

The screen is curved at just the right angle to provide the optimal viewing distance in your living room.
3840 x 2160

Resolution

4200R

Screen Curvature

8

Series

Wide Color Enhancer (Plus)

Wide Color Enhancer (Plus)

4

HDMI

3

USB
How It Stacks Up
Screen Type

Colour

SMART TV Feature

Connections
UHD Processor

HDR

Slim Design

Universal Guide
*Terms and conditions apply.
Certain features with the Smart Hub may not be available without expressed consent regarding the collection and use of personal information. Content available through Smart Hub may vary among product categories, models and territories. Certain applications must be purchased and may not be available in all regions.
¹Source: CMI Group, 2013 Home Visit Study (USA & Germany).

²Evolution Kit sold separately. It will enhance your smart features to the levels of the corresponding year of launch of your Evolution Kit. Only the software and processing hardware will be upgraded; other hardware will not be upgraded. Evolution Kit may not support certain apps and functions previously installed or available on your TV. Please check www.samsung.com for more details before purchasing the Evolution Kit. Based on currently determinable UHD connectivity, broadcasting and Blu-Ray standardisation initiatives. TV panel cannot be upgraded and may differ from future standards.

³Multi-Link Screen experience may vary by region or territory. Features may vary depending on TV model's specifications.

⁴S Recommendation provides recommendations based upon popular content until it has built sufficient insight into viewing preferences to enable it to make personal recommendations. S Recommendation / On TV requires a Freeview, Freesat, Virgin Media or Sky TV input to operate. Recommendations and content based on channels available. Internet access and collection and use of personal data required. Voice Interaction limited to the official language of the country of purchase.
Performance may vary based on content availability, clarity and volume of your voice, and ambient noise levels. Not all dialects and languages are supported. Voice Interaction will only be available through the Smart Control.

⁵AV Forums Reference Status awarded to Samsung Smart Hub platform (14th of March 2013).

Certain features with the Smart Hub may not be available without expressed consent regarding the collection and use of personal information. Content available through Smart Hub may vary among product categories, models and territories. Certain applications must be purchased and may not be available in all regions.

Catch up apps available now or coming soon on all 2014 Smart TVs (H4500-HU8500). Apps may not operate on previous Samsung Smart TVs. Recommended minimum broadband speed for catch up apps is 2Mbps.

Screen Mirroring: This function is optimised for use with the latest Samsung smart phones and tablets. Compatibility with your mobile device may be limited by model, version and support of mirroring functions such as AllShare Cast or Screen Mirroring; please contact a Samsung service representative for assistance regarding compatibility at the time of purchase.