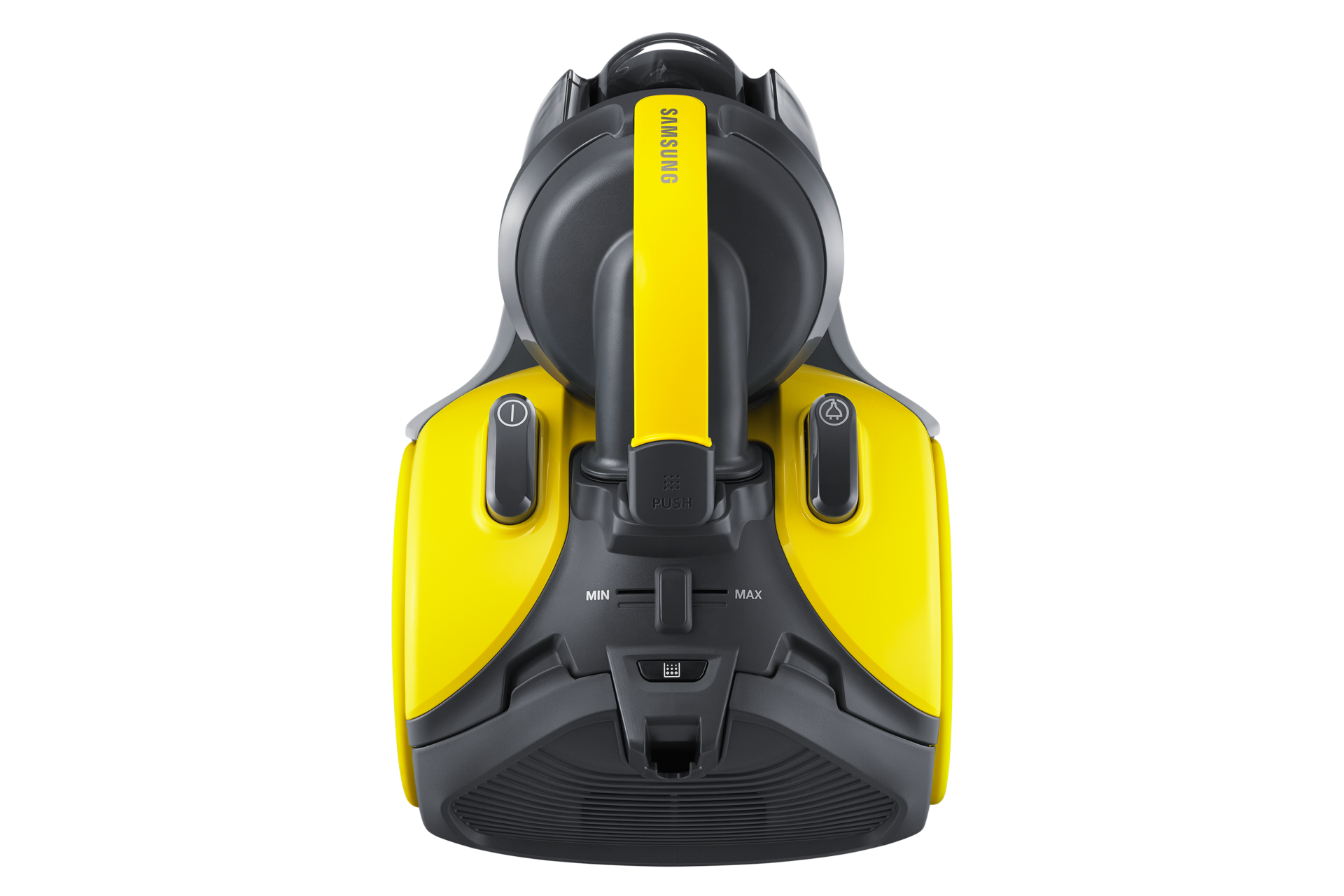 VC4000 Canister VC with Compact & Light, 700 Watt, Yellow Halo
VC07H40G0VY/EU
700 W
Max Consumption Power
4.6 kg
Set Weight with Stand
265 x 314 x 436 mm
Set Dimension (WxHxD)
Lightweight and effortless
Has a lightweight design that is easy to move around. It weighs just 4.6 kg‡ and its lightweight body is 16% smaller than Samsung's conventional model.*
‡ Applicable to VC4000 models sold in all countries except North America and Korea. VC4000 models in North America and Korea: 4.8 kg. *Compared to Samsung Conventional VC-F500G
Easy to empty
The Easy Dustbin is simple to remove and empty. Quickly detach with the push of a button, twist to open the cover and tip the contents into the trash can.
Protects furniture
The soft, S-shaped bumper of a protective Furniture Guard S prevents damage if you accidentally bump into your furniture or walls and stops it from getting stuck on edges, so you can move around faster.**
**Compared to Samsung Conventional VC-F500G
Maintains suction power
CycloneForce's strong centrifugal force separates dirt and debris into an outer chamber. So it helps maintain suction power, as it keeps the filter clean and prevents it from clogging.***
***Compared to Samsung SC45
Easy clean filter
A simple, sponge type foam filter captures more dust and can be easily washed and cleaned. A quick rinse is all it takes to prevent clogging and and help maintain suction power.†
†Based on internal data. Regular filter washing is required for optimal performance.
Dust and Allergen Filtration
Ever suffered with dust or an allergic reaction after cleaning? Dust and Allergen Filtration minimises dust and allergens escaping back into your home - approved by SLG and British Allergy Foundation (BAF).
Convenient cleaning
Offers a choice of accessories to suit different cleaning needs††. The Parquet Master brush and New Eco Hard Floor Brush are suitable for hard floors. The Power Pet Brush is great for cleaning pet hairs and the Mini Turbo Brush is ideal for carpets and narrow areas.
††The type of brushes supplied may vary depending on the model.
1.5 ℓ

Dust Capacity

700 W

Max Consumption Power

4.6 kg

Set Weight with Stand

265 x 314 x 436 mm

Set Dimension (WxHxD)
How It Stacks Up
Dust Capacity

1.5 ℓ

Max Consumption Power

700 W

Set Weight with Stand

4.6 kg

Set Dimension (WxHxD)

265 x 314 x 436 mm
Dust Capacity

2 ℓ

Max Consumption Power

700 W

Set Weight with Stand

5.5 kg

Set Dimension (WxHxD)

294 x 338 x 452 mm