Durafin
DURAFIN™ enhances the heat exchanger's performance and has more corrosion resistance. It's made of a much denser material and thicker in design, and has an improved coating which enables more heat transfer.*
5 year warranty
The new Samsung Room air conditioner range comes with 5 year warranty on Multi Jet Plus condensers.
Triple Protector Plus
Inbuilt Stabiliser# The In-built Stabiliser feature protects AC against sudden voltage surge or drop. It also improves the look of your home since one doesn't need to install a seperate stabiliser. #Available on entire range excluding 2 Star ACs. Voltage range 146 to 290 V. Voltage range varies from model to model. Stabiliser will cut of the electric input once voltage surges/drops beyond range, and will auto start the AC once voltage comes in the above mentioned range.

Compressor protector Samsung's distinctive compressor protector prevents compressor from being overloaded by unstable electricity circumstances. * Based on internal lab test results conducted on AR18KV5HBTR.

Controller protector Samsung's advanced controller adjusts to avoid breakdowns from voltage surge. This special technology withstands power fluctuations from 80 V to 450 V. * Based on internal lab test results conducted on AR18KV5HBTR.

Fin & Chassis protector Anti-corrosion fin condenser and MJT Plus are designed with strong corrosion-resistant material to protect itself from rusting. This fin strongly protects the condenser from corrosion to give you cool and clean air without worries of being worn. * Based on internal lab test results conducted on AR18KV5HBTR.
Cools quickly be comfortable
Samsung air conditioner's 2 Step Cooling Mode begins cooling the air fast using its Fast Cool mode. It then automatically changes to Comfort Cool mode to maintain the desired temperature, so don't have to keep changing the settings. 2 Step Cooling Mode: Fast Cooling: When it's turned on, the Samsung air conditioner begins cooling every corner much faster using its fast cool mode. It works at the maximum Hz, while the ultra turbo setting powerfully spreads the air across a wide area by swinging its blades.
Comfort Cooling: When it reaches the target temperature it automatically changes the mode to comfort cool, which blows the air gently and adjusts the angle of blades upwards, so it keeps you comfortable without feeling cold.
10 yr warranty on Digital Inverter Compressor
Following Samsung's tradition of making durable and energy saving products, the Triangle Digital Inverter AC range promises 10 year warranty on Digital Inverter Compressor, thus giving its customers a complete peace of mind.
Works Smart Saves Energy
The Samsung Air Conditioner features an energy-efficient Digital Inverter with High EER. It can maintain the desired temperature without frequently shutting off and on, so it consumes less energy. The Digital Inverter helps you to stay comfortable for long periods of time, while using the minimum amount of energy *. * Tested on AR09HSSDAWK/EU. Compared with Samsung conventional model AQ09TSB
Keeps the air Purer and Cleaner
3 Care Filter helps keeping your air fresh and the inside of the unit clean. As well as capturing dust, its unique coating may eliminate up to 99% of certain kinds of viruses, bacteria and allergens as they pass through its dense filter mesh.
Enjoy a Good Night's Sleep
Missing out on a good night's sleep can mean bad news for your day. That's why Samsung's Good Sleep feature creates an ideally comfortable climate in your bedroom. With a precise temperature control system and automatic moisture adjustment, all three vital stages of your sleep is protected from humidity and heat so you wake up fully refreshed and ready to take on a new day. Good Sleep not only saves you precious minutes and hours of potentially lost sleep, it also saves up to 36% in energy consumption compared to the normal cooling mode.
Stay Hygenically Fresh
When the air conditioner is turned off the Auto Clean function automatically runs a fan to remove dust and moisture in the heat exchanger. So it stays clean and dry, which prevents the growth of bacteria and mildew.
Ensure perfect Installation-Smart Installation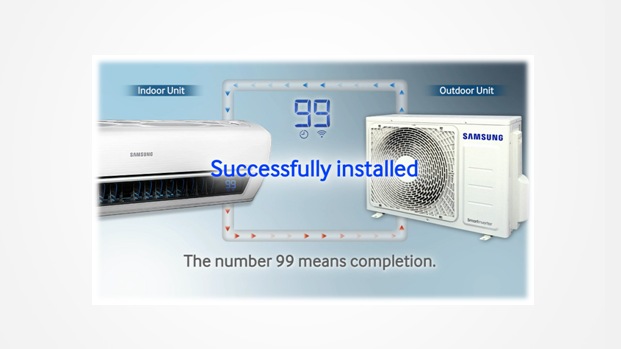 Get the confidence that your AC is perfectly Installed. With smart installation feature you can now enjoy complete peace of mind as the feature allows you to automatically check if the installation has been carried out perfectly by the installation team. The feature at a press of button allows IDU and ODU to perform a self check and revert, if any, possible chances of any installation error. The self check take approx 7 to 13 mins and if no error then number 99 appears on the digital display screen.

※ In case of model with LED display, light blinks and it sounds 'beep' when it's completed
Single User Mode
Once you press the button "Single User", NEO Inverter can change it's Capacity. With the function of Single user mode you can reduce max capacity of your AC which results in more energy savings than normal mode. When operating for 2 hours in normal mode and single user mode, the single user mode can save 26% energy comparing to normal mode16.
6.0 kW
Capacity (Cooling, kW)
3.23 W/W
EER (Cooling, W/W)
880 x 638 x 310 mm
Net Dimension (Outdoor, WxHxD, ㎜*㎜*㎜)
6.0 kW

Capacity (Cooling, kW)

3.23 W/W

EER (Cooling, W/W)

880 x 638 x 310 mm

Net Dimension (Outdoor, WxHxD, ㎜*㎜*㎜)
User manual & Downloads
Live Chat
How It Stacks Up
* Key feature may different from Key Spec
Images shown here are for representational purpose only, actual may vary. All features, specifications and prices are subject to change without prior notice. Model availability may vary from location to location.
Get stock alerts
Get alerts when this item is back in stock and available to buy, by adding your email to opt into alerts.
Create your Wishlist
Don't miss out on the products you love
Sign in/Sign up now to access your wishlist on all your devices and get updates on great promotions.