AM056FNLDEH/TL
DVM, Slim Duct,R-410A, Indoor unit
Light weight
Slim Design
In-built drain Pump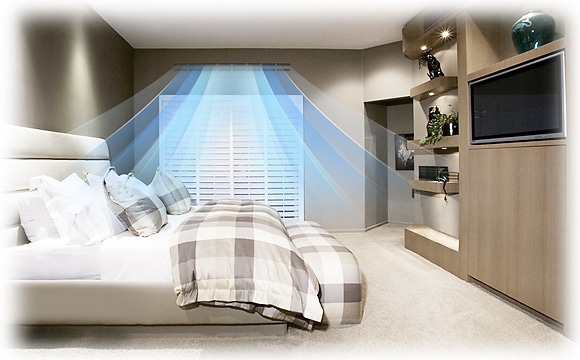 Flexible Installation
Thanks to the option to set up the air inlet on either the bottom or rear of the unit, the Slim Duct can be customised to suit any business environment. This flexibility in installation means it can be configured to suit almost any room and is easily concealed behind ceilings, allowing it to blend in while providing an enhanced airflow to the surrounding space.
Slim Design
Only 199 mm thick, the Slim Duct can be concealed almost anywhere. The slimmest Samsung model is more than 20 mm thinner than its two most similar models. Its slender design is not only highly elegant, it makes installation, maintenance and repair quick and easy, rendering it more suitable and effective to a wider range of businesses.
Easy to Maintain
The Slim Duct is designed to allow easy access for maintenance. By simply opening the bottom panel of the unit, users can access parts easily, reducing the downtime period dedicated to servicing, and minimising the financial impact on your business.
Easier Drain Pump Installation
Users are now able to introduce a new drain pump from the side, meaning there is no longer any need to remove the top cover. By shifting the right side panel, the pump can easily be installed, checked or repaired, saving businesses time and money.
Anti-Virus Filter

The anti-virus filter lets businesses and their users benefit from cleaner air in their premises. This feature is specifically designed to extract dust particles and to minimise the spread of mould and harmful bacteria. This generates a more comfortable and safe environment for business users.

Easy Filter Cleaning

An automatic indicator signals when the filter is due for cleaning after 1,000 hours of operation. The duct design system means this is an extremely simple process which reduces maintenance time and the subsequent financial impact on businesses.
Smart Pressure Control

Whatever the environment, our Smart Pressure Control System supplies users with consistent cooling and heating power. External Static Pressure (ESP) adjusts the unit's fan speed so that your ideal ambience is achieved with a quieter, more efficient operation.

Optional High Lift-Up Drain Pump

Samsung ducted air conditioning technology includes the option of a high lift-up drain pump. This lifts condensed water up to 750 mm compared with previous 700 mm limits. As a result, this system is more convenient because it allows users to be more flexible in terms of where they install the unit.
Specification
Features
Model Name
Power Supply (Indoor Unit) [Φ, #, V, Hz]
System
Capacity

Cooling [kW]

5.60 

Cooling [Btu/h]

19,100 

Heating [kW]

6.30 

Heating [Btu/h]

21,500 

Power Input (Nominal)

Cooling 1) [W]

95.00 

Heating 2) [W]

95.00 

Current Input (Nominal)

Cooling 1)

0.53 A

Heating 2)

0.53 A

Fan

Type

Sirocco Fan

Air Flow Rate (High / Mid / Low) [CMM]

12.00/10.50/9.00 CMM

Air Flow Rate(High/Mid/Low)[L/S]

200.00/175.00/150.00

External Static Pressure (Min / Std / Max) [mmAq]

0.00/2.00/4.00 mmAq

External Static Pressure (Min / Std / Max) [Pa]

0.00/19.61/39.23 Pa

Piping Connections

Liquid Pipe (Φ, mm)

6.35 

Gas Pipe (Φ, mm)

12.70 

Drain Pipe (Φ,mm)

VP25 (OD 32, ID 25)

Field Wiring

Power Source Wire

1.5 ~ 2.5

Transmission Cable

0.75 ~ 1.50

Refrigerant

Type

R410A

Control Method

EEV INCLUDED

Sound

Sound Pressure (High / Mid / Low) [dB(A)]

36.0/34.0/31.0 dBA

Sound Power

55.0 dBA

External Dimension (Indoor Unit)

Net Weight(kg)

23.50 

Shipping Weight (kg)

28.00 

Net Dimensions (WxHxD) (mm)

900 x 199 x 600 mm

Shipping Dimensions (WxHxD) (mm)

1,150 x 280 x 710 mm

Additional Accessories
* Images shown here are for representational purpose only, actual may vary. All features, specifications and prices are subject to change without prior notice. Model availability may vary from location to location.
Manual Download
DVM, Slim Duct,R-410A, Indoor unit (AM056FNLDEH/TL)
Manuals

2019.09.18

User Manual ver 03

(ENGLISH)