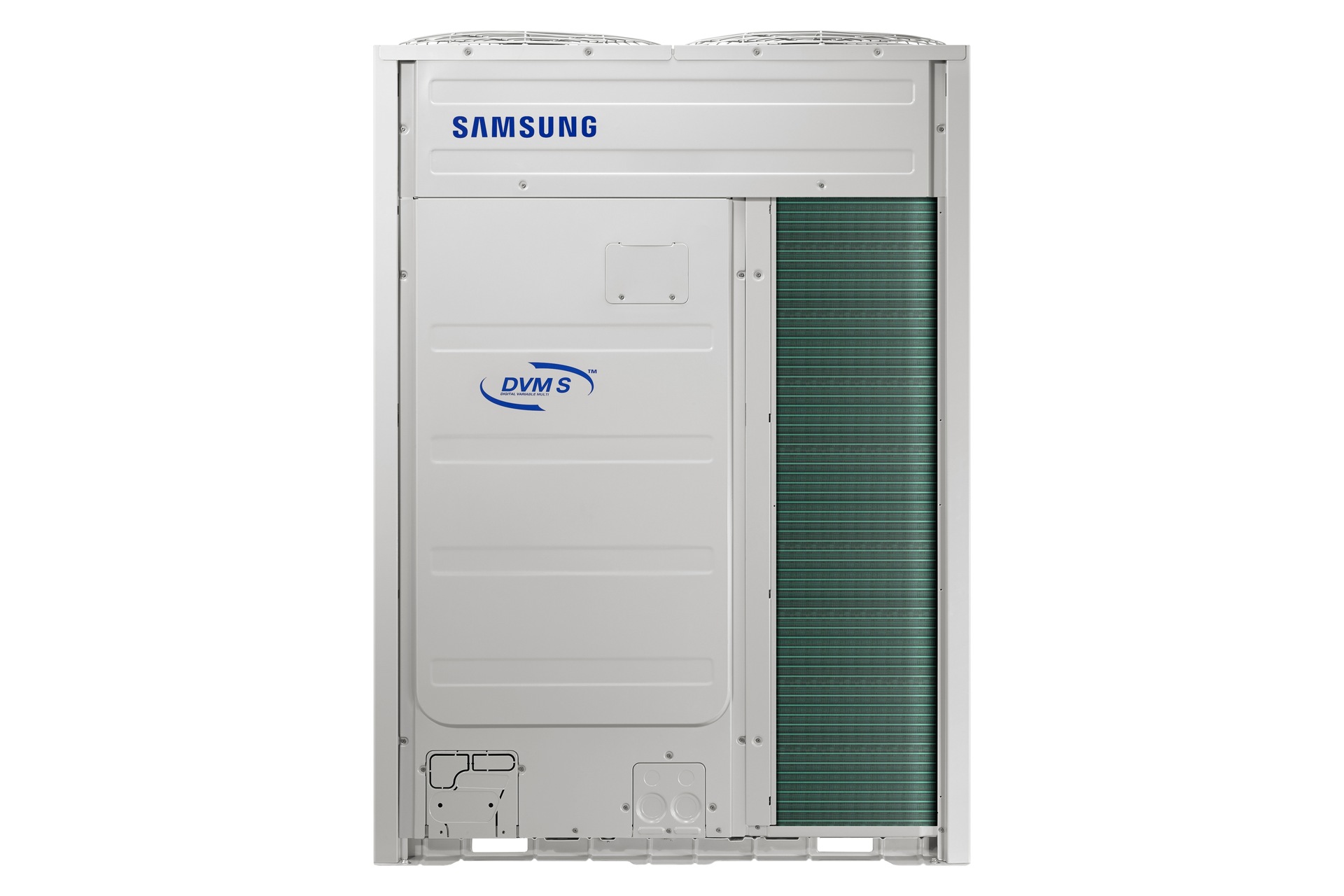 AM300KXVANH/TL
DVM S, Standard, Heat Pump R410a, 380~415V, 50/60Hz, 3Ф, Outdoor Unit
More choice of capacity, even less cost
More usable space – no compromise
Advanced performance & energy efficiency
More choice of capacity, even less cost
As a single unit, it offers a wide range of capacities – from 8 HP to 30 HP. It's the world's first system to offer a single 30 HP unit, so you can reduce the installation and management costs and save valuable space.
More usable space – no compromise
Its compact size leaves you plenty of extra space that can be used for other purposes without compromising on performance thanks to its highly efficient Inverter Scroll Compressor and Hybrid heat exchanger.
Advanced performance & energy efficiency
Its advanced technology radically improves performance and reduces wasted energy. It includes a highly efficient Inverter Scroll Compressor, an innovative Hybrid heat exchanger and a large capacity diffuser.
Improved reliability in cold conditions
An advanced refrigerant control system ensures the compressor continues working reliably – even if everything is frozen. Its flash injection technology provides a great improvement in heating performance at -25°C.
Instant shut off and gas leak protection
There's no need to worry about gas leaks or the accidental loss of refrigerant. A Gas Leak Operation System quickly detects leaks and automatically takes the pump down a step and cuts off the refrigerant supply.
Flexibly install it almost anywhere
Provides the flexibility to be installed almost anywhere, regardless of its location or distance from the building. It has a piping length of up to 220 m (721.79 ft) and can reach up to a height of 110 m (360.9 ft).
Control your cooling anywhere
An optional Wi-Fi Kit lets you remotely control up to 16 indoor units using an App*. Anytime and anywhere you can turn them on and off, select the operating mode and temperature, and utilise their other functions.
Specification
Features

Type

SUPER DVM (Standard)

Model Name
Power Supply (Outdoor Unit) [Φ, #, V, Hz]
System
Performance (nominal)
Capacity

Cooling [kW]

84 

Heating [kW]

94.5 

Power Input (Nominal)

Cooling 1)

22.7 kW

Heating 2)

20.59 kW

Current Input (Nominal)

Cooling 1)

36.4 A

Heating 2)

33 A

Power

MCA [A]

73 (MCA) 

MFA [A]

80 

Energy Efficiency

EER (Nominal Cooling)

3.7

COP (Nominal Heating)

4.59

Compressor

Type

SSC Scroll x 2

Output(kW)

7.81 x 2 

Model

DS4GJ5080FVA x 2

Oil (Type)

PVE

Oil (Initial Charge) [cc]

1400 x 2 

Fan

Type

Propeller

Motor (Output) [W]

620 x 2 

Air Flow Rate (High / Mid / Low) [CMM]

340 

Air Flow Rate(High/Mid/Low)[L/S]

5,666.67

External Static Pressure (Min / Std / Max) [mmAq]

8 

External Static Pressure (Min / Std / Max) [Pa]

78.45 

Piping Connections

Liquid Pipe (Φ, mm)

19.05 

Liquid Pipe (Φ, inch)

3/4"

Gas Pipe (Φ, mm)

34.92 

Gas Pipe (Φ, inch)

1 3/8"

Installation Max. Length [m]

220 

Installation Max. Height [m]

50(110)/40 

Field Wiring

Transmission Cable

0.75 ~ 1.5

Refrigerant

Type

R410A

Factory Charging (kg)

14 

Sound

Sound Pressure

69 dBA

Sound Power

90 dBA

External Dimension (Outdoor Unit)

Net Weight(kg)

350 

Shipping Weight (kg)

372 

Net Dimensions (WxHxD) (mm)

1,295 x 1,795 x 765 

Shipping Dimensions (WxHxD) (mm)

1,363 x 1,987 x 832 

Operating Temp. Range

Cooling (℃)

-5 ~ 48 

Heating (℃)

-25 ~ 24 
Images shown here are for representational purpose only, actual may vary. All features, specifications and prices are subject to change without prior notice. Model availability may vary from location to location.