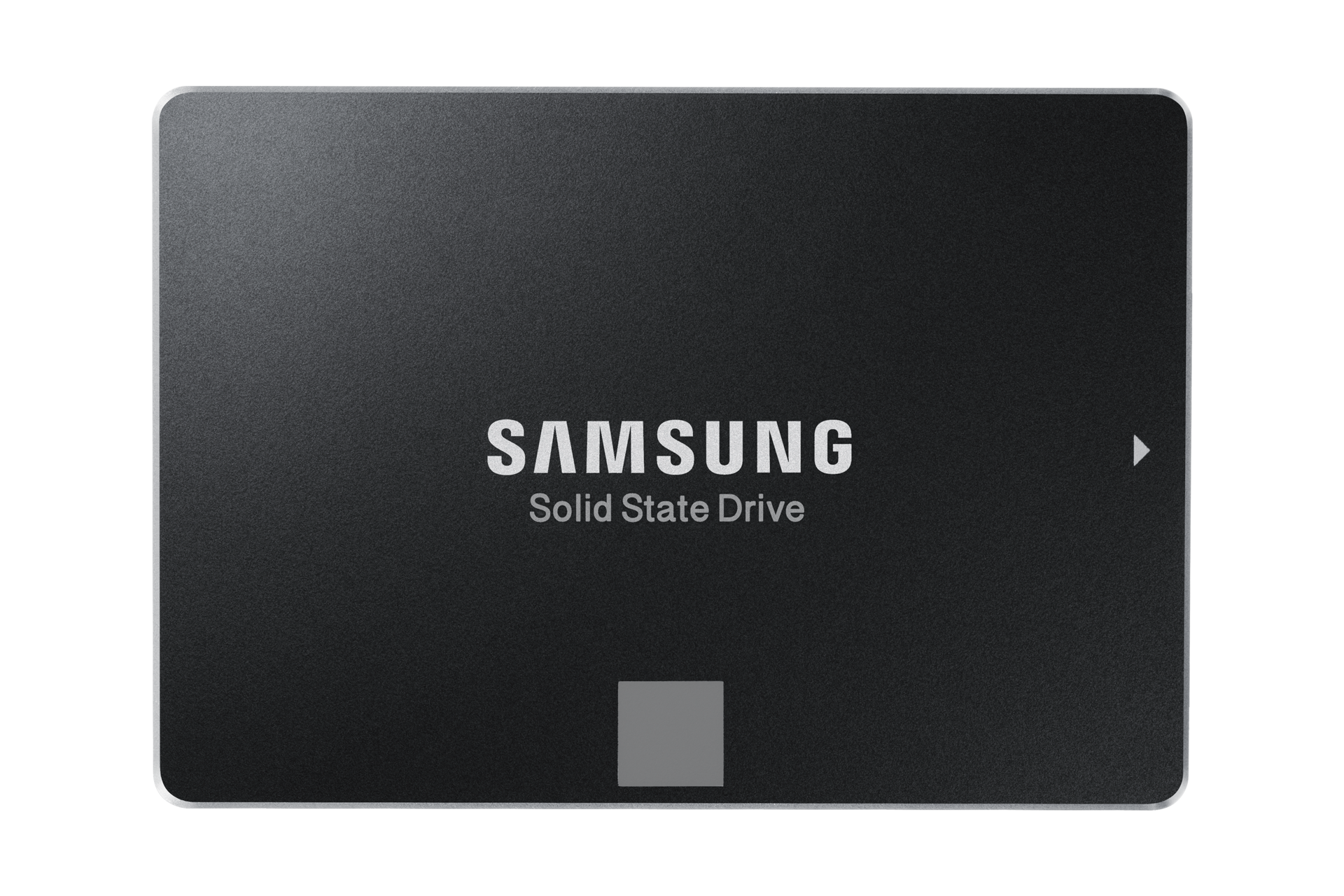 MZ-75E500BW
SSD 850 EVO SATA III 6.35cm (2.5") 500 GB
Samsung V-NAND technology
Up to 540 MB/s sequential read and 520 MB/s write
5-year limited warranty
What is 3D V-NAND and how does it differ from existing technology?
Samsung's unique and innovative 3D V-NAND flash memory architecture is a breakthrough in overcoming the density limitations, performance and endurance of today's conventional planar NAND architecture. 3D V-NAND is fabricated by stacking 32 cell layers vertically over one another rather than decreasing the cells dimensions and trying to fit itself onto a fixed horizontal space resulting in higher density and better performance utilising a smaller footprint.
World's 1st 2 TB SSD for extensive workloads
Introducing the world's first 2 TB SSD for client PCs—the SSD 850 EVO 2 TB. Powered by 3D V-NAND, you can store your programs and data onto one drive, which is especially useful when editing and archiving a large number of Full HD multimedia files. The end result is fast data access times, programme load times, and multitasking—increasing overall computing speed for higher productivity. Enjoy better PC performance with a single spacious SSD.* *When compared to an environment using a combination of an HDD as a storage drive and an SSD as a boot drive.
Optimise daily computing with TurboWrite technology for unrivalled read/write speeds
Achieve the ultimate read/write performance to maximise your everyday computing experience with Samsung's TurboWrite technology. You not only obtain more than a 10% better user experience than 840 EVO* but up to 1.9x faster random write speeds for 120/250 GB models** as well. The 850EVO delivers the top of its class performance in sequential read (540 MB/s) and write (520MB/s) speeds. Plus, you also gain optimised random performance in all QD for client PC usage scenario. *PCmark7 (250 GB ): 6,700 (840 EVO) > 7,600 (850 EVO) **Random Write (QD32, 120 GB): 36,000 IOPS (840 EVO) > 88,000 IOPS (850 EVO)
Guaranteed endurance and reliability bolstered by 3D V-NAND technology
The 850 EVO delivers guaranteed endurance and reliability by doubling the TBW* compared to the previous generation 840 EVO** backed by an industry leading 5 year warranty. The 850 EVO through minimised performance degradation allows sustained performance improvements of up to 30% over the 840 EVO proving to be one of the most dependable storage devices***. *TBW: Total Bytes Written **TBW: 43 (840 EVO) > 75 (850 EVO 120/250 GB),15 0(850 EVO 500/1 TB) ***Sustained Performance (250 GB): 3,300 IOPS (840 EVO) > 6,500 IOPS (850 EVO), Performance measured after 12 hours "Random Write" test
Get into the fast lane with the improved RAPID mode
Samsung's Magician software which provides Rapid Mode for 2x faster processing data speeds* on a system level by utilising unused PC memory (DRAM) as cache storage. The newest Magician increased the maximum memory usage in Rapid mode from 1 GB, in the previous 840 EVO version, to up to 4 GB with the 850 EVO when implementing 16 GB of DRAM. You also get a 2x performance* boost in all random Queue depth. *PCMARK7 RAW (250 GB): 7,500 > 15,000 (Rapid mode)
Compute longer with improved energy efficiency backed by 3D V-NAND
The 850 EVO delivers significantly longer battery life on your notebook with a controller optimised for 3D V-NAND now enabling Device Sleep at a highly efficient 2mW. The 850 EVO is now 25% more power efficient to the 840 EVO during write operations* thanks to 3D V-NAND only consuming half the energy than that of Planar 2D NAND. *Power (250 GB): 3.2 Watt (840 EVO) > 2.4 Watt (850 EVO)
Secure valuable data through advanced AES 256 encryption
The 850 EVO comes fortified with the latest hardware-based full disk encryption engine. The AES 256 encryption-bit security technology secures data without any performance degradation and complies with TCG Opal 2.0. It is also compatible with Microsoft e-drive IEEE1667 so your data is protected at all times for your peace of mind.
Protect against overheating with a highly responsive Dynamic Thermal Guard
The 850 EVO's Dynamic Thermal Guard constantly monitors and maintains ideal temperatures for the drive to operate in optimal conditions for the integrity of your data. When temperatures rise above an optimal threshold, the Thermal Guard automatically throttles temperatures down protecting your data while maintaining responsiveness to ensure your computer is always safe from overheating.
Level up to the 850 EVO simply without any hassle
In three simple steps the Samsung's One-stop Install Navigator software easily allows you to migrate all the data and applications from the existing primary storage to the 850 EVO. The Samsung Magician software also allows you to optimise and manage your system best suited for your SSD.
Acquire an integrated in-house solution consisting of top-quality components
Samsung is the only SSD brand to design and manufacture all its components in-house allowing complete optimised integration. The result – enhanced performance, lower power consumption with an up to 1 GB LPDDR2 DRAM cache memory and improved energy-efficiency with the MEX/MGX controller.
Specification
General Feature

Application

Client PCs

Capacity

500 GB (1 GB=1 Billionbyte by IDEMA) * Actual usable capacity may be less (due to formatting, partitioning, operating system, applications or otherwise)

Form Factor

2.5 inch

Interface

SATA 6 Gb/s Interface, compatible with SATA 3 Gb/s & SATA 1.5 Gb/s interface

Dimension (WxHxD)

100.00 x 69.85 x 6.80 mm

Weight

Max. 55 g

Storage Memory

Samsung V-NAND

Controller

Samsung MGX Controller

Cache Memory

Samsung 512 MB Low Power DDR3

Special Feature

TRIM Support

TRIM Supported

S.M.A.R.T Support

S.M.A.R.T Supported

GC (Garbage Collection)

Auto Garbage Collection Algorithm

Encryption Support

AES 256 bit Encryption (Class 0)TCG/Opal IEEE1667 (Encrypted drive)

WWN Support

World Wide Name supported

Device Sleep Mode Support

Yes

Performance

Sequential Read

Up to 540 MB/second Sequential Read * Performance may vary based on system hardware & configuration

Sequential Write

Up to 520 MB/second Sequential Write * Performance may vary based on system hardware & configuration

Random Read (4KB, QD32)

Up to 98,000 IOPS Random Read * Performance may vary based on system hardware & configuration

Random Write (4KB, QD32)

Up to 90,000 IOPS Random Write * Performance may vary based on system hardware & configuration

Random Read (4KB, QD1)

Up to 10,000 IOPS Random Read * Performance may vary based on system hardware & configuration

Random Write (4KB, QD1)

Up to 40,000 IOPS Random Write * Performance may vary based on system hardware & configuration

Environment

Average Power Consumption (system level)

*Average: 2.5 Watts *Maximum: 3.5 Watts (Burst mode) * Actual power consumption may vary depending on system hardware & configuration

Power consumption (Idle)

Max. 50mW * Actual power consumption may vary depending on system hardware & configuration

Allowable Voltage

5V ± 5% Allowable voltage

Reliability (MTBF)

1.5 Million Hours Reliability (MTBF)

Operating Temperature

0 - 70 °C Operating Temperature

Shock

1,500G & 0.5 ms (Half sine)

Accessories

Installation Kit

Not Available

Software

Management SW

Magician Software for SSD management

Warranty

5 Years Limited Warranty or 150 TBW Limited Warranty
* Key feature may different from Key Spec.
Manual Download
SSD 850 EVO SATA III 6.35cm (2.5") 500 GB (MZ-75E500BW)
Manuals

2020.11.12

Data Migration Tool User Manual ver 4.0.3

(MULTI LANGUAGE)

2020.11.12

Data Migration Tool ver 4.0.3

(MULTI LANGUAGE)

2020.11.12

Magician Software Open Source Announcement ver 6.2.1

(MULTI LANGUAGE)

2020.11.12

Magician Software ver 6.2.1

(MULTI LANGUAGE)

2020.11.12

Magician Software User Manual ver 6.2.1

(MULTI LANGUAGE)

2017.11.13

Firmware File(850 EVO) ver EMT02B6Q

(MULTI LANGUAGE)

2017.11.13

Firmware File(850 EVO) ver EMT02B6Q

(MULTI LANGUAGE)