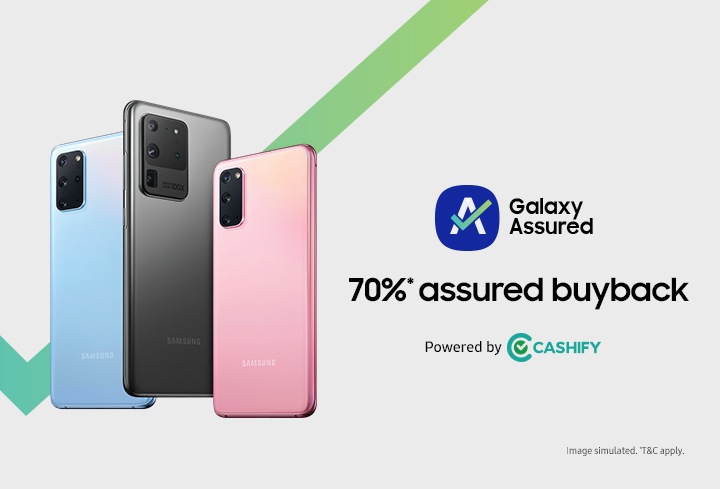 Galaxy Assured Program
Get up to 70% assured value in return for your flagship device
Enroll in 4 easy steps
Start your journey
Visit the Samsung eStore (samsung.com/in).
Opt for the program
Choose Galaxy Assured with your selected flagship (Galaxy S20/S20+/S20 Ultra/ZFlip).

Choose your payment option
Pay via debit card/credit card/Net Banking or choose to pay in EMI.
Welcome to Galaxy Assured
You will receive a confirmation and welcome e-mail from Cashify with the redemption process and all the terms and conditions.
Galaxy Assured Fees
Applicable as per schedule below
Models

Device Purchase Price
(₹)
Galaxy Assured Fee
(₹) incl. taxes
S20
70499.00
1049.00
S20+
77999.00
1149.00
S20 Ultra
97999.00
1449.00
Z Flip
108999.00
1609.00
Note20
77999.00
1199.00
Note20 Ultra
104999.00
1499.00
Galaxy Assured value by tenure
Tenure
(date of purchase)
1 to 3
months
4 to 6
months
7 to 9
months
10 to 12
months
Galaxy Assured Value
70%
60%
50%
40%
Galaxy Assured is also available at Select offline retail stores powered by Samsung Finance+
Terms and Conditions
The Galaxy Assured is a non-transferable offer and will only be available for a period of 12 months from the date of purchase.
Galaxy Assured will be fulfilled by Cashify. The device can be redeemed at www.cashify.in anytime within 12 months. The exchange value would be applicable as per tenure of purchase.
The value of the device is subject to its condition at the time of return, please refer to detailed T&Cs.
You need to enter the device IMEI during the redemption journey to get applicable Galaxy Assured value.
Cashify will make arrangements to collect the devices and transfer the Galaxy Assured Value directly to the Bank/Wallet or any other payment methods opted during redemption.