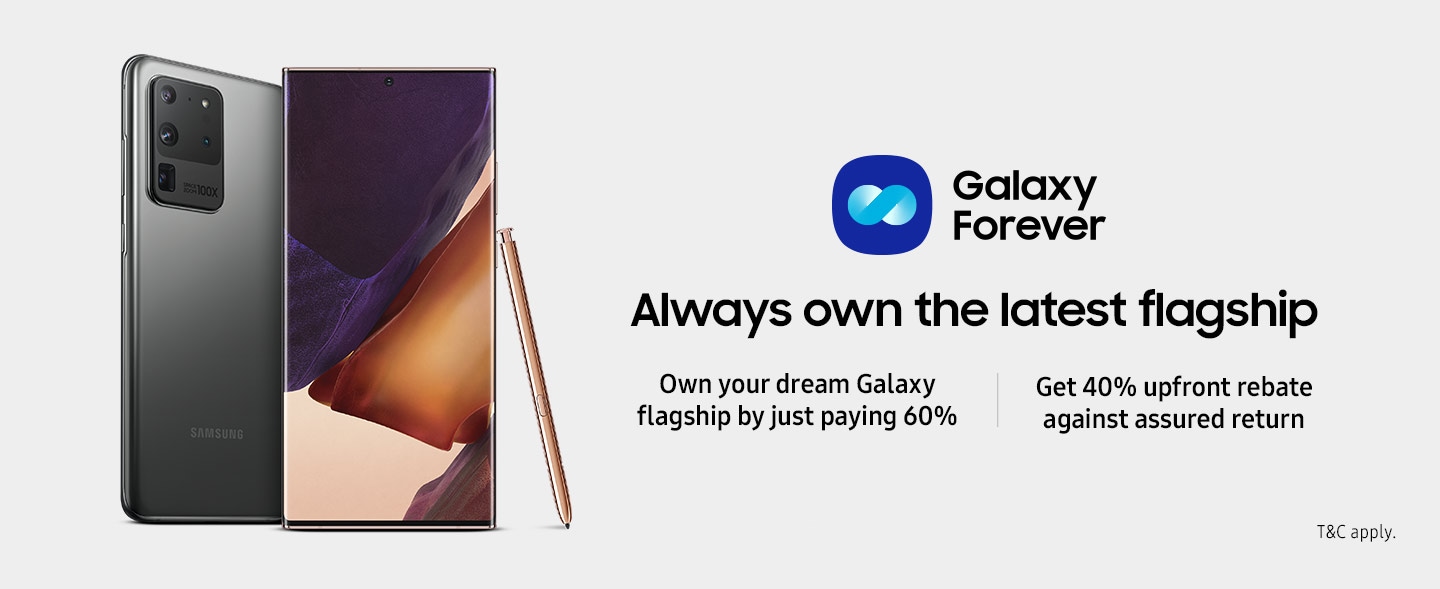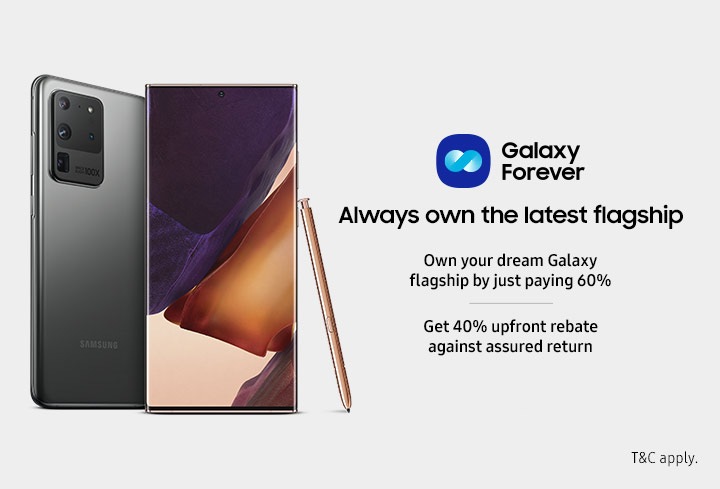 Galaxy Forever program
Pay only 60% of the device value now (20% as down payment + 40% in 11 equal EMIs).
Get 40% upfront rebate against an assured return of the device post 12 months.
Upgrade to the next flagship after 12 months by returning the current device.
Sample computation
Device
Regular Price
Galaxy Forever Price*
(60% of device value)
You Save
Note20 Ultra
₹104999.00
₹62999.40
₹41999.60
Note20
₹77999.00
₹46799.40
₹31199.60
S20 ultra
₹86999.00
₹52199.40
₹34799.60
Device
Note20 Ultra
Note20
S20 ultra
Regular Price
₹104999.00
₹77999.00
₹86999.00
Galaxy Forever Price*
(60% of device value)
₹62999.40
₹46799.40
₹52199.40
You Save
₹41999.60
₹31199.60
₹34799.60
*Additional Samsung Care+, Assured Buyback and Samsung Finance+ processing fees charges applicable.
How it works
Join today
Choose Galaxy Forever program while adding your flagship phone to the cart and follow the registration process.
Pay 20% of the device value now
Just pay 20% of the device value as down payment to get your Galaxy.

Pay 40% of the device value as EMIs via Samsung Finance+
Complete the transaction via the SF+ app installed on your device.
Return & upgrade or Retain your Galaxy
After the 11th EMI, trade in your old device and upgrade to the latest Galaxy or you can retain your device by paying the balance 40% in easy EMIs.
The flagships you love, at the prices you want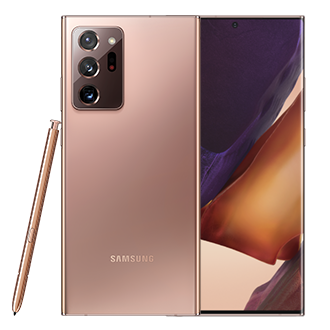 Galaxy Note20 Ultra
EMI Starting ₹4627.00/month
Galaxy Note20
EMI Starting ₹3545.00/month
Galaxy S20 Ultra
EMI Starting ₹4373.00/month
EMI amount shown above is under Galaxy Forever scheme provided by DMI finance, i.e. 20% upfront down payment & 40% in 11 months EMI and includes Samsung Care+, Galaxy Forever pack, processing & monthly internet fee charges. After 11th EMI, if you decide to retain the device, balance 40% to be paid in additional 7 months EMI.
Click here for terms & conditions.