Avail exciting offers
with the all new Galaxy Note9
Galaxy Note9 Offer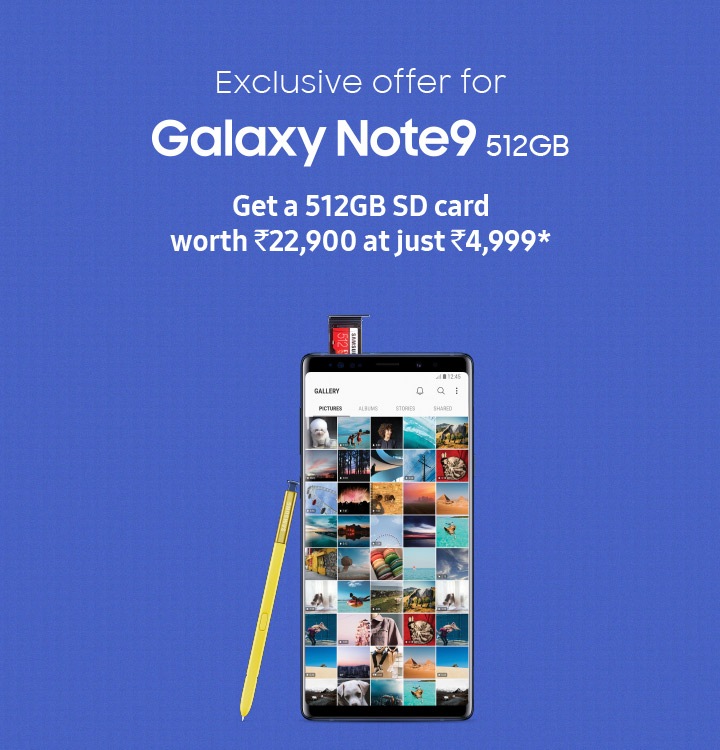 Galaxy Note9 Exclusive offer
Get 512GB memory card worth ₹22,900 at only ₹4,999.
More storage than you need. Until you need it.
Step 1
Activate your Galaxy Note9 512GB
between 2nd Dec to 31st Jan.
Log on to Samsung members with
your Samsung account details.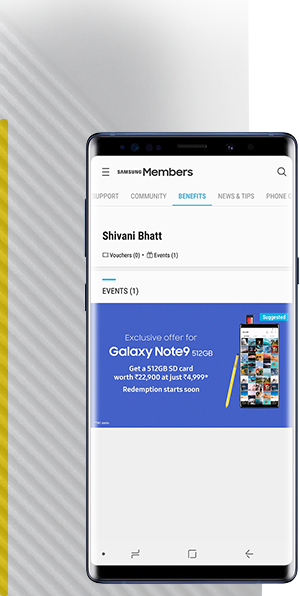 Step 2
Go to the benefits section on Samsung
members and click on the banner.
Step 3
Enter the mobile number used to activate
the device along with the device IMEI and check eligibility.
*Please note that this offer is only applicable to
Galaxy Note9 consumers who have purchased and
activated their devices within the activation period
(2nd Dec – 31st Jan).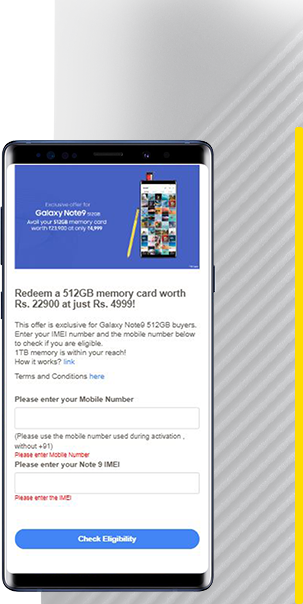 Step 4
Enter your details and click 'Get Coupon',
your coupon code will be sent to your
registered email and mobile number.
Please save this information for
future references.
Step 5

Click on 'Use Coupon', you will be
directed to Samsung shop to avail
the offer.

Step 5

Select the 512GB memory card
and add to cart

Step 5

Apply the coupon code to proceed
to check out.

Step 5

Sign in using your Samsung account or
continue as a guest.

Step 5

Check the final price before
proceeding. The amount should be ₹4999.

Step 5

Check your order details including
the shipping address and place your order.
Terms and Conditions

I.

Name of the Offer

Buy Galaxy Note9 (512GB) and get Samsung 512GB Memory card worth Rs. 22,900 at Rs. 4,999

II.

Provided by

Samsung India Electronics Pvt. Ltd.

III.

Offer period

Offer shall be valid for those who have purchased and activated their devices from 2nd December to 31st December 2018. Samsung reserves the right to modify or annul the Offer or extend or withdraw the Offer period at its sole discretion without any prior notice.

IV.

Place & Outlet Coverage

>The Offers are valid Pan India.
>Available on purchases from select Samsung Stores ("Offline Outlet"). Customer to check the offer availability before making purchase from the said Outlet.
>Offer also applicable on purchases made from Samsung Shop i.e. Samsung e-store, Airtel Online store, Flipkart, Amazon, Paytm, Snapdeal & Tatacliq ("Online Outlet"). Purchase from any other online portal will not be eligible for this offer.

V.

Product Coverage

Galaxy Note 9 (512B) ("Product")

VI.

Eligibility Criteria

>This Offer shall be available for the customers who purchase and activate the Product during the Offer Period.
>Only one Product can be purchased against one mobile number. The Customer has to use the same mobile number to activate the Product and create Samsung Account. Once the customer creates a Samsung Account, he/she will be able to login to Samsung Members Application and generate coupon through the Application for redemption of the offer within the stipulated timelines as mentioned in clauses below. The coupon code will be sent to the customer on their registered mobile number and/or email
>In case the customer uses different mobile numbers for activating the Product and creating Samsung Account and sign-in to Samsung Members Application, he/she shall not be able to generate the coupon code and no claims shall be entertained in this regard against Samsung.
> Redemption of the offer begins from 20th December 2018 and can be done till 31st January 2019, failing which the customer would not be eligible for the offer

VII.

Offer:
Samsung Memory Card worth Rs. 22900 at Rs 4999

>The Samsung 512GB memory card (worth Rs. 22900) at Rs. 4999 is available only on purchase of Galaxy Note9 (512GB). Every customer purchasing and activating the Product during the Offer period shall be eligible to redeem a Samsung 512GB memory card (worth Rs. 22900) at Rs. 4999 only subject to the condition that the mobile number used for Product activation and creating Samsung Account and login to Samsung Members Application for generating the coupon App should be the same.

VIII.

Redemption of Samsung Memory Card worth Rs. 22900 at Rs 4999

>Once the customer receives/collects and activates the Product (whether purchased from Online Outlets or Offline Outlets), he/she will have to follow the process given hereunder to redeem Samsung 512GB Memory Card.

Redemption process:

Step 1: Open Samsung members app
Step 2: Register on Samsung members with a Samsung account. If you don't have a Samsung account you can create one here.
Step 3: You will see a banner for Note9 1 TB offer. Click on this banner.
Step 4: You will be re-directed to a web portal. Enter the same 10 digit mobile number you used to create your Samsung account in the field and the 15 digit IMEI of your Note9 512 GB device. Now click on 'Check Eligibility' button
Step 5: After your eligibility has been verified real-time (based on the criteria mentioned earlier) you will be directed to the next page. Please enter your name and email id in the respective fields.
Step 6: Click on 'Get coupon' button.
Step 7: The coupon code will be sent to your email id and your registered mobile. Make sure to save the coupon code for future reference.
Step 8: Now click 'Use Coupon'
Step 9: You will be re-directed to the 512 GB memory card, product display page on Samsung E shop. Click 'Add to cart'
Step 10: Apply/paste the coupon before check-out in the respective field.
Step 11: Sign-up or log-in using OTP
Step 12: Enter your shipping address and other details
Step 13: Please check final price before payment. It should be 4999 INR
Step 14: Your 512 GB phone will be delivered to your address. Enjoy 1TB ready storage on your new Note9.
Step 15: The shipping of Samsung 512GB Memory Card will happen within 30 (thirty) days from the day of placing order for the same.

IX.

Forfeiture clause

(i) If the eligible customer fails to activate the Product and/or fails to register in / sign in to Samsung Members App, generate the respective coupons and redeem them within the stipulated timelines as stated above respectively, his/her 512GB memory card offer shall stand forfeited and no claims shall be entertained in this regard.
(ii) Offer shall also stand forfeited in case the customer uses different mobile number for activating the Product and generating coupon through Samsung Members App and no claims shall be entertained in this regard.

X.

Conditions related to Samsung Memory Card worth Rs. 22900 at Rs 4999

The 512 GB Memory card shall be on "As Is" basis & as per stock availability. Samsung shall not be responsible for its non-availability due to various reasons like climatic conditions, labour unrest, insolvency, business exigencies, Government decisions, operational & technical issues or any other force majeure conditions etc.
> Offers cannot be exchanged with any other product or item, are non-transferable & cannot be en-cashed under any circumstances.

XI.

General Conditions

>Customer agrees that Samsung shall not be liable for any claims, costs, injuries, losses or damages of any kind arising out of or in connection with the Offer or with the acceptance, possession or use of 512GB Memory card.
>By Participating /availing the Offer, it is deemed that the customer has given an unconditional consent to Samsung to contact them through call, SMS or email on the details provided by them for the purpose of this Offer.

>Samsung reserves the right to change/alter & modify the terms & conditions of this Offer or extend or annul any part or whole offer at any given point at its sole discretion without giving any reason whatsoever.
>Samsung reserves the right to change the make, model or capacity or pricing of Memory Card or substitute the Memory card Offer with some other gift(s) of equivalent or lesser value under this Offer at its sole discretion without giving any reasons.
>Samsung shall not be liable for any technical, physical delay in transmission or submission of the entries by the customer or any disruptions, losses, damages, computer related malfunctions/ failures which affect the participation of the customer or any force majeure conditions or damages caused by Act of God, Governmental actions.
>Failure by Samsung to enforce any of its right at any stage does not constitute a waiver of those rights.
>In no event shall Samsung be liable for losses or any incidental or consequential damages arising out of or in connection with the Offer, its services these Terms(however arising, including negligence). Samsung shall not be responsible for any product or service liability of any kind.
>In the event of any conflict or inconsistency regarding any instructions, rules and conditions on any advertising or promotional material relating to the Offer, these Terms shall prevail over all such other instructions, rules and conditions.
>Any and all information of customers that comes to Samsung shall be subject to the privacy policy of Samsung available at https://samsung.com/in/offer/galaxy-note9/memory-card/

XII.

Intellectual Property Rights

All rights, title and interest including but not limited to the Intellectual Property Rights in the promotional material(s) and any/all registrations received shall vest solely and exclusively with Samsung at all times and Samsung shall be entitled to use the database of the entries received or any information in any media for future promotional, marketing and publicity purpose without any further reference or payment or compensation to Participant. Participant shall be solely responsible for any consequences which may arise due to any kind of infringement of copyrights or any kind of intellectual property rights belonging to any other person/ entity etc. and also undertake to indemnify Samsung and its officers, directors, employees etc on the happening of such an event (including without limitation cost of attorney, legal charges etc.) on full indemnity basis.

XIII.

Jurisdiction

Decision of Samsung in relation to the Offer and matter incidental thereto shall be final and binding on the customer. All disputes shall be governed by the laws of India. These Terms shall be governed by exclusive laws of India and the courts located at Delhi and shall have the exclusive jurisdiction in respect of all the subject matter with relation to the Offer.