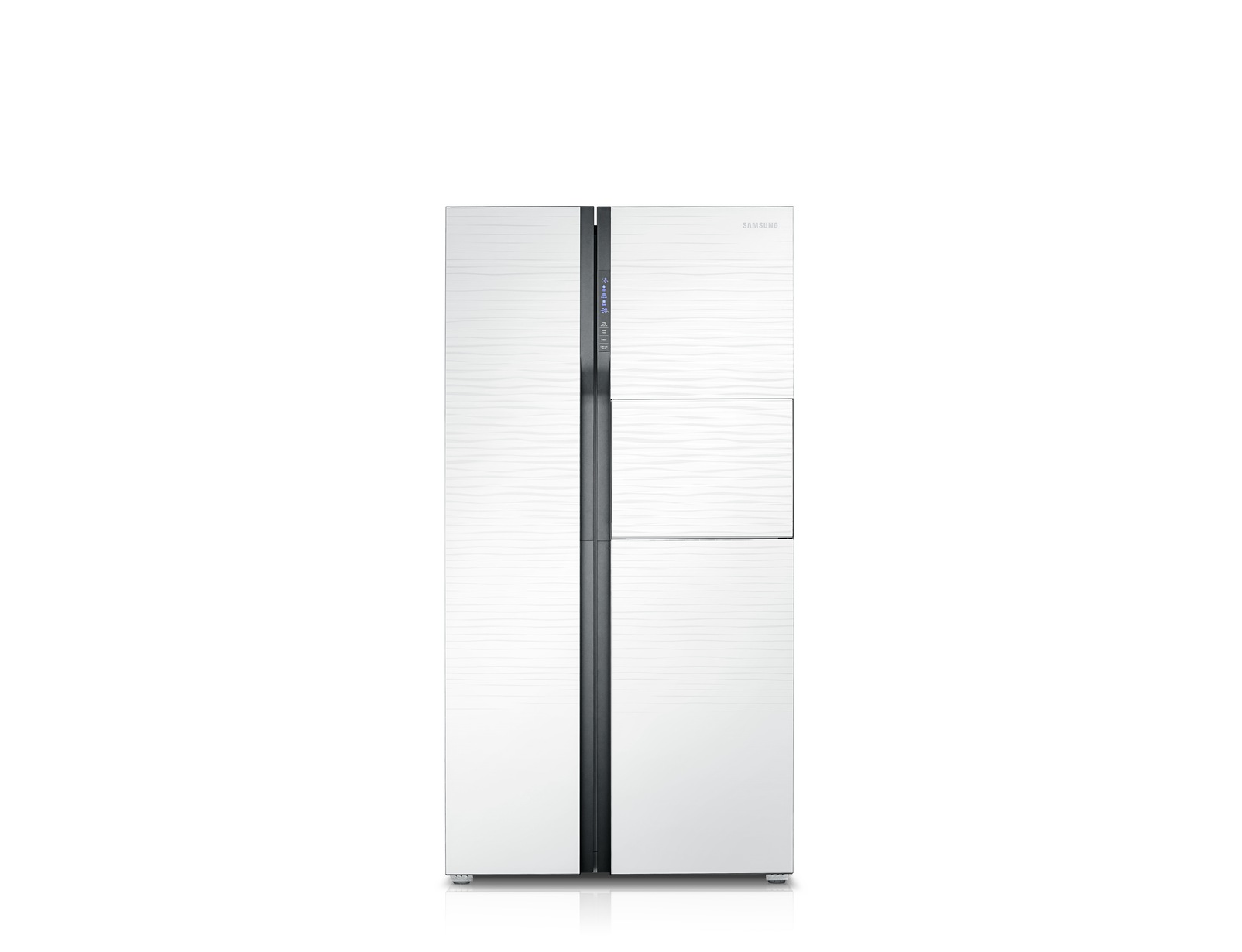 RS55K52A01J Side by Side with Twin Cooling Plus, 604l

RS55K52A01J
RS55K52A01J/TL
RS55K52A01J Side by Side with Twin Cooling Plus, 604l
is rated out of
5
by
1
.
Twin Cooling Plus
Home Bar
Digital Inverter Technology
Twin Cooling PLUS
Digital Inverter Technology
Power Cool
Power Freeze
Premium design for the modern kitchen
With the new RS554, it's what you don't see that helps bring refined beauty into your home. Recessed handles and hidden hinges provide a touch of elegant minimalism that complements any modern decor. There's still plenty for the eye to admire, from the sophisticated pattern design (available in Shiny River White or EZ Clean Steel) to the blue LED display.
Twin Cooling System™ gives you the best of both worlds
The RS554 uses two separate air flows and precise temperature control to maintain optimal humidity levels on both the refrigerator and freezer sides. This Twin Cooling System™ helps keep your apples fresh, prevents your ice cream from getting freezer burn, and stops ice cubes from smelling like the garlic bread you've stored in the refrigerator.
Preserves your food longer, keeps your electric bills lower
The innovative Digital Inverter Compressor saves energy. Nine sensors track variables such as internal and external temperature and humidity levels, along with your usage patterns. This enables the Digital Inverter Compressor to optimize settings for consistent cooling without having to constantly stop and restart. As a result, it uses 24% less energy than conventional compressors.
Multi Flow
Multi Flow works on every level—with small vents over each shelf—to maintain an even temperature throughout the refrigerator, especially after you open the door. By cooling every section of every compartment at the same time, it helps your foods stay fresher longer.
Bring frost-free freshness into your kitchen
You no longer have to empty out the fridge or freezer during a routine defrosting, because there is no more routine defrosting. Samsung's No Frost feature ensures even cooling to eliminate frost and icy build-ups. Now you can keep all your perishables fresh and nutritious, and have more time for other chores or fun activities. What's more, by maintaining an even temperature, No Frost puts less demands on energy needs, which increases the durability of the cooling system.
A brighter way to save energy
The stylish Tower LED lighting bathes the interior with light that beautifully presents all your groceries. Items are easier to find, so you'll spend less time with the door open looking for an elusive snack hidden in the far corners of your fridge or freezer. The space-saving design of the lighting opens up more room for food. It also emits no heat and uses less energy than conventional bulbs, both of which help to lower your energy bill.
EZ Organization
Bring effortless organization to your freezer. Three tiers of big boxes help you store everything from frozen appetizers to frozen desserts. Because the boxes are transparent, you don't have to slide them out to see what's inside. And they're conveniently removable should you need vertical space for taller items.
Big Box
Bigger vegetable drawers with humidity control provide extra storage space.
604ℓ

Gross Total(Liter)

536ℓ

Net Total(Liter)

912mm

Net Width(mm)

1789mm

Net Case Height with Hinge(mm)

700mm

Net Depth with Door Handle(mm)

120kg

Net Weight(kg)
Rated

5

out of

5
by
Sowjanya
from
Great features and nice model
We bought this last month and I am so happy with the features and great storage....
Date published: 2019-06-08
User manual & Downloads
Live Chat
How It Stacks Up
PRICE

₹ 1,12,850.00 SAVE ₹ 89,900.00
FREE 1 Year Insurance against Fire, Theft, Burglary or Accidental Damage from IFFCO-TOKIO.

Get 5% cashback, up to ₹3,000. Applicable on EMI on select Credit Cards.

Get up to 2% Loyalty Reward Points (1 Point = ₹1)+ FREE ₹500 Service Coupon+ Priority Service+ Samsung Events.
* Key feature may different from Key Spec
* Images shown here are for representational purpose only, actual may vary. All features, specifications and prices are subject to change without prior notice. Model availability may vary from location to location.
Create your Wishlist
Don't miss out on the products you love
Sign in/Sign up now to access your wishlist on all your devices and get updates on great promotions.
Add to Wishlist
Do you want to add this product to your wishlist?
Wishlist
The item will be added to your wishlist
Notify Me
Get alerts when this item is back in stock and available to buy, by adding your email to opt into alerts.
By providing your email you agree to marketing communications & stock alerts from Samsung.
We will email you when inventory is added.
Thank you.
EMIs (Pay in Easy Monthly installments)
How does exchange work
1. On MyGalaxy App, choose 'Upgrade' option to tell us about your old device. And click on 'Buy Online' or copy the Quote id.
2. Select the new device you wish to purchase on samsung.com/in and Enter the MyGalaxy Quote id in the Exchange section.
3. Check the final reduced price and click on Pay now.
4. Complete the checkout and Payment Options to Place your order.
Delete option
Are you sure you want to delete this option?
Option will be reset if you select Samsung Care+.
Are you sure to proceed?
Samsung Care+
WHAT IS SAMSUNG CARE+?

Samsung Care+ protects against two injuries for up to two years.
Low deductible, only 750 kr per injury.
No age deductions.
Your mobile is repaired by Samsung authorized service centers and only with original parts.
If you regret the purchase of your insurance, you have 30 days of withdrawal.
Provided by Domestic & General Insurance PLC. registered in England and Wales. Company No. 485850 Registered office: Swan Court, 11 Worple Road, Wimbledon, London SW19 4Js. Domestic & General Insurance PLC is authorised by the Prudential Regulation Authority and regulated by the Financial Conduct Authority and the Prudential Regulation Authority.
Check Terms and Conditions
Allianz handles your personal information in connection with Samsung Care+. See Allianz Privacy Policy for more information.
Option will be reset if you select Extended Warranty.
Are you sure to proceed?
Extended warranty
Check Terms and Conditions
Manufacture information
Country of Origin
India, Vietnam, China, Korea
*Country of origin shall be as mentioned on the Product
Imported & Marketed by
Samsung India Electronics Pvt. Ltd.
having its Corporate Office at:
6th Floor, DLF Centre, Sansad Marg,
New Delhi - 110001

Contact us
For All Product Related Complaints/assistance, please contact
Samsung India Electronics Pvt. Ltd., 6th Floor, DLF Centre, Sansad Marg,
New Delhi - 110001
Email us at: support.india@samsung.com
Tel (Toll Free): 1800 40 7267864 (1800 40 SAMSUNG)

Cancellation & Returns Policy
If you select both exchange and bundle option, an additional exchange discount of the exchange option will not be applied. Are you sure to proceed?
Select combo bundle option
If you select both exchange and bundle option, an additional exchange discount of the exchange option will not be applied. Are you sure to proceed?
If you select both exchange and bundle option, an additional exchange discount of the exchange option will not be applied. Are you sure to proceed?
Select additional product
Installment Calculate
Installments are provided by Santander Consumer Bank S.A.
Find your IMEI
IMEI number is the identification number of your device.
There are 2 options to get yours as explained below.
Dial *#06# to find your IMEI.
Go to Settings > General > About to display IMEI.
How does it work?
STEP 1

Select your old device and complete your online evaluation.

STEP 2

Get an instant AED 150 Upfront coupon for the online purchase of the latest device.

STEP 3

Keep your old device ready, our Trade in partner will contact you for pick up within 2-3 working days.

STEP 4

Upon successful evaluation, the balance Trade up amount will be transferred to your bank account.
Upgrade Program
Upgrade your handset every 12 months.
Check Terms and Conditions
How trade–in works
01

Choose your new Samsung device and tell us about your old one. If eligible, you will see an estimated trade-in value.

02

Get an upfront discount on the price of your new Samsung device.

03

Send your old device back in the supplied recycling pack to complete the trade-in.
Customize your watch
All from one hand
Now you get innovative smartphone with right tariff plan.