4 Star Rating
Samsung Smart Refrigerators with 4 star rating are one of the most energy efficient refrigerators thereby saving electricity and running cost.
Digital Inverter Technology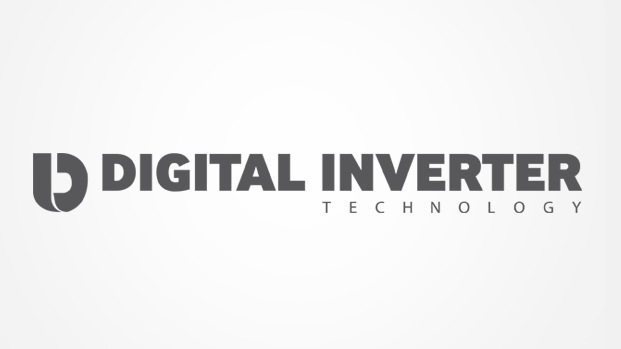 Unlike conventional compressors, which just start and stop, Samsung's Digital Inverter Compressor has 7 adjustable speeds to suit different cooling demands. So it works smoothly, reduces wear and tear for greater durability, and minimises noise. Plus you'll enjoy the peace of mind that comes with lower electric bills and a 10-year warranty.
10 Year Warranty
Enjoy the peace of mind that comes with a 10-year warranty on the compressor of Samsung refrigerator powered with Digital Inverter Technology.
All Round Cooling
All-Around Cooling enables everything fresh by cooling every inch of the fridge evenly from corner to corner. Cold air is blown out through multiple outlets at every shelf level, maintaining an even and constant temperature from top to bottom and food stays longer.
Smart Connect Inverter
Now, you can connect the refrigerator to your Home Inverter without any worries. Go ahead and enjoy uninterrupted cooling to keep your food fresh even during power cuts. Connect Inverter enables the refrigerator to work even when there is a power cut in the house and the refrigerator has switched to back up power.
Cool Pack (12 hours)*
The Cool Pack feature in the freezer of this Samsung refrigerator comes to the rescue during power outages. It keeps food frozen up to 12 hours*, maintaining a temperature below 0 °C.
*Result basis on Samsung internal lab test conditions. Individual results may vary.
Moist Fresh Zone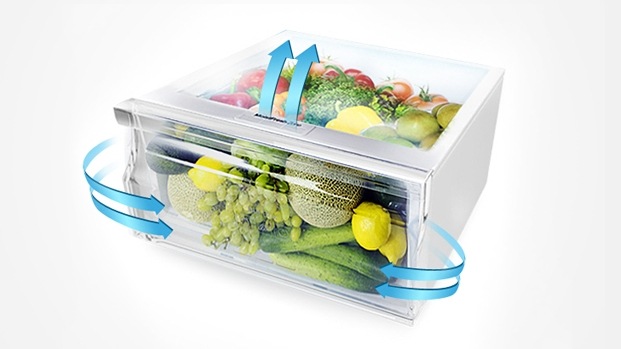 Samsung's MoistFresh Zone is a smartly designed drawer that provides an optimal environment for storing perishable food, so it stays fresher longer. A tight seal prevents moisture from escaping when humidity levels are low, and a vent releases excess moisture when humidity levels are too high.
Anti-Bacteria Protector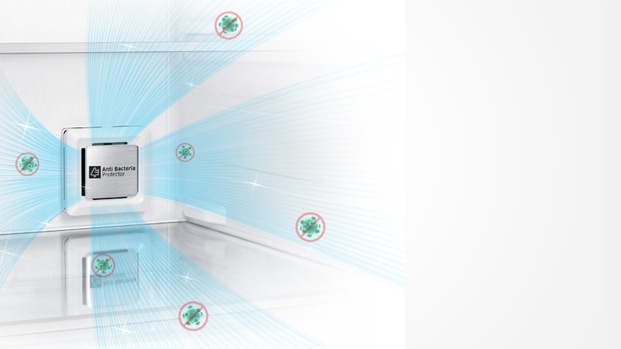 With the Anti-Bacterial Protector*, you can rest assured that your refrigerator is clean and hygienic. Air in the fridge is sterilized as it passes through the filter on the fan which is activated always activated.
Easy Slide Out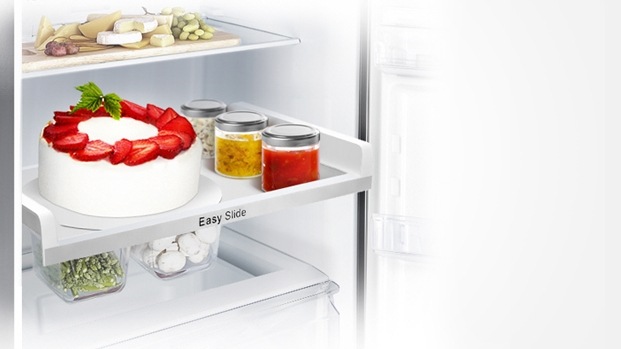 Reaching into a refrigerator often means navigating an obstacle course of food items. But the Easy Slide shelf is built on rolling hinges and pulls out, so you can efficiently organise and easily access your food items – and easily see exactly what you have stored in the back.
Ice Max - Double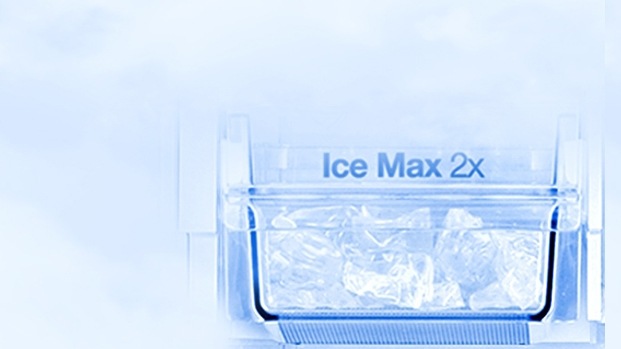 Ice Max easily allows you to make and store a large amount of ice - a simple twist is all it takes to dispense a bounty of cubes. It makes 2.5 times more ice, while storing 2 times more ice compared to similar models. Now, all the ice you need is easily made, conveniently stored and ready when you are.
*Result basis on Samsung internal lab test conditions. Individual results may vary.
LED Light
The Samsung Refrigerator's high efficiency and long lasting LED lighting is slimmer, brighter and more power-efficient than conventional lighting. Located on the top sides of the refrigerator, it brilliantly illuminates every corner of the interior space so it is much easier to find what you're looking for.
Chilled Room
The Fresh Room is a cooler compartment that ensures freshness even if you frequently open the fridge door. It's the ideal place to keep green salad and dairy food, like cheese, as they will stay fresher for longer.
Recess Handle
Recessed handles and hidden hinges provide a touch of elegant minimalism that complements any modern decor.
Multi Storage Basket
The Multi Storage Basket* is the ideal place to organise and store various items - from favourite condiments and sauces to cosmetics and medicine that need to be kept cool. This separate compartment helps keep you organised, and can be detached and easily moved as desired.
User manual & Downloads
Live Chat
How It Stacks Up
Digital Inverter Technology
10 year warranty
4 Star Rating
* Key feature may different from Key Spec
* Images shown here are for representational purpose only, actual may vary. All features, specifications and prices are subject to change without prior notice. Model availability may vary from location to location.
Get stock alerts
Get alerts when this item is back in stock and available to buy, by adding your email to opt into alerts.
Create your Wishlist
Don't miss out on the products you love
Sign in/Sign up now to access your wishlist on all your devices and get updates on great promotions.
EMIs (Pay in Monthly installments)