Know all about Freezer button in Samsung Top Mount Freezer Refrigerator(RT36JSMFESZ)
Last Update date :
Oct 14. 2020
The Display panel feature on your Samsung refrigerator allows you to control the internal temperature, as well as the settings of Power Freeze, Power Cool and Freezer ↔ Fridge at the press of a button.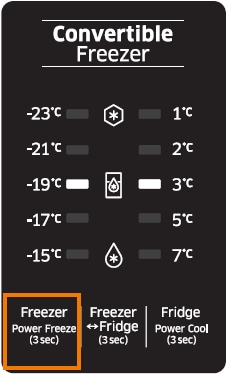 Just press the Freezer button to set the freezer to desired temperature from the range between -15º C and -23º C. Default temperature is set on -19º C and each time you press the Freezer button, temperature will change in following order and temperature indicator will display the desired temperature.


Power Freeze : When you press and hold the Freezer button for 3 seconds the indicator will light up and the refrigerator will speed up the time needed to freeze products in the freezer. To deactivate this function, press and hold the Freezer button for 3 seconds.

NOTE : When you use the Power Freeze function, the cooling of the refrigerator will be speeded up for several hours. When you use this function, the energy consumption will increase.